Golf teams prepare for the new season
This article submitted by Michael Jacobson on 4/12/00.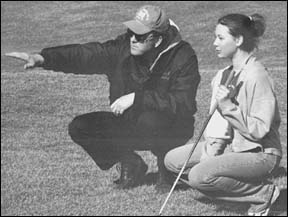 Having lost a number of seniors from last year, both the girls' and the boys' golf teams for Paynesville Area High School will be young and inexperienced this spring.

The girls' team lost three seniors from last year, including Mary Frandson, an individual state entrant, and Lynn Stoneburner, a section entrant. The boys' team also lost three seniors.

Coach Todd Knudsvig gives Heather Fuchs some pointers as they practice for the upcoming season.

The only senior on either team this spring is Ryan Wall, who also qualified for sections last spring individually.

Wall and sophomore Nathan Glenz are the only regular varsity players returning from last year for the boys. Corey Schmitt, Mark Brossard, and Adam Rafferty also got some varsity experience last year. Other candidates for the varsity lineup this year, according to head coach Todd Knudsvig, are Eric Gerding, Pat Spooner, and Jason Vanderpool.

The boys' team has 15 players in grades 9-12.

The girls' team includes two juniors, three sophomores, and four eighth graders. The juniors are Erin O'Fallon and Katie Wright, the sophomores are Sally Heitke, Beth Holt, and Maria Janotta; and the eighth graders are Brittany Caldwell, Heather Fuchs, Amanda Glenz, and Jena Spaulding.

Both squads, according to Knudsvig, have spent the weeks of spring practice working on their short games. The boys especially need to play more conservatively, he said.

"They absolutely need to improve their short games, and they have to quit trying to overpower the ball because all it does is gets them in trouble," Knudsvig said.

Knudsvig, who was disappointed with the amount of offseason work by the team, said consistency around the greens can only be gained by practice. "It's all touch," he stressed, "and you gain that by repetition."

Knudsvig has also emphasized the mental aspect of the game this spring, wanting players to take a more thoughtful, serious approach on the course. Key in that is avoiding trouble. Knudsvig wants his players to think about the hole and avoid the danger spots, to know where the bunkers are and whether it's safer on the left or right side. "I want them thinking about that as they're walking up a hole," he explained.

Getting into trouble, he added, turns good scores into bad ones, and bad rounds into disaster.

Conference favorites for the boys include St. Cloud Cathedral, Albany, and Litchfield. Last year, Cathedral had a number of players average 42 shots or less, and had so much depth that the varsity roster constantly changed. Cathedral was one stroke away from qualifying for state as a team.

In contrast, in the Bulldogs' first qualifying round, only one player broke 45: Nathan Glenz with a 39.

Conference favorites for the girls are Sauk Centre and Litchfield, according to Knudsvig. Sauk Centre qualified for the state tournament last year as a team.

The Bulldogs are in the same subsection this year, with ACGC, Annandale, Becker, BBE, Buffalo Lake-Hector, Dassel-Cokato, Glencoe-Silver Lake, Lester Prairie, Maple Lake, and Sibley East.
---