Snow and cold delay golf team's season
This article submitted by Michael Jacobson on 4/11/01.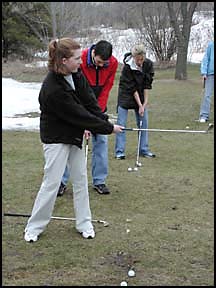 Coach Todd Knudsvig can't really say what the strengths of this year's golf teams will be. Because of the weather, the team has been limited to indoor putting sessions, trips with part of the team in vans to the golf dome in St. Cloud, and waiting for the snow to melt.

The boys' first meet at Sauk Centre on Tuesday and the girls' first meet at Melrose on Thursday have been postponed, due to the lingering snow and the wetness left by the snow that has already melted and the recent rain.

Knudsvig hopes the teams will be able to get on an actual course next week. "That's still up in the air," he explained, "depending on what the weather's like from now until then."

Members of the PAHS golf team hitting balls are: Maria Janotta, Corey Schmitt, and Sally Heitke.

What Knudsvig does know about this year's team is that almost all of the varsity players return, and many spent more time on the golf course last summer.

This was the second year of the team's 40 Club, in which players are encouraged to play 40 nine-hole rounds over the summer. In 1999, only three players accomplished that goal: Nathan Glenz, Amanda Glenz, and Adam Rafferty.

In 2000, that number nearly tripled, with eight players reaching that mark last summer. Both Nathan (43) and Amanda (40) reached the mark again, as did Eric Gerding (42), Sally Heitke (40), Mark Brossard (40), and Corey Schmitt (40).

Leading the team were ninth grader Heather Fuchs with 76 rounds last summer and eighth grader Mitchell Mackedanz with 165, leading Knudsvig to predict improvement for these golfers individually and lower scores for the team.

"The kids took it much more serious and spent a lot more time on the course," Knudsvig said. "I was very pleased to see that many kids participate and reach the goal."

Off-season work is key to improvement in golf because the spring season is so short that it's barely long enough to get the rust out of your swing, Knudsvig added.

For the teams, the Bulldogs will need to have overall improvement by their returning varsity players to move up in the conference and subsection.

Returning players for the girls are: seniors Erin O'Fallon and Katie Wright; juniors Heitke and Maria Janotta; ninth graders Brittany Caldwell, Fuchs, Amanda Glenz, and Jena Spaulding. Newcomers to the team are junior Kandace Bengtson and seventh grader Amber Jensen.

Fuchs will need to recover from recent knee surgery.

The girls return virtually all of its varsity experience from a year ago. Knudsvig hopes that experience, along with extra practice over the summer, will help the team be more consistent and score better.

The girls were fifth in the West Central Conference last spring and seventh in the subsection. They should contend for a top-three conference finish and a subsection title if they play smart consistently, said Knudsvig. Conference favorites are Sauk Centre - which placed fourth in state a year ago behind individual runner-up Jackie Beste, now a junior - and Albany.

The Bulldog girls last won the subsection title in 1998. "This is our best chance to do that again, as long as everyone is healthy," explained Knudsvig. "That should be a goal of this team: to place in the top two at subsections."

The boys lost only one player, but that was Ryan Wall, who qualified individually for sections two years in a row. Returning members with varsity experience are: seniors Brossard and Schmitt; juniors Glenz, Rafferty, and Pat Spooner; sophomore Eric Gerding; and eighth grader Mackedanz.

The boys face a real challenge to improve their conference standing. Albany, St. Cloud Cathedral, and Long Prairie-Grey Eagle are state-level teams, according to Knudsvig.

"It's going to be hard because the teams in our conference are so good," said Knudsvig. To move up, he predicted the boys will need to have four or five players shoot in the low 40s. That would require several members to shave strokes from last spring's scores on a consistent basis.

Other members of the boys' team are juniors Travis Atkinson and David Jones; sophomores Tony Savage, Darren Schultz, and Josh Teicher; ninth graders Nick Nelson, Eric Roos, Trevor Stanger, and Jesse Yarmon; eighth grader Josh Tebben; and seventh graders Matt Mergen and Joey Sheridan.

The golf team has a new assistant coach this spring, with Bryan Mara replacing Jim Elseth, who retired.
---