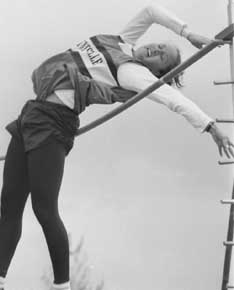 The Bulldogs had a great indoor meet at St. John's University on Monday, April 1. It was their second and last indoor meet of the season.

The Bulldogs dominated the meet by scoring 146.5 points. They broke the school's indoor record of 131 points set in 1992 in winning the eight-team meet.

Coach Dave Randgaard was very impressed. "We really started off our season in an impressive manner, breaking our school record for most points scored in an indoor meet," he said.

"We tried to measure our team with Rocori," he added. "They are the defending Central Lakes Conference champion and an outstanding team. For us to outscore them by 28 points is quite an accomplishment for our team!"

Two other indoor school records were broken at the meet. Senior Missy Bachman (pictured at sections last year) broke her own record in pole vault by nine inches, clearing 9' 9". Senior Jen Hess (pictured at right) also broke her record in the mile run. It used to be 5:15, but is now 5:14.2. Both Bachman and Hess took first with their record-setting marks.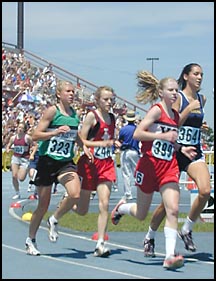 Hess also took first in the two-mile run. Bachman also placed second in the triple jump, where teammate Jessica Virant, a sophomore, placed behind her in third place.
The hurdles were very strong for the Bulldogs with three girls getting their personal bests. They were Virant in first, ninth grader Kendra Johnson in second, and eighth grader Tara Schmidt in fifth. Schmidt also had her personal best in the 55-meter dash, taking third.
Eighth grader Brooke Schmitz had an outstanding 800-meter race, running it in 2:28.6, which is her personal best, and taking second.
Other personal bests were accomplished by junior Morgan Martinson in the shot put (29' 4", good for fifth) and ninth grader Brittany Lieser in the high jump (4' 6", good for eighth).
The Bulldogs' mile relay team - Johnson, Schmitz, junior Danny Lieser, and junior Jenny Berg - took first in 4:29.7.
Other girls who placed in the top five were ninth grader Ranea Eastling (second in long jump and fifth in the 55-meter dash), senior Heidi Jansen (second in shot put), Lieser (third in long jump), senior Ashley Wall (fourth in the high jump), and Johnson (fifth in the 400-meter dash).
The Bulldogs' home meet originally scheduled for Monday, April 8, has been rescheduled for Monday, April 15, at 4:30 p.m.
The Bulldogs still have an outdoor meet scheduled for Thursday at 4 p.m. at Annandale.
Individual Results
Team scores 1. Paynesville 146.5
2. Rocori 118.5
3. Milaca 66
4. Sauk Centre 46
5. Pierz 41.5
6. EV-W/Kimball 30.5
7. St. John's Prep 29
8. Hinckley-Finlayson 29
Individual Results
55-meter hurdles: Jessica Virant, first, 9.8 (personal best); Kendra Johnson, second, 10.0 (personal best); Tara Schmidt, fifth, 10.2 (personal best); Hannah Braun, eighth, 10.4;
55-meter dash: Schmidt, third, 7.7 (personal best); Ranea Eastling, fifth, 8.0; Heather Christensen, seventh, 8.0; Heidi Jansen, eighth, 8.0;
200-meter dash: Eastling, sixth, 29.2;
400-meter dash: Johnson, fifth, 1:08.3; Carla Hemmesch, sixth, 1:08.8;
800-meter run: Brooke Schmitz, second, 2:28.6 (personal best);
1,600-meter run: Jen Hess, first, 5:14.2 (school record); Kacy Nehowig, seventh, 6:08.6;
3,200-meter run: Hess, first, 11:24.1; Nehowig, fifth, 13:52.0;
1,600-meter relay: Johnson, Schmitz, Danny Lieser, and Jenny Berg, first, 4:29.7;
Shot put: Jansen, second, 32' 8" (personal best); Morgan Martinson, fifth, 29' 4" (personal best);
High jump: Ashley Wall, fourth, 4' 8"; Brittany Lieser, eighth, 4' 6" (personal best);
Long jump: Eastling, second, 14' 7 1/2"; Lieser, third, 14' 7 1/2";
Triple jump: Missy Bachman, second, 30' 11 3/4"; Virant, third, 30' 9 1/2";
Pole vault: Bachman, first, 9' 9" (school record).
---
Contact the author at paypress@lkdllink.net • Return to Sports
Home | Marketplace | Community
---