Golf team prepares for season
This article submitted by Michael Jacobson on 4/7/99.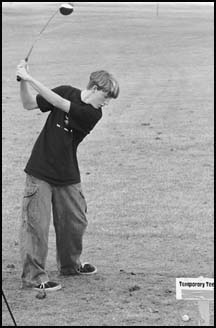 One of the goals for the golf team this year is defense.

They won't actually be guarding golfing competitors, but the girls' team wants to repeat as subsection champions.

"We're really looking forward to defending our subsection title," said Mackenzie Merrill, one of three senior golfers on the girls' team. Mary Frandson and Lynn Stoneburner are also seniors on this year's team.

The boys want to finish higher in the conference standings, which is a lofty goal considering the competition in the conference. Head coach Todd Knudsvig said Litchfield, Albany, and Sauk Centre had state tournament caliber teams.

"We hope to keep improving," said senior James Gulbranson, "and to improve our place in the conference."

The boys open their season on April 15 with a meet at Melrose. Both squads will host Kimball on April 16.

The girls have four members back from subsection competition. In addition to the three seniors, Sally Heitke was on the six-member squad that won the subsection title and was runner-up to Albany in the section meet.

Other varsity members likely will come from these high school girls: Erin O'Fallon, Katie Wright, Maria Janotta, and Angie and Heidi Jensen.

"I think the girls are going to defend their subsection title and win it again," said Knudsvig. "That's our goal."

The participation is up for the girls' team. Last year, only eight girls were out for golf, but this year they have 13. Knudsvig attributed that in part to the success of last year's team. The team has several junior high girls this year.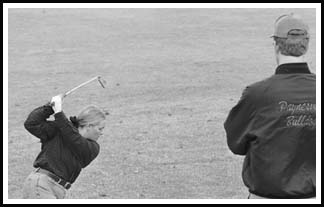 A total of 35 students are out for both golf squads. They have been practicing for several weeks, first indoors at a driving range in St. Cloud. Now that the weather allows they've been at the driving range and on the local course.
The boys have many golfers returning with extensive varsity experience: Ryan Mackedanz, James Gulbranson, John Manthei, Ryan Wall, Joey Koshiol, Adam Ryan, and Nathan Glenz.
Corey Schmitt, Mark Brossard, and Pat Spooner are competing with them for varsity spots this year.
"We have great kids out for golf," said Knudsvig, "so it's always a fun season."
"They're always great kids to work with," he continued. "It's always a great way to end a school year."
Gulbranson and Wall agreed that being outside and practicing on the driving range or the course was fun, but it can be improved. "It's better if you play well," said Gulbranson.
---