After making the state tourney in 2002, placing second in the conference and winning another subsection title in 2003, and having a successful summer season, hopes are high in the baseball program this spring.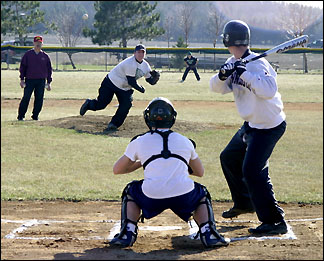 "We probably have as much depth as we've ever had," said coach Brad Skoglund, who is starting his 16th year at the helm of the Paynesville varsity. "The competition for spots has been really intense. The guys have really been working hard."
Assistant coach Dick Realdsen watches as junior Justin Butkofski's pitch flies towards senior Jordan Haag (batting) and sophomore John Hemingson (catching). The Bulldogs, rated tenth in Class AA, will start their season on Thursday against Kimball.
Competition, notes Skoglund, is not a bad thing. Everyone is trying to improve to make, or stay in, the varsity lineup. "If the individual players get better, the team gets better," said Skoglund.
Thirty-three players, in grades 9-12, are out for baseball this spring. They started practice on Monday, March 22, a week later than usual due to a change in the state rules. "It's been a really fun group to coach so far," said Skoglund. "Man, they've been working hard."
The team will need to continue to work hard to reach their potential, added Skoglund. While the Dogs have plenty of talent, a tough conference and an improved subsection await them this season.
The Bulldogs return eight letterwinners from last season, when they finished 13-7, led by senior Adam Kampsen, a two-time All Conference player. Last year, Kampsen hit .377 with four homers and 13 RBIs. He led the team by scoring 21 runs. On the mound, Kampsen was 4-3 with an ERA of 1.62 in 46 innings. He had a streak of 21 shutout innings.
Senior Adam Hemmesch and sophomore John Hemingson earned honorable mention honors from the conference last year. Hemmesch, an outfielder, hit .356 last year with two homers and 10 RBIs, while Hemingson, a catcher, was honored for his outstanding defense behind the plate. (However, Hemingson's health is questionable, since he missed most of the football season and all the wrestling season with a leg injury.)
Other returning letterwinners this spring are seniors Jordan Haag (OF/DH), Bobby O'Fallon (OF), and Chad Stang (IF/P) and juniors Justin Butkofski (1B/P) and Mike Mueller (OF).
Also competing for varsity spots this spring are seniors Ross Jaeger and Matt Rohe, juniors Brandon Berg and Chris Beier, and sophomores Mark Andrie, Trent Hansen, Ryan Hess, Jamie Paul, and Derek Stanger.
Beier and these five sophomores were key players on the Legion baseball team last summer that won a state title and advanced to nationals. That summer success and the improvement by the players that made that successful run possible really added to the varsity depth this spring, said Skoglund. Still, these players need to show they are ready for another step up at the varsity level.
The Bulldogs' pitching staff also benefitted from last summer. Besides Adam Kampsen, the Dogs lost their other three varsity pitchers from last year - Josh Kampsen, Josh Krupke, and Russ Leyendecker - to graduation.
This spring, joining Adam Kampsen on the pitching staff will be Beier, Butkofski, Hemingson, Paul, and Stang. Only Stang, with four innings, pitched for the varsity at all last year. Beier and Paul threw for the junior varsity last year, and Butkofski and Hemingson did not pitch last spring but did pitch last summer.
"I feel very confident in these six guys," said Skoglund, who expects his pitchers to throw strikes, use their defense, and keep the team in games.
The Bulldogs' pitching depth should help them in the subsection playoffs this year, which will be played on three consecutive days this spring rather than over a week as in previous years. This means that a stud pitcher will only get to pitch one game at subsections, instead of being able to start two games. Skoglund expects the sub-section champion to use four or five pitchers, which makes him comfortable since the Bulldogs have six varsity-caliber pitchers.
Having so many varsity-caliber players means that the lineup is still unsettled. Skoglund said the players are still competing like crazy for varsity spots.
Not only is the opening day lineup not set, it may change during the year. With so much depth, Skoglund said he doesn't have to worry about keeping players happy with playing time; the players need to worry about keeping the coaches happy, he said, and they need to do that by producing on the field. If not, they face being unseated in the varsity lineup.
Skoglund expects the team's depth this spring to be especially helpful at the plate. Last year, only three varsity regulars topped .260 in batting average (the Kampsen brothers and Hemmesch), and the offense really relied on Adam and Josh Kampsen to generate runs. The Kampsen brothers accounted for a third of the team's hits (51 of 152), nearly 40 percent of the team's runs (41 of 106), nearly 50 percent of the team's RBIs (40 of 83), and nearly 75 percent of the team's homeruns (14 of 19) in 2003.
This spring, having more depth should enable the Bulldogs to score from throughout their lineup, spots 1-9, said Skoglund.
The Bulldogs start the 2003 season ranked tenth in the state, but they face a difficult schedule. As many as five teams in the West Central Conference North could be rated in the top 20 in state, said Skoglund, who calls it one of the best Class AA conferences in the state. Last year, the Bulldogs tied for second in the conference at 6-4 with St. Cloud Cathedral, who won the Class AA state title.
Finishing .500 or above in the conference would be a success, said Skoglund, but it should improve the team for playoffs.
The Dogs' subsection is also better, with Class A champion Howard Lake-Waverly moving to Class AA and a host of improved teams, including ACGC, whom the Dogs beat for the subsection title last year but who rebounded to eliminate the Dogs at sections.
In addition to Skoglund, the Dogs return varsity assistant Dick Realdsen, junior varsity coach Tom Ludwig, and ninth grade coach Justin George this year. With talent abounding in grades 9-12, all three baseball teams expect strong seasons in 2004.
The Dogs' varsity and junior varsity open their season on Thursday by hosting Kimball.
---
Contact the author at editor@paynesvillepress.com • Return to Sports
Home | Marketplace | Community
---