The Bulldogs softball team returns virtually its entire lineup for 2005. The Dogs had only one at bat by a senior in 2004, when they finished 7-13.

The Bulldogs will open their season against Holdingford on Friday, April 8, at 4:30 p.m. at the PAHS softball fields.

This year's team includes seven senior starters - Val Callenius, Amber Chevalier, Kim Hess, Ashley Karger, Kayla Mackedanz, Ashley Spanier, and Leah Spanier.

Hess has started on the varsity since eighth grade and has earned All Conference honors for three straight seasons. Last year, she led the team in hitting (.388), on-base percentage (.479), runs (23), and stolen bases (21) while playing shortstop for the Dogs.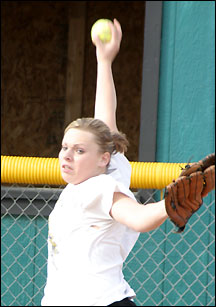 Callenius, a pitcher and third baseman, led the team with 12 RBIs and was second in hitting (.349). She also led the team in innings pitched (58) and ERA (3.14).
Mackedanz earned All Conference honors as a sophomore.
Senior Leah Spanier is one of seven seniors on the softball team this year and one of three returning pitchers for the Dogs.
Four juniors should also see varsity action this year - Jess Engler, Allyson Klenke, Emily Mohr, and Amanda Skalicky. Skalicky was a starter last year for the Dogs. And two sophomores - Chelsey Kalkbrenner and Kristin Lang - also should vie for varsity playing time in 2005. Kalkbrenner was a part-time starter last year.
Coach Tim Woehler said he is quietly optimistic about the season. With seven seniors, he hopes the team will play well, but that hinges on team chemistry, production at the plate, and winning close games. He said the team needs to take the season day by day and focus on playing well and having fun and not wins and losses.
"We should be good, but you never know," said Woehler. "Our conference is pretty competitive."
Woehler expects the strength of the team to be its pitching and defense. Callenius, Chevalier, and Leah Spanier all pitched well for the Bulldogs last year - recording ERAs of 3.14, 3.34, and 3.74 respectively. They all can throw strikes and take advantage of the team's defense, noted Woehler.
With so much pitching depth in the senior class, juniors Engler and Mohr will likely get their innings for the junior varsity this year. A number of players may shuffle between the junior varsity and varsity, according to Woehler.
At key defensive spots, Hess returns at shortstop, Ashley Spanier at catcher, and Mackedanz in centerfield.
Woehler predicts that the team's hitting will be the largest factor in its season. Last year, the Bulldogs hit only .252 as a team. Besides Hess and Callenius, only two other players topped .250 in batting average: Ashley Spanier (.267) and Karger (.260).
The team needs to improve its hitting, concentrating on putting the ball in play, said Woehler, who also expects the team to be more aggressive on the basepaths to compensate for a lack of power.
The Bulldogs will open their season against Holdingford this week. Next week, they will host Rockford on Monday, April 11, and will play their first conference game at Albany on Tuesday, April 12.
Woehler is assisted this year by Ross Englestad (junior varsity) and Keri Hatlevig and Rick Houske (junior high). The softball program has 29 girls in grades 9-12, including 15 ninth graders. The ninth graders are the first grade that started in softball's youth program. Softball also has 40 girls in the junior high this year.
---
Contact the author at editor@paynesvillepress.com • Return to Sports
Home | Marketplace | Community
---