The Bulldogs boys' basketball team broke six school records in the 2005-06 season, according to their year-end statistics, released following their season-ending banquet on Tuesday, March 28.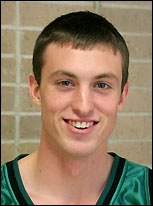 Junior Cory Nietfeld - who was named All Conference for the second straight year - broke two season records and helped the team break three records, while junior Ben Moser broke a single-game record with seven three-pointers against Minnewaska in January.
Nietfeld - who was also named to the second team All Area by the West Central Tribune and honorable mention by the St. Cloud Times to its All Area team - led the Dogs (8-16) in scoring (20.5 points per game), rebounding (13.5 per game), steals (3.9 per game), assists (3.3 per game), and blocked shots (1.6 per game).
He broke two individual season records: most rebounds (324) and most steals (93). The 6' 3" junior, in his third season starting on the varsity, broke the school record for rebounds in a season previously set by Dave Hartmann (319) in 1969-70. He also broke the record for most steals in a season previously held by Jamie Holper (84) in 1981-82.
Nietfeld scored 491 points this season (80 short of the single-season school record of 571, held by Tom Notch in 1989-90), and he made 204 field goals (20 short of the single-season school record of 224, held by Scott Deadrick in 1980-81).
With those 491 points, Nietfeld become the fifth PAHS boys' player to reach 1,000 career points. He scored his milestone 1,000th point in February at Eden Valley-Watkins and finished his junior season with 1,079 career points, second on the boys' all-time list behind career leader Don Liestman (1,286 points). Liestman has held the school record for points since 1958, but Nietfeld, barring injury, should break that record next season.
Nietfeld also received votes for conference MVP, which was won by senior Todd Hermann of New London-Spicer. The Wildcats finished second in the WCC North to Melrose, won District 20, and advanced to state. The Dogs upset Howard Lake-Waverly in the district quarterfinals 65-54 and advanced to the district semifinals for the first time since 1998 before losing to Eden Valley-Watkins.
The Bulldogs as a team set three season records: most rebounds (1,099); most steals (366); and most assists (355). They also came close to breaking the single-game team assist record with 24 against Maple Lake in January; the school record is 26 assists in a game.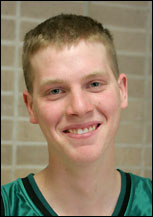 Moser (at left), who was second on the team in scoring with 10.8 points per game and second in rebounding, set a school record in January by making seven three-pointers against Minnewaska, as the Dogs won 91-78.
His seven treys helped him score 35 points in the victory, and they broke the school record of six three-pointers in a game previously held by Ryan Carstens (against Long Prairie in 1992-93 and against Rocori in 1993-94). Moser led the Dogs this winter with 36 treys, 11 behind Carstens' season record.
Moser earned honorable mention in the West Central Conference North, as did senior Derek Stanger (at right), who was third on the team in scoring with 8.1 points per game and second with 57 assists.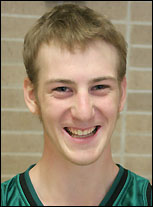 Letterwinners for the Dogs this year were: seniors Mark Andrie, Aaron Braun, Trent Hansen, and Stanger; juniors Sam Bayer, Moser, Nietfeld, and Elliott Wall; and ninth grader Nathan Nietfeld.
Other varsity awards were: Most Valuable Player, 1. Cory Nietfeld; 2. Stanger; 3. Moser; Mr. Bulldog (for team spirit and dedication), 1. Hansen; 2. Bayer; 3. Stanger; Chairman of the Boards (best rebounder), 1. Cory Nietfeld; 2. Stanger; 3. Braun/Moser; Most Improved Player, 1. Nathan Nietfeld; 2. Wall; 3. Bayer; and Mr. Defense, 1. Stanger; 2. Wall; 3. Cory Nietfeld/ Nathan Nietfeld.
The team's four seniors - Andrie, Braun, Hansen, and Stanger - were awarded green basketballs for completing their varsity careers. Coach Phil Carlson thanked these players for their hard work, loyalty, and dedication to the team.
---
Contact the author at editor@paynesvillepress.com • Return to Sports
Home | Marketplace | Community
---