Baseball team starts season at Kimball
This article submitted by Michael Jacobson on 4/05/00.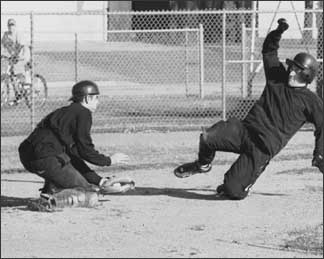 A senior-dominated baseball team opened the high school season yesterday for Paynesville. Nine seniors and four juniors comprise the varsity lineup this year, which started with a game at Kimball Tuesday afternoon.

"We've got quite a few players back," said head coach Brad Skoglund. "We lost four starters from last year, so we've got five starters back."

The seniors on the opening day roster are Ben Bork, Scott Braun, Curtis Christian, Shaun Fleischhacker, Doug Fuchs, Justin Mackedanz, Adam Miller, Troy Schmidt, and Nathan Schutz. Juniors are Lucas Christian, Jon Lieser, Nick Stalboerger, and Chris Rohe.

The team has practiced for two full weeks and has enjoyed the favorably warm weather for practice. They spent only three days inside this year, compared with entire weeks in other years.

Skoglund said the team has been working hard and having fun so far. Several players worked hard this winter lifting weights, running, and attending hitting clinics in preparation for the season.

Senior Scott Braun prepares to tag senior Doug Fuchs at home plate during practice last week.

He praised the team's hitting and pitching. "If there's been a disappointment," he added, "it's been our defense. We've been making too many errors."

Last Thursday the team scrimmaged Eden Valley-Watkins, and Skoglund said the Bulldogs hit the ball very well but committed five errors in the field. "These guys have stepped it up offensively," Skoglund explained, "but we need to play better defense." (The Bulldogs also scrimmaged Sartell on Friday.)

Last year, the Bulldogs' offense was paced by Dustin Looman's record-setting performance of 10 home runs and 34 RBIs. This year, the team will rely on a more balanced attack to score runs. Four players, now seniors, had batting averages of at least .300 last year: Bork, .365 with 13 RBIs; Braun, .358 with 14 RBIs; Fuchs, .363 with eight RBIs; and Curtis Christian, .300.

On the mound, the Bulldogs have to replace Brent Heinen and Tyler Wuertz, two starters who pitched a majority of the innings last season.

The Bulldogs do have three pitchers who gained experience a year ago: Doug Fuchs, Jon Lieser, and Nathan Schutz. Fuchs spent the most time on the hill in 1999, pitching 39 innings with an ERA of 3.64. Lieser pitched 12 innings with an ERA of 1.87 and Schutz pitched nine innings with an ERA of 3.00. All three earned two victories last year.

Skoglund said Fuchs and Lieser could be a good pair of 1-2 starters this year. Schutz will provide a left-handed option to start and relieve. Mackedanz and Rohe also will pitch some innings for Paynesville.

Fuchs was scheduled to open the season on the mound for the Bulldogs last night at Kimball. The rest of the projected opening day lineup was: Miller, first base; Mackedanz, second base; Curtis Christian, shortstop; Braun, third base; Lieser, catcher; Fleischhacker, left field; Bork, center field; Schutz, right field; and Rohe, designated hitter.

Skoglund doesn't know what to expect this season in terms of wins and losses, mostly because the West Central Conference North is loaded with talent again this year. Last year, the Bulldogs were 5-8 against conference teams, including a second-round playoff loss to Melrose, and 7-0 against nonconference foes.

St. Cloud Cathedral, with University of Iowa signee Cory Hollenhorst anchoring their pitching staff, appear to be the preseason conference favorite.

"We might struggle a little bit in conference," Skoglund said, "but we hope to go a little farther in the playoffs."

Baseball has changed to a three-class format, with the Bulldogs in Class AA. District 20 includes ACGC, Annandale, Howard Lake-Waverly, Kimball, New London-Spicer, Paynesville, and St. Michael-Albertville.

In all, 36 high schoolers are out for the baseball team this spring, split into varsity, junior varsity, and ninth grade squads. Assisting Skoglund in coaching the baseball teams are Dick Realdsen, Ron Fuchs, and Tom Ludwig.

The Bulldogs played at Kimball last night. They play at Annandale on Friday. Their first home game, and their first conference game, is against Long Prairie-Grey Eagle on Tuesday, April 11.
---