Baseball team reloads for new season
This article submitted by Micheal Jacobson on 4/04/01.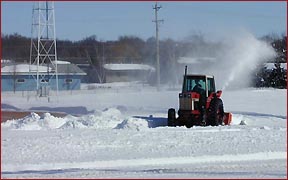 On the heels of a 19-3 season that featured a conference championship, a state ranking as high as third, and ended with an extra inning loss to the eventual state champion, the Paynesville Bulldog baseball team this spring faces the task of replacing seven regulars that graduated after last year's season.

But with the unseasonably cool temperatures and the deep snow cover this spring, the team first will have to get on the field at all. "Probably the first time we're going to be on the game field is for a game," said head coach Brad Skoglund.

The late start comes at an awkward time for the inexperienced Bulldogs, who have virtually their entire roster to decipher. Having been kept indoors throughout spring practice doesn't provide the opportunities of an outside practice.

The only returning starters for the Bulldogs from a year ago are seniors Jon Lieser and Chris Rohe.

Lieser, in his fourth year on the varsity, earned All Conference honors a year ago, and returns to pitch and play shortstop. On the mound he was 4-0 with a 2.85 ERA last year. He hit .314, and was second on the team with eight stolen bases and 23 runs. "We need him to provide leadership and good outings," said Skoglund. "We think Jon can do that. Jon has really stepped up his game this year."

Rohe, who hit .356 last year, will be counted on to play third base and be the team's cleanup hitter. Rohe was second last spring with five doubles. He also had two homers. He was third on the team with 16 RBIs.

Nic Stalboerger, another senior, saw limited action a year ago, but did hit .500, including a double, a year ago. Skoglund expects him to see time at first base and designated hitter this year.

While the team has only three seniors, 10 juniors are out for baseball: Scott Buermann, Jeremy Fuchs, Nick Fuchs, Adam Larsen, Wes Lieser, Joe Lingl, Max Meagher, Pat Rohe, Ryan Schneider, and Craig Thomes. "The junior class is going to have to step it up and carry the load," said Skoglund.

Several members of the junior class helped Paynesville to the American Legion state tournament last summer. Jeremy Fuchs' pitching won the region final and kept the team in the state third-place game. He should be the team's #2 pitcher and start in centerfield.

Lieser and Larsen also should see time on the pitching mound this season. Most of the other lineup spots are still up for grabs. Two underclassmen vying for spots are sophomore Josh Krupke and ninth grader Adam Kampsen.

Skoglund was pleased with how the team has worked in the indoor workouts and thinks this team could be good. He expects the team to improve during the season as the players gain experience.

Skoglund also praised his coaching staff, which returns intact this year. Dick Realdsen is the varsity assistant, Ron Fuchs coaches the junior varsity, and Tom Ludwig is the ninth grade coach.

With postponements likely during the first part of spring, the team could face a hectic schedule once the fields are fit for playing, perhaps four or even five games in a week.

"We're going to get right into the fire, right into the conference season," said Skoglund. "It's going to be tough. Look at last year. We had four teams in our conference ranked in the top ten in state at one time."

Sauk Centre returns the most hitting and pitching to the conference race this year, with Cathedral having pitching, too, according to Skoglund.

"My biggest concern," he said, "is offensively. I worry that we're going to struggle to score runs." All seven lost regulars from last year batted .over 300, and they combined for over 75 percent of the team's offense. The team hit .370 with 60 extra base hits.

The Bulldogs can't count on a repeat of those numbers, and may need to take a few more walks and steal a few more bases this year.

Skoglund expressed his preference for having solid pitching and having to worry about scoring than the reverse. He expects to start the best defensive lineup, unless someone starts swinging the bat well enough to justify a regular spot.

"The main thing is we're going to have to play together as a team and we're going to have to have good fundamentals," said Skoglund. "The thing for this group is to get better each time out."

The baseball field has been plowed to reduce the amount of snow on it, but the team's first two games have been postponed. The team has a game scheduled at Melrose on Monday, April 9. Check the school's activities line at 320-243-4058 for up-to-date information on the spring schedule.
---