After only two years of racing snocross, Ryan Frank took first place with 240 points for the season in the semipro class for southern Minnesota.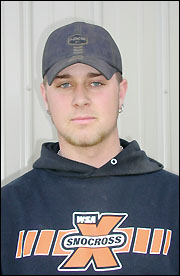 Snocross takes place on a track the size of a football field with turns and jumps. Levels - for men, women, and kids - range from beginners to veterans. Frank, a 2001 PAHS graduate, races in the 440 semipro fan class.
Riders accrue points from each race during the season, which lasts from late November through early April. Awards are presented to class winners at a ceremony in mid-May.
Ryan Frank, 20, hopes to race professionally on a national level.
Though the weather was less than cooperative this year, Frank raced eight weekends on a Polaris 440 ProEx to gain the top score. He credits his mechanic Kirk Fearing (with help from Jared Johnson) for making it easy to focus on racing by keeping his snowmobile running each weekend.
Frank, who didn't begin racing until turning 18, seems to be making up for lost time. Within his first three races last year, he advanced from beginner to sport to semipro. Now 20, Ryan has set his sights on racing professionally on the national circuit.
Snocross has become a family venture for the Franks. His parents, Vicky and Don, self-proclaimed "sports fanatics," have hardly missed a race. "Ryan is so calculated in all his moves and what he does," said Vicky. "He knows just what he's doing."
His brother, Eric, a senior at PAHS, competed three times this year in the beginner class. Ryan met his fiancˇ at one of his races.
"I wasn't into high school sports," said Frank, "and now that I can finally race both my mom and dad are really getting into it."
In the off-season Ryan switches to motocross. "It keeps my balance up and helps with snowmobiling," he said. Next season he hopes to be part of the Polaris sponsorship program and will race in the semipro stock class.
---
Contact the author at editor@paynesvillepress.com • Return to News Menu
Home | Marketplace | Community
---