The Paynesville girls' basketball team officially wrapped up their season on Sunday, March 23, with a banquet.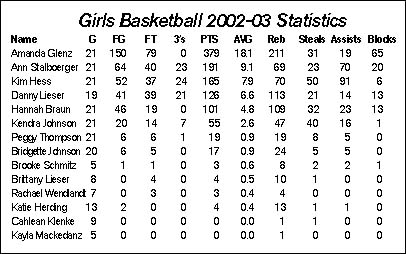 Falling short of their preseason goal to have a winning season, the Bulldogs ended the season with a record of 8-13. This record does not do the team justice, according to coach Ric Koehn, as the Dogs faced very tough teams, including several who played at state, and only hosted eight home games. Beating the Crusaders at St. Cloud Cathedral and playing tough against NL-S and ACGC were some of the high points mentioned by Koehn.
Leading the offense for the Dogs was junior post Amanda Glenz, averaging 18 points per game. She was followed by senior Ann Stalboerger and sophomore Kim Hess with nine and eight points per game respectively.
Hess led the team in steals with 50, sophomore Kendra Johnson had 40, and senior Hannah Braun had 32.
Glenz dominated the boards, picking up an average of 10 rebounds per game. She also managed to rack up 65 blocks throughout the course of the season.
Glenz and senior wing Danny Lieser earned All Conference honors this season for the Bulldogs, who were 4-6 in the West Central Conference North. Glenz led the conference in field goals with 68, while placing third in conference scoring with 176 points (17.6 points per game). She was second in rebounds with 97.
Lieser was fifth in the conference in three-pointers with 11 and seventh in rebounding with 66. For the season, she averaged 6.6 points per game and six rebounds per game.
Stalboerger and Hess earned honorable mention honors from the conference coaches. Stalboerger was third in the conference in three-pointers with 12, ninth in scoring with 97 points, and sixth in assists with 28. Hess was sixth in three-pointers with 10, second in assists with 40, as well as seventh in steals with 25.
Glenz earned honorable mention consideration for the all-state team by the Associated Press, has been nominated for all-state Class AA team for Minnesota Basketball News, and is awaiting honors for the all-area teams by both the St. Cloud Times and the West Central Tribune.
---
Contact the author at editor@paynesvillepress.com • Return to Sports
Home | Marketplace | Community
---