The Bulldogs boys' basketball recently concluded their winter season in traditional fashion…holding a potluck awards banquet.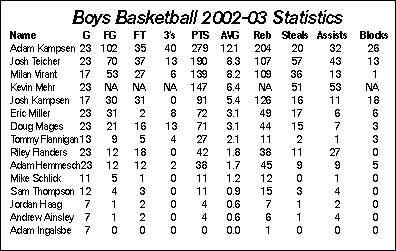 Senior Josh Teicher and junior Adam Kampsen led the award winners, including being named honorable mention All Conference in the West Central Conference North. (Kampsen was also recently named honorable mention by the St. Cloud Times for their all-area team, and Teicher was selected as an area all star for a game held in BBE this weekend.)
Both received team awards as well. Kampsen was selected as Mr. Offense by his teammates in voting, and Teicher was chosen as the team's Most Valuable Player. Teicher was second in the Mr. Offense voting, and Kampsen was second in the MVP voting.
Kampsen led the team with 279 points, a 12.1 average, and also had 204 rebounds, an average of 8.9 per game. Teicher scored 190 points and was second on the team with an average of 8.3 points per game. He also led the team with 57 steals and was second with 43 assists.
Other awards were: Mr. Dedication to senior Sam Thompson; Chairman of the Boards to senior Josh Kampsen; Most Improved Player to junior Doug Mages; Mr. Defense to senior Milan Virant; and Bulldog Spirit Award to Mages.
The top three votegetters for each award was as follows:
*Mr. Dedication - Thompson, senior Mike Schlick, and Mages;
*Chairman of the Boards - Josh Kampsen, Adam Kampsen, and Virant;
*Most Improved Player - Mages, junior Jordan Haag, and Josh Kampsen;
*Mr. Defense - Virant, senior Riley Flanders, and senior Kevin Mehr;
*Mr. Offense - Adam Kampsen, Teicher, and Mehr;
*Bulldog Spirit Award - Mages, Teicher, and Virant;
*Most Valuable Player - Teicher, Adam Kampsen, and Virant.
Statistical leaders were:
*Rebounds - Adam Kampsen, 204; Josh Kampsen, 126; Virant, 109;
*Assists - Mehr, 53; Teicher, 43; Adam Kampsen, 32;
*Steals - Teicher, 57; Mehr, 51; Virant, 36;
*Blocks - Adam Kampsen, 26; Josh Kampsen, 18; Teicher, 13;
*Scoring - Adam Kampsen, 279; Teicher, 190; Mehr, 147. The Bulldogs finished their season with a record of 6-17 overall and 2-8 in conference play.
---
Contact the author at editor@paynesvillepress.com • Return to Sports
Home | Marketplace | Community
---