Placing fifth in the state can be a tough act to follow. But that is the task facing the Bulldogs baseball team this spring.

A year ago, the Bulldogs won nine of the last 11 games, claiming district and section titles before taking fifth place at the Class AA state tournament in June.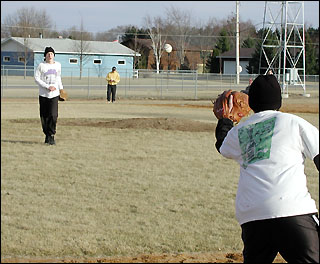 For this year's team, that result - and the expectations that come with it - are a mixed blessing. On one hand, it shows that that success is attainable, but on the other it may prove to be a difficult feat to repeat.
"You can tell by getting to the state tournament last year we've got an extra sparkle in our eyes and a bounce in our steps," said Brad Skoglund, who returns for his 15th season as the Bulldogs' head coach.
Sophomore Chris Beier throws to first base during a scrimmage last week for the baseball team. The coaches say this year's team has as much talent as they've ever seen in grades 9-12. The Bulldogs open their season against Kimball on Thursday and then host Annandale on Monday, April 7.
While Skoglund and the other coaches feel this year's team has the most talent they've ever seen in grades 9-12, they do not have a lot of varsity experience and they play a rugged conference schedule.
In the preseason rankings for Class AA, five of the top 13 teams are from the West Central Conference North. Paynesville is #2, Sauk Centre is #3, St. Cloud Cathedral is #5, Melrose is #8, and Albany is #13.
Plus, according to Skoglund, LPGE returns all its pitching. "Our conference is loaded again. I really believe it is the best AA conference in the state from top to bottom," said Skoglund.
"With that (ranking), we're going to have a big bull's eye on our chest," said Skoglund. "Everybody is going to be gunning for us. We're going to have to step it up, both physically and mentally."
The Bulldogs lost nine seniors from last year's team, including seven senior starters. The Dogs also lost starters at key defensive spots: shortstop, second base, centerfield, and catcher. They also had a very balanced lineup last year, which enabled them to start rallies in any inning, said Skoglund.
Though last year's team finished 15-13, the season was not all smooth sailing. The Bulldogs were 2-10 and finished seventh in the conference, before taking fifth in the state!
This year's team needs to keep improving and cannot afford to lose its focus if it loses some conference games, said Skoglund. "The thing about the team is we're getting better every day. If we can get better every day, we're going to be a tough club by the end of the year," he said.
Returning starters for the Dogs this year are seniors Josh Kampsen and Josh Krupke and junior Adam Kampsen. Josh Kampsen hit .472 last year, was named to the all-tournament team at the state tournament and was honorable mention All Conference. Adam Kampsen hit .368 and was named All Conference. Krupke hit .276 and was honorable mention All Conference.
Skoglund expects pitching to be a strength of the team this spring. The Kampsen brothers should head the pitching staff this year. Adam was 5-2 last year with a 3.17 ERA in 66 innings. Josh was 5-4 with an ERA of 3.73 in 45 innings.
Along with them, senior Russ Leyendecker and junior Aaron Nietfeld pitched a few innings last year. Junior Chad Stang has also looked good in preseason practice, said Skoglund.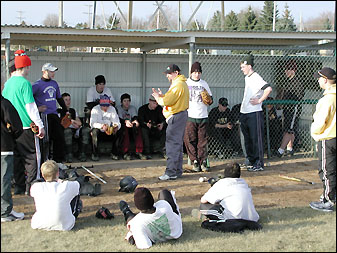 The Bulldogs still need to solidify their defense, and they need to turn their talent into production on the varsity playing field. "It's a big step up to varsity baseball," said Skoglund. "Hopefully, we can make that jump."
"The older guys have given us excellent leadership," added Skoglund. "You can see that they want to get back to state."
The baseball team has 33 players in grades 9-12 this spring plus strong junior high teams.
The Bulldog baseball team - after taking fifth place in the state tournament last spring - starts its 2003 season ranked #2 in the state.
"We've had good practices," said Skoglund of the two weeks of preseason drills, which started on Monday, March 17. "The kids have been great. We've pushed them hard, and they've responded well."
The Bulldogs open their season at Kimball on Thursday. The junior varsity plays at the school fields in Kimball while the varsity will play at Pearl Lake, north of Kimball on Highway 15 and then a couple miles west on Co. Rd. 8.
The Bulldogs have their home opener on Monday, April 7, when they host Annandale, whom they defeated three times last year, including in the district final and in the section tournament.
---
Contact the author at editor@paynesvillepress.com • Return to Sports
Home | Marketplace | Community
---