Softball prepares for season opener on Thursday
This article submitted by Michael Jacobson on 3/31/99.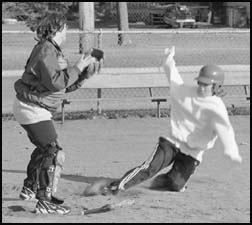 After three weeks of practice, the high school softball team only has a couple of days left before their first game of the season.

The Bulldogs open with a home game against Kimball on Tuesday, April 6, at 4:30 p.m. After that, the game schedule is intense. "In six weeks, we play 18 games, which is an average of three games a week," said head coach Murry Rafferty. "You have to be ready when it starts because if you're not, there's no time to get ready."

The high school team has 27 players on it. The varsity team will include three seniors, nine juniors, and one sophomore. Seniors are Alisha Block, Trishia Miller, and Gretchen Ziemer. Ziemer is the captain of the team.

Juniors are Tiff Haag, Carrie Hemmesch, Trish Hemmesch, Tracy Hoffman, Kelly Loesch, Jessica Louis, Rachel Miller, Kelsey Moser, and Susie Pelzer.

Sophomore Mellody Veldkamp has been brought up to do the catching on the varsity.

Rafferty said the team was fairly inexperienced. "We had a strong senior class last year," he explained.

Of primary importance is production from their pitchers and catcher. "The battery has to get some experience before we know," said Rafferty.

Junior hurlers Jessie Louis and Kelly Loesch will be the main pitchers. Loesch has developed good snap on her fast pitch, according to Rafferty. Louis doesn't throw as hard, but is more accurate.

Rafferty expects the defense to be fair to good. "You can have a great pitcher, but you still need the defense to make the plays," he said.

Hitting might be a concern. The top returning hitter is junior Tiff Haag, who had an average of .250 last year. "We're going to have to work on hitting," Rafferty said. They have worked on hitting already using tees, soft toss, and live pitching.

Conference favorites this year are Melrose, Litchfield, and St. Cloud Cathedral. Melrose played in the state tournament last year and has its best pitcher back. Litchfield and Cathedral are always strong, according to Rafferty.

The varsity lineup is pretty much set. Rafferty has decided on regulars at most positions. Second base and third base duties will be shared.

The team will be short-handed for its first couple games. Almost half of the regular varsity lineup is on the German trip. They will miss the first game completely, and will be back just in time for the second game of the season against Litchfield. For both games, Rafferty expects to fill in the lineup with players from the junior varsity.

The junior varsity has one sophomore and 13 ninth graders. Junior varsity coach Tim Woehler said his team has worked hard and has been a fun team with which to work. "Win or lose, we're going to have fun," he said.

The eighth grade team will be coached by Carol Smith, and the seventh grade by David Dziengel.
---