Baseball team focuses on defense in preseason
This article submitted by Michael Jacobson on 3/31/99.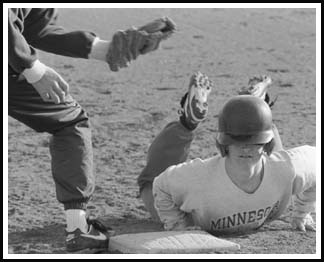 The Bulldog baseball team has been practicing for two weeks in preparation for their upcoming season. They started indoors, but shift outdoors when the weather is nice.

A total of 33 players have been practicing with the team. "We've got a good number of juniors and a good number of freshmen," said head coach Brad Skoglund. "We're a little short (in numbers) in our sophomore and senior classes, but those two groups have some talented players."

The four seniors out for the team are Chad Fleischhacker, Brent Heinen, Dustin Looman, and Tyler Wuertz.

Juniors out for the team are Ben Bork, Scott Braun, Curtis Christian, Shaun Fleischhacker, Doug Fuchs, Justin Mackedanz, Troy Schmidt, Nathan Schutz, and Garret Williams.

"It's been a good group to coach. It's been a lot of fun," said Skoglund. "They've been working hard."

A major focus in practice so far has been defense. "I know we have to play better defense this year," said Skoglund. "Last year we gave up way too many unearned runs."

"I think we're going to be good in all facets of the game," said Skoglund.

"I don't know if we're going to be outstanding in any area, and I'm not sure if that will be enough in our conference," he continued.

The West Central Conference North has traditionally been a strong conference for baseball. The conference schedule should be challenging again this year. Skoglund listed Albany, Litchfield, Melrose, and St. Cloud Cathedral as the conference favorites this year.

High-level competition makes sound defense imperative. Last year, Skoglund said the team hit well, but gave away runs. "You can't give up four outs in an inning," he said.

The opening day lineup still is not set, according to Skoglund. The team does have five players who started last year: seniors Chad Fleischhacker, Brent Heinen, and Dustin Looman; junior Ben Bork, and sophomore Jon Lieser.

The team scrimmaged Willmar yesterday, and will scrimmage Eden Valley-Watkins tomorrow at 4 p.m. at the high school baseball field.

Having the most pitching experience on varsity, Heinen is expected to lead the pitching staff. "He got a lot of starts last year," said Skoglund. Other members of the varsity staff are expected to be: Tyler Wuertz, Doug Fuchs, Justin Mackedanz, Nathan Schutz, and Jon Lieser.

At the plate, top returning hitters are Looman and Heinen. The coaching staff also has high hopes for a couple lefthanded-hitting juniors: Scott Braun, a transfer from BBE, and Nathan Schutz.

The coaching staff this year is Brad Skoglund, varsity head coach; Dick Realdsen, varsity assistant; Ron Fuchs, junior varsity; Virg Vagle, eighth grade; and Cameron Mahlum, seventh grade.

The varsity and junior varsity play their first game next Tuesday, April 6, at Kimball. Game time is 4:30 p.m.

Their schedule (see shaded box) includes a number of night games this spring.

"It should be a fun season," said Skoglund.
---