The Bulldog baseball team hopes to have another successful season in 2005. But even if it matches its 19-win campaign of a year ago, the team may look vastly different, despite a number of familiar faces.

The Bulldogs return five full-time starters and two part-time starters this year. They have 39 players in grades 9-12 and talent throughout the program. But the strengths of this year's team will be pitching and defense, expects coach Brad Skoglund, and they will need a balanced hitting attack and aggressive baserunning instead of relying on homeruns.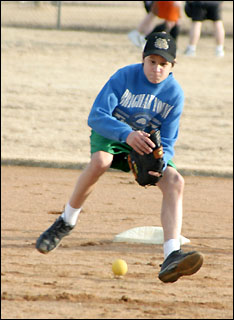 The Bulldogs lost five seniors to graduation, including conference MVP Adam Kampsen, who set a school record with 12 homers last spring. Also graduating were Jordan Haag, Adam Hemmesch, Bob O'Fallon, and Chad Stang.
Ninth grader Jeff Albright fields a grounder during an outdoor baseball practice on Monday. The team has 39 players, grades 9-12, this year.
The Bulldogs were 19-6 last year, including a 14-game winning streak that led them to being rated #1 in Class AA for a time. They tied for the title in the West Central Conference North and won their third straight subsection title.
Five full-time starters return for the Dogs this year: senior pitcher/ second baseman Chris Beier, senior pitcher/first baseman Justin Butkofski, junior catcher John Hemingson, senior outfielder Mike Mueller, and junior shortstop/ pitcher Jamie Paul. Also returning are senior outfielder Brandon Berg and junior Derek Stanger, part-time starters last year.
Beier, Butkofski, and Hemingson earned All Conference honors last year for the Dogs, while Paul earned honorable mention.
Beier and Butkofski are expected to anchor this year's pitching staff. Beier was 7-1 last year with an ERA of 2.71 in 51 innings. Butkofski was 4-2 a year ago with an ERA of 2.49 in 39 innings. Paul also saw the hill for the varsity last year, allowing only two earned runs in 10 innings (an ERA of 1.36). Hemingson, junior Ryan Hess, and Stanger also may pitch this year for the Dogs.
Skoglund is pleased with his pitcher's ability to throw strikes. "I like our pitching depth," he said. "This is as much depth as we've ever had."
Skoglund is also pleased with the team's defense, calling it "as good as defensive club we've put out there. We can catch the ball, and we can go get it in the outfield."
The defense is strong up the middle, said Skoglund, starting with Hemingson at catcher. He earned honorable mention in the WCC North two years ago, primarily for his defense behind the plate. Skoglund expects Beier, Hess, and Paul to man the middle infield and provide good defense. And in Berg and junior Trent Hansen, the team has two players capable of playing centerfield.
At the plate, the Dogs will need a solid team effort, with everyone getting good at bats, said Skoglund. Leading returning hitters are Hemingson (.351), Butkofski (.349), 25 RBIs), Paul (.342), Mueller (.333), and Beier (.310).
Junior Mark Andrie also had three hits in four varsity at bats last year. He and senior Mitch Callenius should also see action in the infield this year.
The team had 21 homers last year, 15 from seniors Kampsen, Hemmesch, and Haag. This year, the Bulldogs will need to use their team speed and be aggressive on the basepaths and not wait for three-run homers, said Skoglund.
The Dogs should be exciting to watch, said Skoglund, with their more aggressive baserunning. They also need to have good at bats throughout the lineup and have fewer strikeouts. "Everybody's got to step up a little bit," Skoglund said.
Once again, the West Central Conference North is expected to be a tough baseball conference. Cathedral is a perenial state power, Melrose has won or shared the last four conference titles, Albany and Sauk Centre are traditional powers, and LPGE has probably the best player in the conference.
Last year, the Bulldogs tied with Melrose for the conference title with 6-4 records. So, the Dogs can expect to drop a few games in conference play, but the high level of competition should help the team, according to Skoglund.
"It makes you better in the long run. That's what we've got to remember is it isn't a sprint; it's a marathon. You've got to keep working and improving and play your best ball at the end of the season," Skoglund explained.
The Dogs started practice on Monday, March 21. "It's a fun bunch to coach," said Skoglund. "We've got a lot of nice kids in our baseball program. They're a lot of fun to be around. Parents can be proud."
Helping Skoglund again this year are Dick Realdsen (assistant coach) and Tom Ludwig (junior varsity coach). Darin Carstens is the new ninth grade coach.
The Bulldogs are scheduled to open their 2005 season on Tuesday, April 5, with a home game against Annandale. At press time, though, this game was still iffy because the frost was not out of the baseball field yet.
Since spring sports are so weather dependent, for the latest information, check the school's activity line at 320-243-4058.
---
Contact the author at editor@paynesvillepress.com • Return to Sports
Home | Marketplace | Community
---