Squirts take second at Fergus Falls
This article submitted on 3/29/00.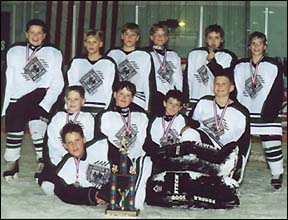 The Paynesville-New London-Spicer Squirt B hockey team completed their season with a second-place finish at the Fergus Falls Invitational Tournament on March 11 and 12.

The squirts beat a team from Bismarck, N.D., 3-1 in their first game, but lost 8-3 to an excellent team from Fargo, N.D., in the championship game. The highlight of the tournament was a 5-4 victory over Fergus Falls with the winning goal coming with only six seconds left in the game.

Afterwards, the celebration continued that Sunday evening as the jubilant squirts swam and hung out by the pool of their motel.

The team's overall record for the season was 11-14-2, with several losses coming against metro area teams. One of the team's best performances of the year was a 6-3 loss to White Bear Lake, which has a premier youth hockey program.

Team members for the squirts were: (pictured)front: Sam Bayer; middle: Nick Sykora, Ryan Peterson, Colin Spooner, and Colby Peterson; back: Shawn Meyer, Alex Naujokas, Max Lahr, Cody Burr, Jesse Keehn, and Joseph Jacklitch. Not pictured is Patrick Roers.
---