Dogs set two school records at first meet
This article submitted by Courtney Karsch on 3/29/00.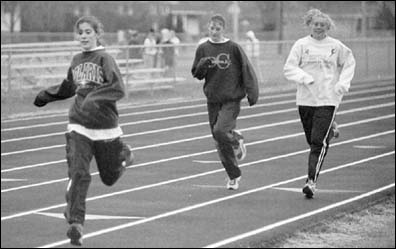 The Paynesville girls' track team set two school records at their first track meet at St. Cloud State University on Saturday. The indoor meet was the longest of the year with 20 teams participating.

"The team really had an excellent meet," said head coach Dave Randgaard. The meet began at 9:30 a.m., and the field events started right away. Joy Hemmesch, who is a shot putter, really threw the shot well. She received seventh place with a throw of 30' 5 1/4".

In the high jump, Ashley Wall jumped 4' 8", which earned her eighth place. Wall jumped her personal best indoors.

Both Amanda Mayer and Wall jumped their personal best triple jumps indoors. Mayer jumped 29' 7" and Wall jumped 28' 9", getting ninth and 12th place respectively.

Running laps in practice last week were Sara Lieser, Carla Hemmesch, and Joy Hemmesch.

The running events went well also. The Bulldogs came out with a great fresh start. Katrina Orbeck ran her personal best in the 55-meter hurdles with a time of 10.76. The 4 by 800-meter relay team ran a very solid race. They received fourth place with a time of 10:36.7. The members are Jen Hess, Leanne Kolb, Amanda Mayer, and Carin Frenchick.

Hess, who won two thirds at the state track meet last spring, showed her form in the 1,600-meter race and won with a time of 5:15.64. Hess's great time set a new school record. The old record had lasted eight years!

Senior Tiff Rausch ran 400 meters in 1:02.89 for third. "Tiffany ran excellent in this race. Great start," said Randgaard.

In the 800-meter run, Frenchick ran her personal best time indoors with a time of 2:38.64 to earn her second place.

Another relay team that looks very promising is Rausch, Mayer, Hess, and Frenchick in the 4 by 400 meters. They also set a new school record in this event. Actually, they broke their own record that was set last year. Their time this year was 4:27.82.

The girls had a really great meet that showed a promising future in the season to come. "We went up against the larger schools that gave us some tough competition. We were pleased with the relays and also some individual performances. Plus, we broke two school indoor records!" said Randgaard.

The team practiced for two weeks before the meet. The captains for the 2000 season are Tiffany Rausch, Carin Frenchick, and Courtney Karsch.

More than 20 girls are competing on the team. The returning letterwinners for this year are: seniors Rausch, Frenchick, Karsch, and Cindy Lang; juniors Joy Hemmesch, Jana Zumwalde, Leanne Kolb, and Katrina Orbeck; sophomores Melissa Bachman, Jenny Hess, Heidi Jansen, Carla Hemmesch, Amanda Mayer, Angie Ahrens, Rebecca Rondeau, Ashley Wall, and Rachel Koehn; and ninth grader Danielle Lieser.

The girls hope to repeat as conference and district champions.

The girls travel next to St. John's University for another indoor meet on Saturday. There will be only six teams there, so it won't be nearly as big as the SCSU meet. The St. John's meet starts at 7:30 p.m.

Individual Results
3,200-meter relay: Jenny Hess, Leanne Kolb, Amanda Mayer, Carin Frenchick, fourth,10:36.7;
55-meter hurdles: Katrina Orbeck, 14th, 10.76;
1,600-meter run: Hess, first, 5:15.64 (new school record);
Sprint medley: Heidi Jansen, Carla Hemmesch, Tiff Rausch, Mayer, fifth, 2:02.99;
400-meter dash: Rausch, third, 1:02.89; Danielle Lieser, sixth, 1:07.81;
400-meter relay: Jansen, Sara Lieser, Joy Hemmesch, Carla Hemmesch, sixth, 57.46;
800-meter run: Frenchick, second, 2:38.64; Kolb,16th, 2:53;
1,600-meter relay: Rausch, Mayer, Hess, Frenchick, first, 4:27.82 (new school record);
Shot put: Joy Hemmesch, seventh, 30' 5 1/4"; Jansen, 15th, 29' 1";
High jump: Ashley Wall, eighth, 4' 8"; Danielle Lieser, 17th, 4' 4"; Rachel Koehn, 21st, 4' 4";
Triple jump: Mayer, ninth, 29' 7"; Wall, 12th, 28' 9";
Long jump: Danielle Lieser, 14th, 13' 1"; Sara Lieser, 19th, 12' 1".
---