Bowlers compete in Reno
This article submitted by Michael Jacobson on 3/28/01.
Having traveled all the way to Reno, Nev., to participate in the American Bowling Congress Championships in the biggest bowling alley in the world, a group of ten local bowlers were made to feel right at home. When it came time for them to take to the lanes, their introductory song was The Beer Barrel Polka.

"They must have known we were from Stearns County," said Tom Wendlandt with a laugh.

Actually, to refer to the palatial, one-of-a-kind bowling stadium where the tournament was held as an alley is an affront to the nation's premier bowling hall. It has 78 lanes, or 13 times as many as they are used to having in their local league. The bowling area is four stories tall. It has stadium seating, shops representing nearly every bowling equipment manufacturer, and huge Jumbotron-like scoreboards above the lanes.

"It's intimidating when you first go out there," said Don Heinen, who made his third trip to nationals. "I'd bowled nationals before, but never in a house that big."

"That first game was kind of jittery," said Rick Block, who owns the local bowling alley and made his fourth trip to nationals.

Once you started concentrating on your lane and your bowling, though, you didn't pay attention to the other lanes and momentarily forgot about the spaciousness of the facility, said Heinen.

"The ceiling is so high there's nothing to distract you," said Block.

One thing that was just like home were the lanes. "That's one thing that's really helped us in tournaments is the lanes here are just like the lanes out there," said Wendlandt, after the completion of the local league on Thursday.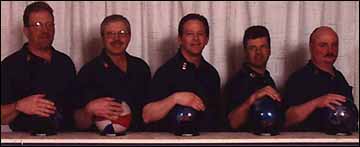 The two teams that headed to nationals in Reno have gone to several tournaments together over the winter: Fargo, Alexandria, and, most recently, St. Cloud. (Block's team was in eighth at Alexandria at the last check, and Wendlandt's team was in second at Fargo in their division.)
"It's just a fun bunch," said Block, who feels the reason to join league is to have the opportunity to bowl in tournaments.
One of the teams - (pictured above) Heinen, Block, Dan Severance, Troy Caldwell, and Nate Mohr - bowls in the open division, where they go up against teams with professional bowlers at nationals.
The other - Wendlandt, Kevin Reid, Conrad Lauer, Jerry Utsch, and Doug Schwandt - bowls in the classified division, where members must have a handicap of under 180. Once the bowling starts, though, it is done without handicap.
Bowling tournaments aren't one-day affairs. Most local ones are conducted over the course of a series of weekends, with participants competing against the other bowlers that day as well as all the scores posted previously and in the future.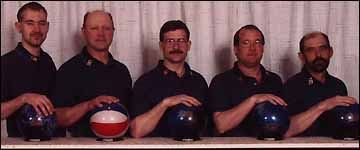 Nationals runs seven days a week, 15 hours a day, for five months, from February to June. Reno expects to attract at least 16,000 teams, over 80,000 bowlers, during the course of the tournament.
Wendlandt's team (pictured at right: Kevin Reid, Conrad Lauer, Jerry Utsch, Doug Schwandt, and Tom Wendlandt) bowled well in Reno, coming back to Paynesville in 12th place in their division. Two days later they had actually moved up a place, a rare event, as apparently some team was disqualified.
Having bowled in early March, they expect to move in the other direction as new teams come and surpass them. "If we could stay in the top 50, that would be excellent," said Wendlandt.
They posted a three-game series of 2,620, which averages out to 175 per game for the five bowlers.
Despite their better showing in their division, they still don't have clear bragging rights. Block's team rolled a three-game series of 2,674. "That's not good in that division," said Block. "That's where the big boys play."
Last year, the winner in the open division had 3,513 (an average of 234), while the winner in the classified had 2,880 (192 average).
The Paynesville contingent went to Reno on Friday and had Saturday to sightsee (Heinen said he stuck his toe only in the Lake Tahoe) or get a little pretournament bowling in.
On Sunday night, both groups bowled as a team. Then on Monday, they bowled in singles and doubles competition before coming home on Tuesday.
Nationals - which is held every three years in Reno at this splendid facility - will be in Billings, Mont., next year for the men, which is a little less exciting than Reno. The group may go, but certainly not in March.
---