The Paynesville-New London-Spicer Lakers Squirt B hockey team took home two first-place trophies and a fourth-place trophy after participating in three hockey tournaments this winter.

In February, the Lakers traveled to Morris to play in the Prairie Storm Invitational Squirt B Tournament. On Friday, Feb. 7, the Lakers defeated the host team, the Morris-Benson Storm, 7-6 in overtime.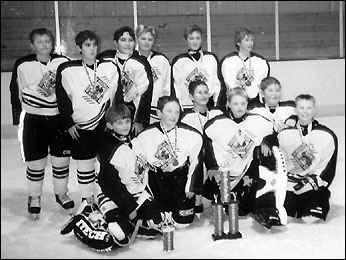 On Saturday, Feb. 8, the Lakers lost 13-1 to the Fargo Patriots-White, and on Sunday, Feb. 9, the Lakers lost 6-2 to the Monticello-Annandale-Maple Lake Stars.
Members of the 2002-03 PNLS Lakers Squirts B hockey team are: (kneeling) Mitchell Meed, Tanner Wendroth, Cody Lieser, Tanner Caldwell, Daniel Vogt, and Garrett Thompson; (standing) Dillon Hedman, Luke Peterson, Dalton Ehresemann, Jesse Caldwell, Aaron Savelkoul, and George Kueppers.
The Lakers finished fourth in the eight-team tournament. Other teams were Cold Spring Area-Black, Alexandria, Elk River, and Maple Grove-White.
The Lakers hosted a four-team, round-robin tournament at the Koronis Civic Arena on Saturday, Feb. 15, and Sunday, Feb. 16. The Squirts went undefeated in the tournament and took first place. On Saturday morning, they outscored Hutchinson 5-1. On Sunday, the Lakers shut out Willmar 2-0 and defeated Cold Spring Area-Red 4-3.
In March, the Lakers traveled to Benson for the Morris-Benson Storm Tournament. The Lakers shut out Princeton 2-0 in their first game in the four-team, round-robin tournament on Saturday, March 1. In their second game that day, they defeated Morris-Benson 4-1.
On Sunday, the Lakers took first place by beating Marshall 7-3.
The PNLS Lakers Squirt B team finished their season with a district record of 6-5-1. Overall, the Lakers were 15-8-1.
Seven players will receive awards from USA Hockey for achievements during the season. The Hat Trick Award (three goals in one game) will go to Jesse Caldwell, Tanner Wendroth, and Daniel Vogt. The Playmaker Award (three assists in one game) will go to Caldwell, Daniel Hedman, and Aaron Savelkoul. The Zero Award (to a goalie who records a shutout) will go to Tanner Caldwell and Garrett Thompson. These awards were handed out at a season-ending banquet on Sunday, March 23.
Squirt B team members for 2002-03 were: Jesse Caldwell, Tanner Caldwell, Dalton Ehresmann, Hedman, George Kueppers, Cody Lieser, Mitchell Meed, Luke Peterson, Savelkoul, Thompson, Vogt, and Wendroth. The Squirt Bs were coached by Troy Caldwell, Greg Hedman, and Jonathan Meed.
---
Contact the author at editor@paynesvillepress.com • Return to Sports
Home | Marketplace | Community
---