Boy tracksters look forward to season
This article submitted by Josh Jones on 3/24/99.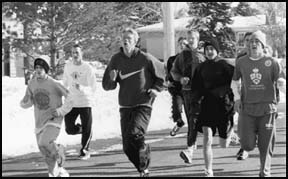 The 1998 Paynesville Bulldog boy's varsity track team is looking forward to yet another season.

The Bulldogs have many returning letterwinners. On this year's team there are 27 members, all from grades 9 to 12.

Captains for this year's team are: Troy Wendlandt and Josh Jones.

Juniors on the team are: Josh Bork, John Brady, Steve Flint, newcomer Eric Habben, Casey Kavanagh, Josh Roemeling, Zac Spates, Luke Trees, and Jeff Voss.

Sophomores include: Ryan Flanders, Travis Flanders, Eric Korman, Clayton Lang, Adam Utsch, and Chris Wendlandt.

Freshmen are: Jeremy Bentler, Nick Glenz, Andrew Jones, veteran Eric Rausch, Jesse Rien, Chad Schwandt, Scott Thompson, Andrew Torborg, Josh Trees, and Ryan Whitcomb.

The head coach is Kyle Nehowig and the assistant coach is Scott George.

Last year's seniors will be missed. Dan Johnson was the only senior last year, but was one of the best leaders ever to be in track for Paynesville.

On Saturday, March 20, Paynesville traveled to St. Cloud State University for their first indoor meet of the season.

The Bulldogs competed against 16 other teams, most of whom were much larger than Paynesville. So there was some very good competition.

Highlights of the meet included Luke Trees winning the high jump, Clayton Lang taking second in the 3,200-meter run and Troy Wendlandt taking fourth in the 55-meter hurdles.

At press time, individual results were not available.

The Bulldogs are looking forward to another great season.

Their next meet will be another indoor meet on Friday, March 26, at St. John's University.
---