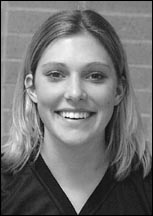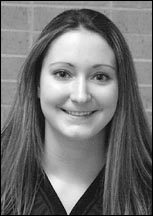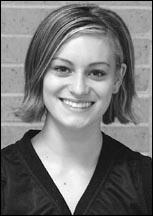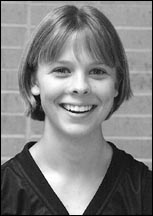 Earning conference honors, from left, are Kim Hess, Kendra Johnson, Brittany Lieser, and Amanda Glenz
Senior Amanda Glenz and junior Kim Hess were named All Conference in the West Central Conference North in girls' basketball this year. Their awards were announced at the girls' basketball banquet on Sunday night.
The Bulldogs, who finished their season with a record of 15-8, including 7-3 in the conference, finishing second, had Glenz and Hess earn All Conference honors. Juniors Kendra Johnson and Brittany Lieser earned honorable mention.
Glenz, a three-year starter, averaged 19.5 points per game this year and nine rebounds per game. She finished her career with 1,070 points, third all-time among female players for Paynesville.
Angie Deegan (1990-94) holds the school record for girls with 1,249 career points. JoAnn Kraemer (1979-82) is second with 1,103 career points. Glenz (2001-04) is third, and Glenz's first cousin Tanya Lieser (1996-00) is fourth with 1,026 points.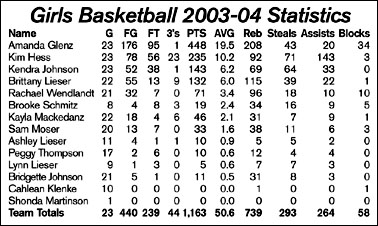 Glenz also broke a school record for most field goal attempts in a season (332), breaking Kraemer's record of 311 set in 1982.
Hess broke a school record for career assists this year (234). Hess had 91 assists as a sophomore and 143 this year to lead the team. She broke Deegan's career record of 233 assists, and Hess has a year to play.
Hess also averaged 10.2 pointers per game this year and led the team with 71 steals.
Johnson was third on the team in scoring (6.2 ppg) and second in steals (64) and assists (33). She also won the team's Shoe Lace Award for the season. Each week, the players voted for a Shoe Lace Award, recognizing a player for being a positive role model, being on time, being a good teammate, and giving 100 percent. Johnson won the season award for having the most weekly awards this year.
Lieser was fourth on the team in scoring (6.0 ppg) and second in rebounding (5.2 rpg).
The Bulldogs will graduate four seniors this year: Glenz, Bridgette Johnson, Cahlean Klenke, and Peggy Thompson.
Junior varsity awardwinners at the banquet were: sophomore Lynn Lieser (Shoe Lace Award and Bulldog Award); sophomore Ashley Lieser (Offensive Player of the Year); ninth grader Marissa Macke-danz (Outstanding Defensive Player of the Year); and sophomore Allyson Klenke (Most Improved).
For the C-squad, ninth grader Jacque Schlangen earned their Shoe Lace Award.
---
Contact the author at editor@paynesvillepress.com • Return to Sports
Home | Marketplace | Community
---