Seniors Kim Hess and Kayla Mackedanz earned Academic All State honors, two awards that were announced on Sunday night at the girls' basketball banquet.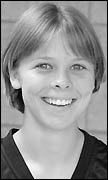 Hess also earned All Conference honors in the West Central Conference North and extended her record for career assists this season. Seniors Kendra Johnson and Brittany Lieser were given honorable mention honors in the conference.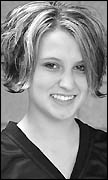 The Bulldogs finished 5-18 this winter, including 3-7 in the West Central Conference North.
Kim Hess, left, and Kayla Mackedanz, right, were named Academic All State. Hess was also named All Conference.
Hess led the team in scoring (9.7 points per game), in assists (4.1 per game), three-pointers (24 for the season), and free throws made (79 for the season, shooting 72.5 percent from the free-throw line). She earned All Conference honors for the second year in a row.
With 94 assists, she increased her three-year career total to 328, a new school record. Last year, as a junior, she broke the previous school record of 233 career assists held by former PAHS standout Angie Deegan (1990-94). Hess also finished her career with 626 career points.
She and Mackedanz earned Academic All State honors by maintaining a GPA of 3.8 over four years of high school.
Johnson and Lieser earned honorable mention awards in the WCC North for the second straight year. Johnson averaged 8.6 points per game (second on the team) and led the team with 73 steals. Lieser also averaged 8.6 points per game (scoring one less point than Johnson this season) and led the team in rebounding (7.9 rebounds per game).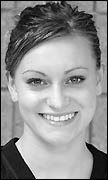 Hess, Johnson, and Lieser have also been selected to participate in an area all-star game at BBE High School on Sunday, April 3, at 2 p.m.
In team awards, Lieser was chosen by her teammates as their Player of the Year. Junior Lynn Lieser received the Gatorade Award from her teammates, and sophomore Kristin Lang was chosen as the Rookie of the Year for the varsity.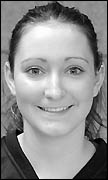 The Bulldogs, as a team, saw their scoring drop from 50.6 points per game last year, when they went 15-8, to 44.6 points per game this year. (They allowed 54.7 points per game.) Their field goal shooting percentage dropped from 34.6 percent last year to 30.0 percent this year. And while the team had 255 assists, they also committed 465 turnovers.
Kendra Johnson, left, and Brittany Lieser, right, were given honorable mention in the conference.
Letterwinners this year were: seniors Hess, Johnson, Brittany Lieser, Mackedanz, and Sam Moser; juniors Ashley Lieser, Lynn Lieser, Amber Jensen, and Allyson Klenke; and sophomore Lang.
For the junior varsity, ninth grader Brittni Schmitz was named their team MVP; sophomore Jacque Schlangen was their Gatorade Winner, and sophomore Randi Schaefer was named Most Improved. For C-squad, ninth grader Laura Schaefer was named team MVP and the Gatorade Winner, and ninth grader Natasha Fangmeier was named Most Improved.
---
Contact the author at editor@paynesvillepress.com • Return to Sports
Home | Marketplace | Community
---