The Bulldogs boys' basketball team completed their winter season with an end-of-the-year banquet on Sunday night. Among the awards, sophomore Cory Nietfeld (at left) was named as an All Conference player.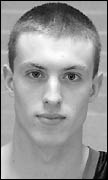 Nietfeld, in his second varsity season, led the Bulldogs in scoring (15.8 points per game), rebounding (11.1 rebounds per game), steals (3.3 per game), assists (3.3 per game), and blocks (2.1 per game). He had 13 double-doubles this year, games in which he reached double digits in both points and rebounds.
In ten games in the West Central Conference North, Nietfeld averaged 16.5 points per game and 10.2 rebounds per game.
Nietfeld was also named MVP and Chairman of the Boards in team awards at the banquet. Senior A.J. Benson was named Mr. Dedication, junior Trent Hansen was named Most Improved, and junior Derek Stanger was named Mr. Bulldog (given for team spirit) and Mr. Defense.
Nietfeld led the team in most statistical categories (scoring, rebounding, assists, steals, and blocked shots). With 75 steals, he came within nine of the school record set by Jamie Holper in 1981-82. With 364 points this year, Nietfeld has tallied 588 career points in his two varsity seasons.
Other statistical leaders this year for the Dogs were: junior Mark Andrie (first in free throw percentage at 68.9 percent and second in three-pointers with 17); junior Harrison Fangmeier (first in field goal percentage at 66.7 percent, making two of three shots); Hansen (second in free throw percentage at 65.0 percent, second in assists with 56, and second in steals with 28); sophomore Ben Moser (second in scoring at 11.9 points per game, second in rebounding at 7.1 per game, first in three-pointers with 36, and second in blocked shots with 32); and Stanger (second in field goal percentage at 52.8 percent).
As a team, the Dogs finished 3-20 this year, including going winless in the WCC North. The Dogs had season highs of 65 points in losses to Benson and LPGE and averaged 50.0 points per game this winter. Their wins came against Kimball, Hancock, and Holdingford.
Coach Phil Carlson is optimistic that the young team gained valuable experience this winter. "We are fired up for next season as we will be returning all starters, and we have some of this year's JV and C-team players that will offer a challenge for some playing time, which will be great as we have not been very deep on the varsity and JV levels for a few years," he said. "We really want to emphasize competing in other sports to keep that mental -competitive edge."
The junior varsity and C-squads also recapped their seasons at the banquet on Sunday.
The junior varsity finished with a record of 7-13 this season, including 5-5 in the conference. Leading scorers were ninth grader Colin Spooner (9.8 points per game), eighth grader Mitchell Marlow (7.5 ppg), junior Matt Mergen (6.0 ppg), sophomore Elliot Wall (5.6 ppg), sophomore Sam Bayer (5.2 ppg), and sophomore Mike Houske (5.1 ppg).
The C-squad finished 12-8 this season, winning 10 of their last 13 games, including seven straight to end the year. Eighth grader Nathan Nietfeld led the team with 204 points, ninth grader Alex Svejkovsky led the team with 193 rebounds and 37 blocks, and ninth grader Ted Hoffman led the team with 78 assists.
---
Contact the author at editor@paynesvillepress.com • Return to Sports
Home | Marketplace | Community
---