Senior Brooke Schmitz's being named to the All Conference team in the West Central Conference North and senior Allyson Klenke's being named Academic All State highlighted the season-ending girls' basketball banquet on Tuesday, March 14.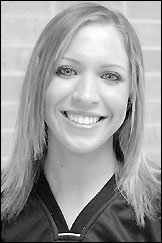 The Dogs finished the year with a record of 7-15, including 5-9 in the West Central Conference North.
Brooke Schmitz, All Conference
Schmitz, who returned to the team this year after missing a couple years due to illness, led the Dogs by averaging 11.5 points per game, with 82 steals, and with 33 blocked shots. She made 46 three-pointers this season, accounting for half of her points and coming within three treys of the school's single-season girls' record (49, set by Angie Deegan in 1994).
Schmitz also was second on the team with 149 rebounds and with 76 assists.
Her return to the team was one of the highlights of the season, said coach Jackie Parsley, along with breaking the school record for most points in a game (89 versus LPGE in February), great team chemistry, and five seniors "who truly gave all they could each and every game."
Seniors on the team this year were Amber Jensen, Klenke, Ashley Lieser, Lynn Lieser, and Schmitz.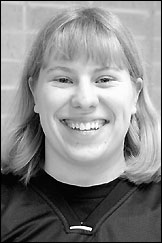 Klenke became the third PAHS girls' basketball player in the past two years to earn Academic All State honors, joining Kim Hess and Kayla Mackedanz from last year.
At right: Allyson Klenke, Academic All State
Both Ashley Lieser, Lynn Lieser, and sophomore Brittni Schmitz earned honorable mention in the WCC North this season.
Ashley Lieser averaged 6.1 points per game and led the Dogs in rebounds (155) and assists (82). She, as well as Brooke Schmitz, made five treys in a game this season, which is believed to be one short of Deegan's school record of six treys.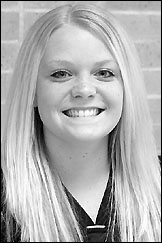 Lynn Lieser averaged 5.8 points per game and was third on the team with 132 rebounds. She also made a last-second shot for the Bulldogs to beat Minnewaska 47-46 in January, sweeping their season series with the Lakers.
Ashley Lieser, Honorable Mention
Brittni Schmitz was second on the Dogs in scoring with 10.9 points per game. She was second with 52 steals and third with 46 assists.
The Dogs broke a school record for most points in a game when they scored 89 points in beating LPGE in February. Ashley Lieser made five treys in the game, and junior Jacque Schlangen - who was third on the team with an average of 8.3 points per game - led the Dogs with 20 points.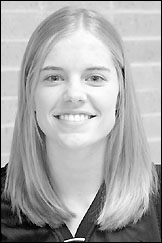 Those 20 points were the second highest by a PAHS player this year. Brooke Schmitz scored 24 points in a game against Howard Lake-Waverly-Winsted in December. And Lynn Lieser also scored 20 points, in the Dogs' season-opening win against Kimball in December.
At right: Lynn Lieser, Honorable Mention
The previous record for most points in a game by the Dogs was set in 1994 when the Dogs beat Melrose 86-54.
For the season, the Dogs averaged 49.7 points per game while allowing 56.6 points per game. They shot 33.1 percent from the floor, 27.6 percent from three-point range, and 59.0 percent from the free-throw line. Their opponents shot 39.0 percent, 23.7 percent, and 56.1 percent respectively.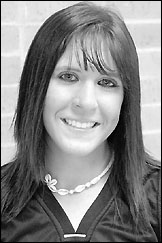 Other team awards announced at the banquet were: Brooke Schmitz, Player of the Year; Brittni Schmitz, Rookie of the Year; and Schlangen, Gatorade Winner (for dedication and attitude).
The players elected junior Kristin Lang, junior Marissa Mackedanz, and Schlangen as the team captains for 2006-07.
Brittni Schmitz, Honorable Mention
Junior varsity awards went to: sophomore Natasha Fangmeier, Most Improved Defensively; ninth grader JessiccaLee Klein, Most Rebounds; sophomore Natalie Leadem, Best Field Goal Percentage; sophomore Kayla Lieser, Most Hustle; junior Kirsten Miller, Most Assists; sophomore Laura Schaefer, Most Valuable Player, Most Points, and Most Steals; sophomore Sam Strodtman, Most Improved; sophomore Carissa Utsch, Most Blocks; and sophomore Allie Wendroth, Best Free Throw Percentage.
C-squad awards went to: ninth grader Kelli Flannigan, Player of the Year; ninth grader Bri Jaeger, Most Hustle; and ninth grader Alexa McCorquodale, Most Improved.
---
Contact the author at editor@paynesvillepress.com • Return to Sports
Home | Marketplace | Community
---