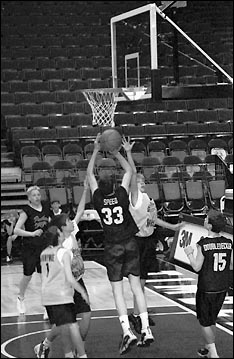 Paynesville's seventh grade boys' traveling basketball team beat their counterparts from New London-Spicer at the Target Center in Minneapolis by the score of 41-20 on Sunday.

The teams played at 8:30 a.m. on Sunday morning, before the Wolves game against Utah later in the day.

Cory Nietfeld goes up for a shot against an NL-S defender at the Target Center in Minneapolis. Teammates Isaac Jones (left) and Randy Leyendecker (right) position themselves for the rebound.

The thrills for the boys started before the game, with the teams getting announced on the loudspeaker the same way the Timberwolves do.

Paynesville, with its height advantage, got off to 17-2 advantage in the first quarter. The NL-S boys may have been a little drained from cheering on their varsity girls' team to a state title on Saturday night.

Paynesville outscored the Cats 7-6 in the second quarter and led 24-8 at the half.

Paynesville came out strong in the beginning of the third quarter, outscoring NL-S again 11-2.

The fourth quarter belonged to the Wildcats, who scored 10 points to Paynesville's six. The game ended with Paynesville winning 41-20.

Cory Nietfeld led Paynesville with 12 points, 10 rebounds, and three blocks. Randy Leyendecker added nine points and four steals, Alex Naujokas added eight points, and Isaac Jones had ten rebounds.

Assisting the team were Sam Bayer on stats and Sam Moser with the book.

After their game, there was a clinic with the Timberwolves for all the kids. The guys got autographs and watched the pregame workouts for the Utah Jazz and the Wolves. The Wolves ended up losing but the team was happy to have played on an NBA court.

Coaches Wally Thyen, Kevin Wall, and Rick Houske would like to thank the parents and donors who made this trip possible.

Statistics
Points: Cory Nietfeld 12; Randy Leyendecker 9; Alex Naujokas 8; Ben Moser 5; Isaac Jones 4; Solomon Pacheco 2; Michael Houske 2.
Rebounds: Nietfeld 10; Jones 10; Moser 4; Naujokas 3; Pacheco 3; Elliot Wall 2; Leyendecker 2; Houske 2; Jamison Wall 1.
Assists: Houske 3; Leyendecker 2; Naujokas 2; Elliot Wall 2; Nietfeld 2; Jamison Wall 1; Colin Spooner 1; Ben Moser 1; Isaac Jones 1.
Steals: Leyendecker 4; Naujokas 2; Houske 2; Nietfeld 2; Spooner 1; Moser 1; Jones 1; Elliot Wall 1.
Blocks: Nietfeld 3; Jones 2; Moser 1.
---
Contact the author at paypress@lkdllink.net • Return to Sports
Home | Marketplace | Community
---