Father and son race on glare ice
This article submitted by Michael Jacobson on 3/17/99.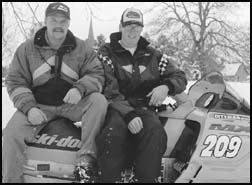 Not many snowmobilers prefer ice to snow, but Dale and Justin Mackedanz of Roscoe do. On most weekends this winter, they have been taking corners at high speeds on glare ice, usually with a string of other riders in hot pursuit.

Dale and Justin drive snowmobiles in Ice LeMans style races sponsored by the Pro Ice Association. LeMans racing is done on a glare ice track that is typically about three-quarters of a mile long. A figure eight in shape, the track has both right and left turns.

Dale and Justin haven't followed the pack much at all this year. In eight weekends of competition, they have won first place in the finals 15 times. Justin won season championship in the junior class for 16- and 17-year-olds, and his father Dale won the season points championship in the masters class, for racers 35 years and older.

Justin, a junior at Paynesville Area High School, also competed in the sport class, which is for young and inexperienced racers. Juniors need special permission to race in the sport class, and Justin took seven firsts and was banned from racing in that class.

Each weekend, the competition starts on Saturday with heat races. Usually eight to ten sleds race for three laps. In the finals on Sunday, the top finishers in the heats, again eight to ten sleds total, race five laps. Each competitor earns points towards the season total for placings in both the heats and finals.

The competitors are divided into numerous classes by age, gender, engine size, and experience. The riders with the most experienced are pros, divided by engine size; the least experienced are the juniors ages 10 through 13.

Racing on glare ice takes some special equipment. Each year, the Mackedanz's buy a 440cc racer's special Skidoo snowmobile. The racer's special is a limited edition and is lighter and more powerful than a machine geared for normal trail rides.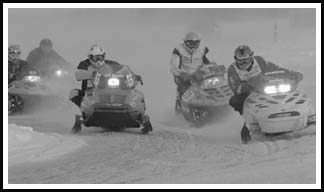 Still modifications are needed to race on ice. Dale does most of the mechanical work on the sled they both use to race, but Justin is learning. The track has hundreds of ice picks, sharpened steel studs, and they use sharpened carbine wear rods, "so you can turn on a dime on glare ice." They sharpen the wear rods every week and the studs every other week.
Dale also adjusted the springs on the sled and lowered its travel from over 10 inches to about three inches. Bumps aren't a major concern when you race on glare ice, but lowering the sled's center of gravity so it corners better is important.
"When we get it set up for racing, that's all we do with it," said Dale.
Their sled this year was very quick, which is important in the relatively short course where turning and accelerating are important. "This (snowmobile) was good right away, right out of the box," said Dale. "But we improved it."
They also adjusted the clutch for better top-end speed and acceleration. The racers all start in a line, and rush to make it to the first turn. "If you get there with nine other people, it gets kind of busy," said Dale, of turning at 60 mph with other sleds only inches away. Passing other racers is difficult, so getting in front at the start gives you a great advantage.
Justin used the sled to dominate his competition this year. In 17 final races in the junior and sport classes, he took first place 13 times. He took second once and third once and crashed twice, without injury. "He's fun to watch," said Dale, of his son's aggressive style.
In the last race at Detroit Lakes, he just needed to finish in the finals to win the season championship. But he crashed on Saturday, and it took some fixing Saturday night to get the machine ready to race on Sunday. Justin finished third in that final and won the junior season championship 214-208.
That was an important day for Dale, too. Entering the Detroit Lakes race, Dale was in third place for the season, trailing the leaders by two points. But he earned nine points for a second place finish in his heat Saturday and 25 points for winning the finals Sunday. His second finals victoy of the year won him the season championship 203-190.
Snowmobile racing has been a tradition in the Mackedanz family since Dale was a kid. In the late 1960s and early 1970s, Dale followed his father, Charlie, as he competed in races all over Stearns County. When Dale started, he raced long distance, cross country events. Four times in the early 1990s he raced in the I-500, a 500-mile race from Thunder Bay, Ont., to White Bear Lake, Minn.
In 1994, he didn't see a hole and hit it and hurt his back, spending a day in the hospital. "That's why I quit those long bumpy races," he said.
In 1995, he just did some drag racing, and in 1996 he did some 40-mile races on frozen lake courses.
Justin always went along to watch his dad, and then he got old enough to try himself. He started doing some drag racing in 1995. In 1997, Dale switched to Ice LeMans, and they decided to let Justin try as well. "We both talked about it and he finally gave in," said Justin.
They planned to have Justin race about half the season, but Justin did so well that they let him continue. In 1997, he finished second overall in the juniors 15-16. Last year, he was second in the juniors 16-17, and this year he was first. "He gets gutsier every year," explained his father.
The season this year got off to a slow start because of the unseasonably warm weather in early December. The first race in Detroit Lakes was postponed and ended up being the last race of the season.
The races started in January at Roseau, on Green Lake near Spicer, at North Branch, at Waconia, and at Canterbury Downs. In February, they raced on Mille Lacs near Garrison, at Big Lake, and at Detroit Lakes.
Most of the races are on lakes, but some are man-made ice. In Roseau, the race is held at the fairgrounds. They started spreading water at Thanksgiving. It takes 33 laps with a water truck to make an inch of ice, Justin said.
The lack of ice around here didn't give Dale and Justin much of a chance to test the sled at all. Dale called the first set-up this year "a lucky guess."
On lakes, the racing really wears away the ice, especially on the corners. After every five or six races, they have to clear the ice of all the shavings. On the corners, 12 to 18 inches of ice can be worn away in a weekend of racing. "Sometimes we wear enough ice away that water starts coming up," said Dale.
Racing continues to involve the entire Dale and Donna Mackedanz family. Donna videotapes all the races. Their younger children, Ashley and Jacob, also attend the races.
Next year, Justin will have to compete in the semi-pro class. There the competition and the prizes are greater. "Everyone we talked to said he's plenty good enough," said Dale.
They hope someday that Justin might advance to the pro class. Even if he does and wins bigger prize money, he will still need sponsors to cover his costs. The cost of the snowmobile and its maintenance, entrance fees, and traveling expenses make this an expensive sport.
The Mackedanz family appreciates all their sponsors for helping them with these racing expenses.
Dale said his father had teased him about quitting racing now that their mantle is full of trophies. "We'll just have to build another fireplace," Dale responded.
---