Brothers have success at Brainerd snocross
This article submitted by Michael Jacobson on 3/17/99.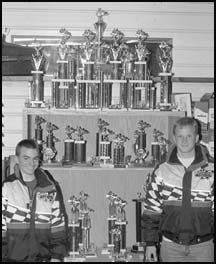 Brothers Dave and Dan Legatt have enjoyed considerable success at the Brainerd snocross circuit this winter.

Snocross is the type of racing you may see on ESPN, where snowmobilers race around corners and fly off jumps. The track is normally a half to three-quarters of a mile long.

In eight races this winter, Dave, a 17-year-old junior at Paynesville Area High School, has won six trophies for second or third place while competing in the sport division for riders 16- to 24-years-old. This class has about 25 riders competing each weekend.

His brother, Dan, a 15-year-old ninth grader, has won six first place trophies in the junior division, which takes riders up to 15 years of age. Usually about 10 racers compete in the junior class.

The season point winners will be announced at an award's banquet on March 26, but Dan has a clear lead, the brothers said. Dave should also be in the top two and could win the season championship in his division.

They have raced at Brainerd eight times. Two more scheduled races were cancelled due to lack of snow. Actually, the course was fine; it was the pit and the areas surrounding the course that were all mud.

The brothers usually head to Brainerd early Sunday morning and run races all day and return at night. In the heats, races consist of three to five laps. In the finals, they run five to seven laps.

The races are held in the same location every week, but the track is altered. Maybe it's lengthened or a turn is changed or maybe a jump is added.

Racing techniques include "squaring off," where a rider goes into a corner at a fast speed, taps his brake, slides his tail end around, and hits the gas. Or the driver may try to hit a jump at 60 mph and try to avoid another incline by jumping over the top of it. Dave said the top speed on the course is 50 to 60 mph. The highest jumps can be more than 10 feet.

Both Dave and Dan race MXZX Ski Doo snowmobiles. They each have 440cc engines, though Dave's is liquid cooled and Dan's is fan cooled. Dan may get a new sled to race in the sport division next year.

Their racer's special machines come pretty well suited for the snocross racing. "It comes built for it," explained Dave. They do have to take a few safety precautions like taping the headlights, tying down the flaps, and putting studs on their track. Up to 96 studs are allowed but only inside the suspensions rails.

Maintenance needs to be done every week, though, as the high speeds and jumps take a toll on the driver and the machine. Bolts sometimes become loose on the snowmobile, and their bodies get sore from the jarring bumps and landings. "It's hard on everything," explained Dave, "your sled and your body."

Dave and Dan grew up around the snowmobile business in their father's marine and snowmobile dealership. Their father, Bill, didn't race but others around the shop, including Dale Nathe, did. "(Racing) was always something I wanted to try," said Dave.

Dave started racing in 1997. He competed in two snocross events and three Ice LeMans races like Justin Mackedanz (see story at left). Last year, however, he switched to snocross full time, and he was joind by his brother. Dave competed in six races in 1998 and Dan in four or five.

Dave said snocross is getting quite popular, led by the World Snowmobile Association (WSA). Their national curcuit events are sometimes on ESPN and can draw 800 entries for a weekend competition. WSA had a race in Kimball this winter and two in Brainerd.

Dave and Dan prefer the Brainerd circuti, considering it to be more for real racers.

Next year the brothers should be racing against themselves., as they both compete in the sport class. Dave said his brother will need to go faster. A new sled should help, but so will experience.

"Every weekend you get better," said Dave. "It almost takes you a year to know what you're doing."

The experiece has a price though. The equipment, maintainance, and fees can make it an expensive sport. And it takes committment. "It kind of ruins your weekends for eight weeks straight. You can't have anything planned," said Dave.
---