Girls JV basketball season comes to an end
This article submitted by Mellody Veldkamp on 3/17/99.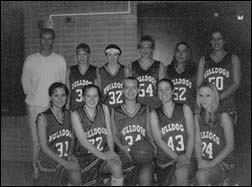 Junior varsity capped off the season with a banquet at Northern Lights on Thursday, March 11. A good time was had by all with jokes and general pats-on-the-back.

Our season record was 10-12 but our total points for the season was 892 to our opponent's 835. Five of our losses were by four points or less. The team averaged 40.5 points per game, while our opponents averaged only 37.9.

Three starters added up a grand total of eight double-doubles. We averaged 13.6 steals per game. Six girls averaged five points per game or better. Four girls together sunk a total of 56 shots from the three-point range.

Parts of the season were great, parts only mediocre, but there weren't a lot of boring moments. Coach Pat Deegan has our thanks and coaches Mahlum and Randgaard also for putting up with us all season. We'll be back next year, stronger, taller, and harder working.
---