The Paynesville wrestling team ended their winter season recently with an end-of-the-year banquet. Wrestlers received awards and reviewed records and statistics for the year.

The varsity team finished the season with a record of 17-15 and ended the year as Section 6A runners-up to Pierz, who proceeded to win the Class A state title.

It was also the third year in a row that the Dogs ended their season as a team in the section finals.

This year, six wrestlers qualified for state individually, with senior Matt Kerzman placing third at 152. Kerzman also had 47 reversals this season, tying for second all-time, one behind the school record.

Varsity awards at the banquet went to sophomore Sean Glenz (Most Aggressive); Kerzman (Hardest Worker); junior Josh Tebben (Most Improved); and senior Pat Utsch (Most Dependable).

Utsch and Kerzman also were awarded the Greg Schwartz Memorial Scholarship. Senior Derek Burris was awarded the Dahl/Schwartz Award for top contribution to football and wrestling, and junior Jack Mueller was awarded the David Bast Award, an award for daily dedication.

Utsch, ninth grader Brad Torborg, and eighth grader Cory Spanier were given Bulldog Pride awards for personal responsibility and daily excellence.

Glenz (41-2) recorded his 100th career victory this season. His career record now stands at 112-56.

The Bulldogs had three seniors who ended their high school wrestling careers this winter. Kerzman (40-7) finished with a career record of 73-30; Utsch (36-6) finished with a career record of 65-14; and Burris (11-12) finished with a career record of 12-14.

Matt Kerzman and his brother, sophomore Joel (33-8), moved their family into third place among wrestling families, giving the Kerzmans 357 career wins, along with older brothers David and Josh. The Kerzmans passed the Scheierl family (345 wins), but still trail the Vagle/Schwartz family (462 wins) and the Meaghers (397 wins).

The Glenz family also topped 200 career wins this year, moving into ninth place among PAHS families.

In nine of the Dogs' losses, a one-match swing would have reversed the outcome, noted coach Virg Vagle at the banquet. On the down side, the Bulldogs yielded 144 pins this season, including ten wrestlers who were pinned eight or more times. In 1986, by contrast, the entire team yielded eight pins.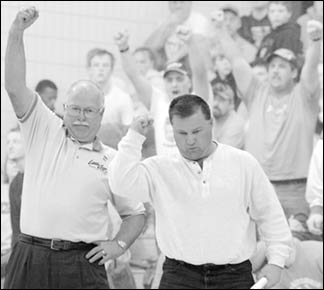 Vagle (pictured at left) is retiring after this year, his 38th as the varsity wrestling coach at PAHS. Assistant coach Steve Fuchs (pictured at right) is retiring after 18 years with the program.
It was the second year in a row that the Bulldogs had lost to the eventual state champion in the section final. In 2003, the Dogs lost to Litchfield in the Section 5AA final, and the Dragons won the Class AA title at state.
The Bulldogs' junior varsity finished their season with a record of 11-10-1. Junior varsity awards went to eighth grader Kevin Klein (Most Aggressive); eighth grader Jordan Spaeth (Hardest Worker); junior Greg Person (Most Improved); and Torborg (Most Dependable).
Junior high awards went to seventh grader Jon Kerzman (Most Aggressive); eighth grader Keegan Meagher (Hardest Worker); eighth grader Nathan Christman (Most Improved); and Spanier (Most Dependable).
---
Contact the author at editor@paynesvillepress.com • Return to Sports
Home | Marketplace | Community
---