Pat Neu - a 1972 PHS graduate and the 1977 national champion at 134 pounds for the University of Minnesota - was one of five inductees into the David Bartelma Wrestling Hall of Fame on Sunday.

This year's class of five for the Hall of Fame, run by the Minnesota Wrestling Coaches Association, were inducted on Sunday afternoon at Augsburg College in Minneapolis.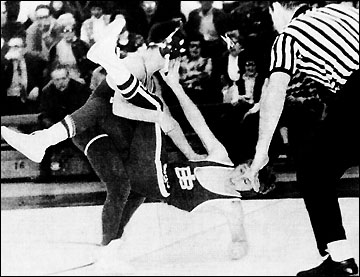 Neu, whose father Sylvester now lives in Eden Valley, placed three times at state for Paynesville, in 1970, 1971, and 1972, back when wrestling was still a single class. Being a three-time state placewinner is one school record that Neu still holds for the Bulldogs, though his mark has been tied by five wrestlers since then.
Neu placed fifth at 95 pounds as a sophomore, third at 103 as a junior, and third again at 112 as a senior.
Pat Neu - shown scoring a takedown in high school - was inducted into the David Bartelma Wrestling Hall of Fame on Sunday. The 1972 grad was a three-time state placewinner at PHS and the 1977 NCAA champ.
He amassed a career record of 103-12-6 in high school, making him the first 100-win wrestler in school history.
Then, after getting a wrestling scholarship to the University of Minnesota, Neu won a starting spot at 118, but lost it to a growth spurt, when he could no longer make weight. He lost another season to a medical redshirt. Then, in 1976, as a redshirt junior, Neu finished as the Big Ten runner-up.
In 1977, as a redshirt senior, Neu again finished as the Big Ten runner-up at 134, losing a close, somewhat controversial match in the finals to a wrestler from Iowa. After the loss, legendary Iowa coach Dan Gable told Neu that he would "do just fine at the NCAA," which were fantastic words, Neu recalled.
"I just kicked it down," said Neu of his run through the NCAA tournament in Norman, Ok. "I just started to believe in myself, that I could get takedowns, and I could."
Describing himself as a better mat wrestler, who liked to use an arm bar, he not only controlled guys, earning back points and riding points at nationals, but he scored takedowns, too. He beat a Michigan State wrestler 3-2 for the NCAA title at 134.
Neu went around 44-6 his senior season, he said. He lost in the Big Ten finals, he had one bad loss, and he lost four times that year to Jack Eustice of Mankato State, a three-time Division II champ and the former coach at Blue Earth. They always had great matches, said Neu, but Eustice won four narrow victories that year.
Ironically, Neu had beaten Eustice 4-2 for third place at state as a senior in high school.
Ironically, too, another one of the Hall of Fame inductees this year was Jeff Lamphere, who was a Gopher teammate of Neu. Actually, Neu knew Lamphere from high school, too. According to Neu, he practiced with the Robbinsdale Cooper wrestlers during his three trips to state. Lamphere was a two-time state champ in high school for Cooper.
The other Hall of Fame inductees this year were coaches Steve Bechtold of Blackduck-Cass Lake-Bena, Jerry Cleveland, formerly of Blackduck-Cass Lake-Bena, and Steve Techam of Bertha-Hewitt-Verndale.
Former PAHS coach Virg Vagle, who was Neu's high school coach, was inducted into the Hall of Fame in 1990.
After college, Neu wanted to try out for the 1980 Olympic team, but the United States boycotted the games that summer in Moscow.
Neu now lives between Waconia, Watertown, and St. Bonafacius, with his wife Tammy and their six kids. He ran a successful plumbing business, which he sold a few years ago. After that, he remodeled a building on his property to house two wrestling mats and for use as a practice facility. Wrestlers from Waconia, Watertown, and many other surrounding schools can now be found practicing in "the shed."
Neu, who also helped with the youth wrestling program in Waconia for a couple years, credits wrestling for much of his success in life, because wrestling provided his education, many of his business contacts, and his work ethic.
"Now I just want to give back to my first love," he said of his practice facility for wrestling. "I owe for everything (wrestling) did for me."
---
Contact the author at editor@paynesvillepress.com • Return to Sports
Home | Marketplace | Community
---