The Minnesota State High School League announced new section assignments for the 2005-06 and 2006-07 athletic seasons last week, with the biggest change for Paynesville teams being the wrestlers moving to Section 5A.

Unlike two years ago, when the Bulldogs dropped a class in both football and wrestling, all varsity sports stayed in the same class in this reassignment, and the majority of sports stayed in the same section.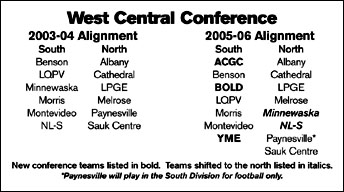 Wrestling was the only PAHS sport to move into a new section. Instead of competing in Section 6A, as the Dogs have done for the past two years, losing to two-time state champion Pierz in the section final both years, they will move into Section 5A.
The wrestling Dogs will still face a major challenge in earning a state team trip in their new section: the ACGC Falcons, who gave Pierz their toughest test at state this year - the Falcons' only loss of the year - and finished third in Class A. Coached by former PAHS standout Tim Roberg, ACGC defeated the Bulldogs 42-9 this winter.
Section 5A, for wrestling, will include the following teams for the next two years: ACGC, BBE, EV-W, Kimball, Mounds Park Academy, Norwood-Young America, Paynes-ville, St. Croix Lutheran, Trinity School at River Ridge, and Meadow Creek Christian Academy. BBE will also be moving into Section 5A from Section 6A for the next two years.
Section 5A lost Howard Lake-Waverly-Winsted/Lester Prairie, which moved into AA. The individual Section 5A was typically held at Howard Lake, according to athletic coordinator Kyle Nehowig, and it's too early to tell where the section tournaments will be held for wrestling now.
With four neighboring rivals - ACGC, BBE, EV-W, and Kimball - in the section, there is some hope that at least one of the section wrestling tournaments will be held close to Paynesville each year. This year, the Dogs had to travel to Ogilvie for the team sections and to Braham for the individual sections.
Paynesville had just gotten onto the schedule to host the Section 6A individual tournament in 2007, according to Nehowig, but now they will move into a new section.
Actually, PAHS wrestling has moved to a new section every two years for the past six years. The Dogs wrestled in Section 6A in 1999-00 and 2000-01, they wrestled in Section 5AA in 2001-02 and 2002-03, and they wrestled in Section 6A again in 2003-04 and 2004-05. Now, the Dogs will wrestle in Section 5A in 2005-06 and 2006-07.
For other PAHS sports, the new section assignments mean the loss or addition of a section rival or two.
Baseball: EV-W and Litchfield move into Section 5AA, while the section loses Annandale.
Basketball: Section 5AA gains BBE, Delano, and Glencoe-Silver Lake, while it loses Annandale and Rockford.
Cross Country: Section 5A loses Becker, the girls' section champ last year, and Maple Lake, while it gains Litchfield.
Football: Section 5AA loses Mayer Lutheran and gains Holy Family Catholic. Paynesville remains with ACGC, EV-W, Holdingford, Howard Lake-Waverly-Winsted, Kimball, Maple Lake, and Norwood-Young America.
Girls' Dance: Section 2A loses Gibbon-Fairfax-Winthrop.
Golf, Gymnastics, and Hockey: No changes.
Softball: Section 5AA loses Annandale.
Track: Section 5A loses Becker.
Volleyball: Section 6AA loses Melrose and gains Holdingford.
Conference Additions
New section assignments won't be the only change for Bulldog athletics next year. The West Central Conference will add three new schools - ACGC, BOLD, and Yellow Medicine East (Granite Falls) - starting next year.
All three of the new schools will compete in the South Division.
Paynesville will remain in the North Division in all sports except football, which will still be divided by school size. In 2005-06, the South Division will feature seven schools, with Montevideo competing in the North Division. In 2006-07, Monte will move back into the South Division, giving it eight schools and leaving only seven in the north.
While Paynesville will stay in the North Division for all other sports, the Bulldogs will see some scheduling changes since New London-Spicer and Minnewaska, currently in the South Division, will move into the North Division starting next year. The Dogs will play NL-S and Minnewaska twice in volleyball, basketball, baseball, and softball starting next year.
The most difficult scheduling change was volleyball, according to Nehowig. Since the volleyball team only has 16 total matches and now must play 14 conference matches, the Dogs lost some nonconference dates with the new conference schedule. (The Dogs will play 14 conference matches and two tournaments next fall in volleyball.)
For cross country, wrestling, and track, the extra teams in the conference mean that these sports will have conference meets by division. Gymnastics will continue to have a single conference meet, since none of the new schools offer gymnastics.
---
Contact the author at editor@paynesvillepress.com • Return to Sports
Home | Marketplace | Community
---