Annandale boys eliminate Paynesville
This article submitted by Michael Jacobson on 3/15/00.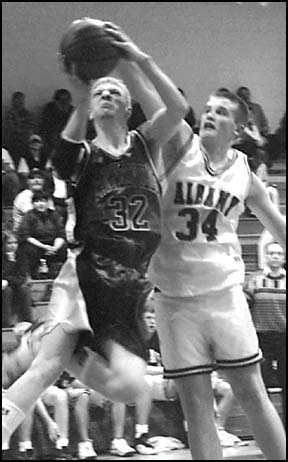 The Bulldogs boys' basketball team was eliminated in the first round of playoffs by Annandale 85-49 on Thursday. Annandale, seeded second in District 20, hosted the game against the seventh-seeded Bulldogs.

After a slow start that saw the Cardinals jump to an early lead, the Bulldogs played with them the rest of the first quarter and trailed by five at the first break.

Junior forward T.J. Schultz grimaces while driving to the basket in the Bulldogs' final home game against Albany.

Trailing 32-22 in the second quarter, the Bulldogs allowed the Cardinals to close the first half with a 20-5 run. That gave the Cardinals a 25-point lead at the half, 52-27.

Junior forward Matt Totz had 18 points for Annandale in the first, mainly from lay-ups on fast breaks and offensive rebounds. He led all scorers with 22 points in the game.

The Bulldogs played better defense in the second half, but couldn't score enough points to get a rally going. The Cardinals edged the Bulldogs 16-15 in the third quarter. In the fourth quarter, the Cardinals' reserves outscored the Bulldogs' 17-7 to make the final score 85-49.

Senior Ryan Wall led the Bulldogs in scoring with 21 points and eight rebounds. He made nine of 19 shots. The team shot only 20 of 63. Other scorers for Paynesville were: Luke Trees 7; Davis Hoekstra 7; J.T. Koehn 4; Steve Gilk 3; Andrew Jones 3; Logan Louis 2; T.J. Schultz 1; and Nic Glenz 1.

The Cardinals (22-2) beat Howard Lake-Waverly on Saturday to advance to the District 20 finals against top-seeded Litchfield (24-0) last night at Dassel-Cokato High School.

The loss ended the Bulldogs' season. They finished the year with a record of 3-20, including 1-11 in the West Central Conference North.
| | | | | | |
| --- | --- | --- | --- | --- | --- |
| Paynesville-- | 18 | 9 | 15 | 7 | - 49 |
| Annandale-- | 23 | 29 | 16 | 17 | - 85 |
---