Kerzman helps All Star team to victory
This article submitted by Michael Jacobson on 3/14/01.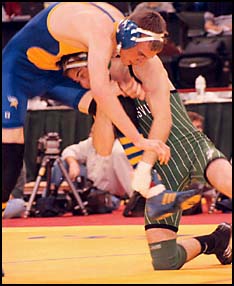 Senior wrestler David Kerzman and coach Virg Vagle helped the Minnesota All Star teams sweep four matches against their counterparts from Wisconsin over the weekend.

Each state names two teams of senior wrestlers: gold and maroon for Minnesota and red and white for Wisconsin.

Kerzman is pictured here getting a takedown in his state title match the first weekend in March.

Kerzman wrestled for and Vagle coached the gold team, which beat Wisconsin White 43-6 on Friday in River Falls, Wis., and Wisconsin Red 32-19 on Saturday at Augsburg College in Minneapolis.

On Friday, Kerzman dominated his opponent, Brian Scheps of Turtle Lake (29-13), a state runner-up. Kerzman won by technical fall 21-6. "Very impressive match," said Vagle. "He was one of the big guns in leading the gold team to victory."

"He looked good in the first one," agreed David's father, Bob Kerzman, "but not so good in the second one."

On Saturday, David faced Derek Miller (35-5), a Wisconsin state champion from Spring Valley. In a see-saw battle, Miller prevailed 16-12. "It was a very exciting match," said Vagle. "Lots of action. Lots of scoring. Typical of David's matches."

Miller proved formidable on his feet and scored four takedowns in the win.

On Friday, Minnesota Maroon beat Wisconsin Red 23-18. On Saturday, the maroon team won 12 matches to beat Wisconsin White 48-3.

Other area wrestlers who participated in the Minnesota-Wisconsin All Star series were Eric Satterstrom (Rocori) and Phil Wohlman (Renville). Paynesville also faced Kelly and Ryan Flaherty of Big Lake and Mike Weyer and Adam Johnson of Milaca during the regular season.

Kerzman was selected for a Minnesota All Star team that will travel to Pittsburgh to face a Pennsylvania All Star team on Saturday, March 24.

The Dapper Dan Classic pits a top Pennsylvania All Star team against an All Star team from the rest of the country. Frazee's Matt Nagel and Bloomington Kennedy's Marcus LeVesseur both were selected to the USA team.

A team of the top 12 Minnesotans, other than Nagel and LeVesseur, was selected by weight to face a Pennsylvania squad. Vagle said Kerzman was selected unanimously - by the three coaches and two executive secretaries - as the best 130-pounder in the state.
---