The Bulldog wrestling team ended their 2004-05 season on Friday night with their annual awards banquet, including the announcement of conference and team honors.

Six wrestlers earned All Conference honors this year, which were selected by coaches because the conference meet in January was cancelled due to inclement weather. Earning All Conference honors this year were seniors Jack Mueller and Josh Tebben, juniors Sean Glenz, Joel Kerzman, and Joe Sheridan, and ninth grader Jordan Christian. Glenz and Kerzman earned All Conference honors for the third straight year, and Tebben earned All Conference honors for the second straight year.

The Bulldogs finished 17-15 in 2004-05 and split four matches in the West Central Conference North. They lost in the Section 6A final to Pierz, who won their second straight Class A state title.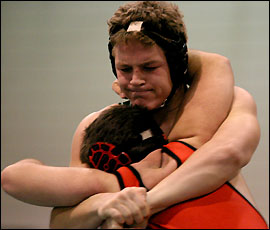 The Dogs had six wrestlers qualify for state - Christian, Glenz, Kerzman, junior Keith Klein, Mueller, and Sheridan - and two state placewinners (Glenz, champ at 145 in Class A, and Kerzman, runner-up at 135 in Class A).
Senior Josh Tebben was one of six wrestlers to earn All Conference honors this year, along with ninth grader Jordan Christian, juniors Sean Glenz, Joel Kerzman, and Joe Sheridan, and senior Jack Mueller.
In team awards, Glenz was named Most Aggressive, Mueller was named Hardest Worker, and eighth grader Jon Kerzman was named Most Improved. Kerzman went 12-23 in his first season on varsity but won nine of his final 13 matches and placed third at sections. Glenz, Jon Kerzman, and Mueller also earned Bulldog Pride Awards for their dedication this season.
"I felt that we really finished strong, and I am extremely proud of the way our guys picked it up at the end of the year," said coach Tim Woehler, who finished his first year as the varsity head coach. "As a coach, I always preach to improve, improve, and peak at tournament time. I really think we fulfilled that expectation. Hopefully, everyone is hungry for next year."
The Bulldogs will lose seven seniors to graduation this year: Cody Flanders, Jimmy Jansen, Mueller, Greg Person, Jeff Schaefer, Tebben, and Thielen.
Tebben was given the Jake Dahl/Greg Schwartz Memorial Award, Mueller was given the Greg Schwartz Memorial Scholarship, and Klein was given the David Bast Memorial Award.
Individual varsity records for 2004-05 were (minimum of five matches): Sean Glenz (39-2); Jordan Christian (32-5); Joe Sheridan (30-7); Jack Mueller (30-9); Keith Klein (26-16); Joel Kerzman (21-4); Josh Tebben (20-14); junior A.J. Christian (17-22); ninth grader Kevin Klein (15-20); Todd Thielen (14-8); ninth grader Jordan Spaeth (14-19); Jon Kerzman (12-23); Jimmy Jansen (7-21); ninth grader Luke Frank (5-8); Jeff Schaefer (4-1); ninth grader Neil Osendorf (4-7); sophomore Aaron Burris (4-17); Greg Person (3-3); ninth grader Ryan Gale (2-3); sophomore Brad Torborg (2-8); Cody Flanders (1-7); and ninth grader Keegan Meagher (0-7).
Glenz moved into the top five with 151 career wins and trails only David Kerzman (178 wins), now an assistant coach; Jeremy Sogge (170 wins); Greg Schwartz (157 wins); and Brad Fenske (153 wins). Glenz also could join Kerzman as the only repeat state champions in school history in wrestling.
Joel Kerzman (75-32 in his career) and Joe Sheridan (65-38) could also reach the 100-career-win milestone as seniors. Among younger wrestlers, Jordan Christian (43-27) has the most varsity wins.
Of the seven seniors graduating this year, Mueller ended his career with the most varsity wins (67-42). Tebben (41-34) was the only other senior to reach 40 career wins.
The Kerzman family - with 33 wins from Joel and Jon - moved seven behind the Meagher family in career wins. The Kerzmans (David, Josh, Matt, Joel, and Jon) now have a total record of 390-151 and trail the Meaghers (Pat, Erin, Sean, Peter, and Cory) by seven (397-129-8) and trail the Schwartz/Vagle family (Ryan, Greg, and Shawn Schwartz and Jay and Troy Vagle) by 62 wins (462-149-11).
The Glenz family (Ryan and Sean) also moved into the top ten in family wins in 2004-05. The Glenz family now has a record of 246-98, good for seventh place.
---
Contact the author at editor@paynesvillepress.com • Return to Sports
Home | Marketplace | Community
---