Ever since graduating from PAHS Jeremy Sogge has wanted to become an All American in wrestling and help his team win a national title.

He did both a couple weeks ago at the National Junior College Athletic Association (NJCAA) meet, placing fourth at 133 and helping Ridgewater College win the Division III title.

"Ever since I went to college, my goal was to be an All American and to be on a national championship team and get a ring," said Sogge, a 2002 PAHS grad, "so it's been really great to meet both of these goals in one year."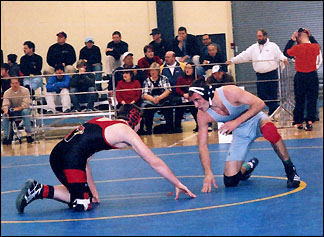 Sogge, a sophomore this year at Ridgewater, won the region title earlier in February and then went 3-2 over the Feb. 26-27 weekend in Rochester, Minn., to earn All American honors at 133. Ridgewater placed third in the overall team standings, but beat Harper by one point for the Division III team title, 76.5 to 75.5.
Jeremy Sogge, a 2002 PAHS graduate, earned All American honors by placing fourth at 133 at the NJCAA meet in February in Rochester, Minn. Sogge helped Ridgewater College win the Division III national title.
Sogge came from behind to win his first-round match at nationals. He led 5-0 but his opponent turned things around and took a 9-6 lead in the third period. Sogge hit a five-point move to retake the lead, but his opponent tied the match 11-11 at the end of regulation.
But, college wrestling has two main differences from high school wrestling: (1) the first period is three minutes long, instead of two; and (2) wrestlers can earn a bonus point of "riding time" by amassing at least a minute advantage in being in control, or riding, his opponent.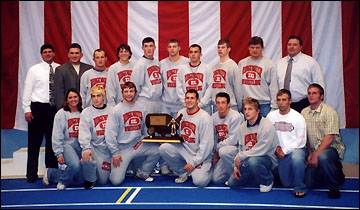 Sogge had over a minute riding time advantage in his first match, which gave him the extra point he needed in a 12-11 win.
Sophomore Jeremy Sogge (back row, fourth from right) was one of four All American finishers for Ridgewater College, which won the Division III national title at the NJCAA meet in February.
He used a third-period cradle to score a three-point nearfall and win his next match 8-5.
Then, in the semifinals, Sogge met the defending champ, Earl Jones of Labette, a one-legged wrestler with a unique style, forcing Sogge to wrestle from his knees while in the neutral position.
The match was still scoreless after the first period when Sogge chose to start down, a big mistake, he said. Jones had the upper-body strength of a much heavier wrestler, Sogge explained. "He really rode me hard. I couldn't get away," Sogge said.
Jones, who defended his NJCAA title at 133, chose up in the third period and defeated Sogge 11-2, with Sogge's only points coming on a lone reversal.
In the wrestlebacks, Sogge used another cradle to pin his next opponent at the end of the second period to advance to the third-place match.
If there was any disappointment at nationals for Sogge, it was losing his final match of the season. He lost on an overtime takedown - to a wrestler he had beaten earlier this season - and just missed his goal to finish in the top three.
The top eight at each weight earned All American honors, so Sogge knew right away that he had accomplished that part of his goal. Ridgewater, however, needed heavyweight Tim Johnson to win by fall in the fifth-place match to pass Harper in points. Then they had to wait until the championship round because Harper's heavyweight wrestled in the final, but lost 2-1, giving Ridgewater the Division III title.
Four wrestlers earned All American honors at the NJCAA meet: Sogge, fourth at 133; Jarret Hall, third at 157; Ethan Vogt, of Sauk Centre, fourth at 184; and Johnson, fifth at 285.
Sogge, the son of James and Kathleen Sogge of Paynesville, nearly didn't wrestle this year. He attended Augsburg College, a Division III wrestling power, for the past two years, after being a three-time state placewinner for the Bulldogs in high school, but did not wrestle last year because of a series of concussions. Instead, he took a medical redshirt and was advised not to wrestle anymore.
But, last summer, after deciding to finish his generals at Ridgewater, Sogge said he felt lazy without working out and started running and lifting weights again. He just "couldn't stay away" from wrestling, he said.
Now he's thinking about continuing his wrestling career and is getting calls from schools. He's thinking about majoring in elementary education and coaching, too, he said.
NJCAA Results
133-Jeremy Sogge (Ridgewater) dec. Paul Schliep (Glouchester), 12-11 Šdec. Darin Pestrikoff (Southwest Oregon), 8-5Šlost to Earl Jones (Labette), 11-2Špinned Pat Flynn (Nassau), 4:53Šlost to Chris Harris (Lassen), 4-2 (OT)ŠFourth Place.
---
Contact the author at editor@paynesvillepress.com • Return to Sports
Home | Marketplace | Community
---