Talk has turned to the Minnesota Timberwolves, and Bob Tschann has had enough. It's only ten minutes into their half-hour TV show, but he doesn't think the Timberwolves specifically or the NBA generally are worth discussing.

He lays his head on the table, removes his glasses, and says, "Wake me when you want to talk about sports again."

Sports talk is the basis of the only locally-produced show for the local-access cable television channel (Channel 8 for cable subscribers in the city and township).

Coach's Corner - featuring athletic coordinator Kyle Nehowig, longtime coaches Dave Randgaard and Brad Skoglund, and longtime local sports fan Bob Tschann - debuted around Thanksgiving. It's a half-hour sports talk show that covers Minnesota sports: professional teams, Gopher athletics, and high school sports.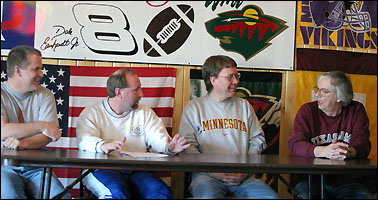 Kyle Nehowig, Brad Skoglund, Dave Randgaard, and Bob Tschann share a laugh during the taping of Coach's Corner on Sunday afternoon at Northern Lights Dining and Lounge. Their half-hour sports show is the only locally-produced show on the local-access cable channel.
The show has been running on Thursday nights, said Alice Nyhlen, the local cable TV coordinator, but it will soon be moving back to Monday nights at 7 p.m. Reruns are shown on Saturday and Sunday afternoons.
The show, which is taped every two or three weeks, though Nyhlen would like it to be more regular, was actually Skoglund's idea.
Skoglund "has been talking about it for a long time," said Nehowig.
But it actually came to fruition when Nyhlen told Skoglund that she needed another show for the local-access cable channel. "Alice and I started talking. She said she needed a show, and I said, sort of joking, 'We'll do a sports show,' " said Skog-lund, who then asked Nehowig, Randgaard, and Tschann to join him when Nyhlen showed interest.
"We've had fun with it," said Skoglund, a phy. ed. and health teacher at PAHS and the varsity baseball coach. "We really have."
"More and more people ask about it," added Randgaard, another teacher and the girls' track coach.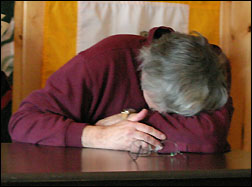 Even taping the show is fun, according to Nyhlen.
Bob Tschann lays his head on the table when the talk turns to the Timberwolves. "Wake me up when you want to talk about sports again," he says.
"We like to laugh. Bob's a hoot. Bob's the highlight," added Skoglund.
This week's episode, taped Sunday afternoon at Northern Lights Dining and Lounge, starts with discussing the Randy Moss trade, with Nehowig, Randgaard, and Skoglund agreeing with the trade and Tschann, nicknamed the Shot Doctor, thinking the Vikings did not get enough for Moss.
Having three agree and only Tschann disagree occurs frequently, said Nehowig, who later in the show offers to bet Tschann $5 that the Gophers men's basketball team will get into the NCAA tourney after Tschann dodges the question of whether the Gophers are in or out of the tournament. "It's not gambling when I bet with you," Nehowig tells Tschann. "It's a sure thing."
In the midst of discussing all the Gopher sports, they mention the recent running of the Daytona 500, which prompts Tschann to deride track racing. "Go fast. Turn left." Tschann repeats and repeats. Formula One is real racing, he argues, because the drivers turn both ways!
While discussing high school sports - both the upcoming spring sports and the recent state tournament - they marvel at the great Class A hockey final (Warroad's 4-3 victory over Totino-Grace in double-overtime) and agree that two classes is starting to catch on in hockey.
"I don't mind two classes in hockey," Tschann says. "I mind 18 classes in basketball and 29 classes in tiddlywinks." There are so many classes nowadays that they can practically give championship trophies out before the year starts, he argues, and the teams that don't feel they deserve the trophy can return it.
This winter, their show featured coaches Jackie Parsley (girls' basketball), Phil Carlson (boys' basketball), Barb Werlinger/Jeanne Virant (danceline), and Deb Nehowig (gymnastics). They plan to have junior Sean Glenz, a wrestling state champ, and sophomore Kacy Nehowig, the first PAHS gymnast to compete at state in 17 years on a show. And they plan to talk about spring sports at PAHS on their next show.
They also plan to go on the road with Coach's Corner, taping at the ballpark this spring and tailgating before a Gophers football game next fall. They will also have a live staging of the show at the annual Bulldog Booster's Hog Roast on Friday, May 13, at Northern Lights.
The cable channel rebroadcasts lots of local programming, from government meetings and church services to high school sporting events. Nyhlen would like to have more locally-produced shows for the channel. Anyone with suggestions or comments about the local-access cable channel should contact city hall, said Nyhlen.
---
Contact the author at editor@paynesvillepress.com • Return to Sports
Home | Marketplace | Community
---