Seniors Sean Glenz and Keith Klein returned from the state wrestling tournament over the weekend in St. Paul with state medals. Glenz placed second at 152 in the Class A tournament while Klein took fifth at 135.

Senior Joel Kerzman also competed at state but did not place.

Glenz, looking to repeat as an individual state champion, was denied in the finals by Warren Gall, a senior from Pierz, 7-2. Gall scored a takedown a minute into the match and kept the initiative for the rest of the first period and most of the second period by riding Glenz.

Gall scored a two-point nearfall - a quick count, the Paynesville coaches felt - early in the second period. Glenz scored an escape with seven seconds left in the second period to make the score 4-1.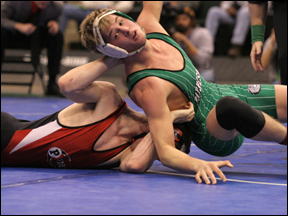 Glenz allowed Gall (43-3) to escape to start the third period, making the score 5-1, and tried for a takedown. Glenz nearly scored a takedown 30 seconds into the final period. And Glenz threw Gall with 45 seconds to go, but Glenz's grip slipped while they were in the air. Glenz landed on top of Gall but without Gall being in his grasp, and Gall scurried to safety.
Senior Sean Glenz (second at 152) reached the finals before falling to senior Warren Gall of Pierz 7-2. Glenz and Gall were ranked #1 and #2 all year.
Glenz scored a point when the referee called Gall for stalling in the third period (he had been warned in the second period), making it 5-2. Gall scored a takedown with five seconds to go in the match to make the final score 7-2.
Glenz, ranked first at 152, had beaten Gall, ranked second, 5-3 when the Dogs wrestled Pierz at the Foley Tournament in December. Gall placed fourth at state in 2004 but was injured and did not wrestle individually at state last year.
Glenz (43-2) had reached the final by winning two matches on Thursday and his semifinal on Friday. On Thursday, he used a late escape to beat Eric Wiener (35-6), a senior from Osakis, 11-10. Glenz had beaten Wiener 17-5 last year, but Wiener tied the match at 10-10 with a takedown with 40 seconds to go but decided to release Glenz and try for another takedown. Wiener placed third at 152.
In the quarterfinal on Thursday, Glenz defeated Walter Kennebeck (33-12), who had given fifth-ranked Colby Citrowske of Canby his second loss of the season in the first round. Glenz led 4-2 before turning Kennebeck twice in the third period for two-point nearfalls, winning 8-2.
On Friday, Glenz defeated Brett Lennox (37-9), a junior from Wheaton/Herman-Norcross, 5-1 to advance to the Class A final at 152.
"Great tournament, just fell a little short," said coach Tim Woehler about Glenz's performance at state. "We knew it was going to be a battle with Gall, and it was. They were ranked #1 and #2 all year. I think wrestling fans everywhere were glad to see this match in the finals, not in the first round."
Glenz - who had hoped to become the second Bulldog wrestler to repeat as a state champion, joining assistant coach David Kerzman - had to settle for silver at state this year. Nine Dog wrestlers have won ten state titles (with Kerzman winning two). The last four champs (Lee Hiltner at heavyweight in 1996; Kerzman at 125 in 2000; Marty Engen at 189 in 2002; and Glenz at 145 in 2005) have won a state title in their junior year, but only Kerzman won again his senior year. Hiltner and Glenz reached the finals as seniors before taking second, while Engen did not place as a senior.
"Just getting back to the finals is a heck of an achievement in itself when everyone is gunning for you," said Woehler. "Sean handled himself well throughout it all."
Glenz set a school record by competing at state in wrestling for the fifth time as an individual. He was the first wrestler to qualify for state individually as an eighth grader and made repeat trips throughout high school. He also became the 16th Bulldog wrestler to place individually at state twice or more. And he ends his PAHS career as the school's all-time leader in wins with a record of 194-50.
Klein (39-6), rated eighth going into the state tournament, went 4-2 to place fifth at 135. He went 1-1 on Thursday and entered the wrestlebacks, then went 2-1 on Friday to qualify for the fifth-place match, and beat Nick Peterson (27-7), a senior from Eden Valley-Watkins, 5-3 on Saturday to take fifth.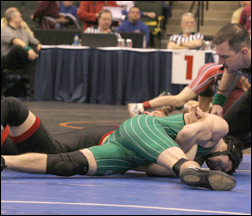 He faced Peterson for the third time in three weeks, having beaten him 8-1 during the team match in sections and 4-3 in the individual section final. On Saturday, at the state of the one-minute opening period (the format used throughout the wrestlebacks), Klein surprised Peterson by shooting his legs and scoring a takedown ten seconds into the match.
Senior Keith Klein advanced through the wrestlebacks to take fifth place at state at 135 in Class A.
Klein said he was not pleased to face Peterson again because he felt Peterson was "going to know everything I do. Both other times, I tossed him, so I thought I would surprise him (by shooting his legs)."
The takedown, followed by an escape by Peterson, gave Klein a 2-1 lead, which he held until Peterson escaped in the second period, tying the match 2-2. In the third period, Klein escaped to take a 3-2 lead and then scored another takedown on the edge of the mat with 30 seconds to go to lead 5-2. A Peterson escape made the final score 5-3.
"Keith did an outstanding job, especially beating Peterson for the third time in as many weeks in the fifth-place match, not an easy thing to do," said Woehler. "Every time he suffered a tough loss, he battled right back with a big win."
On Thursday, Klein pinned his first opponent, senior D.J. Brey (31-11) of St. James in the first period but then lost a 5-3 decision to Ben Anderson (38-6), a junior from Frazee who took third at 135.
On Friday, Klein decision Nick Pfaff (31-8), a junior from Mille Lacs, 7-5, using a five-point move in the first period to take the lead. Then he pinned Chad Curry (32-11), a junior from Chatfield, in the second period to insure his state placing.
Klein lost in the consolation semifinal 7-5 to Luke Bothun (36-2), a senior from Dawson-Boyd who entered the state tournament undefeated. Bothun was injured in the match and did not wrestle for third place on Saturday.
Klein, who became the 40th Bulldog wrestler to place at state, said his goal was to earn a medal at his second state tournament. "I was hoping to place," he said. "I was really looking to place, and I'm glad I did." Klein ended his career with a record of 87-45.
The state tournament was short for Joel Kerzman, who suffered his first loss of the year in his only match and finished his senior season with a record of 16-1.
Kerzman, who placed second at state last year but battled injuries this season, led against Gaven Schlaak (22-14) 3-1 in the third period, but Schlaack scored a takedown with five seconds to go to force overtime and then scored another takedown 20 seconds into overtime to upset Kerzman 5-3.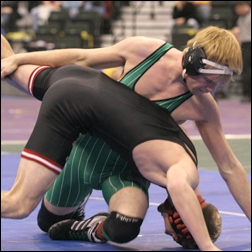 When Schlaack lost in the second round, Kerzman did not get a second chance to wrestle at state.
Senior Joel Kerzman - shown riding sophomore Gaven Schlaak of NR-H-E-G on Thursday - was upset in the firs round at state, 5-3 in overtime, and did not get to wrestle again when Schlaak lost in the second round.
"I really felt bad for Joel," said Woehler. "To lose so much mat time the past two years due to injury, it is tough to come back and knock the rust off."
Kerzman finished his career with a record of 91-33, missing a chance at 100 career wins due to injury.
"I am really proud of all these young men, and the outstanding job they did all year," said Woehler of Glenz, Kerzman, and Klein. "Their combined record this year was 98-9."
The Dogs will hold their season-ending banquet on Friday, March 10, at Hilltop Restaurant at 6:30 p.m. Parents, wrestlers, cheerleaders, coaches, and fans can attend. Tickets will be sold at the door.
Individual Results
135-Keith Klein (P)Špinned D.J. Brey (St. James), 1:55Šlost to Ben Anderson (Frazee), 5-3Šdec. Nick Pfaff (Mille Lacs), 7-5Špinned Chad Curry (Chatfield), 2:32Šlost to Luke Bothun (Dawson-Boyd), 7-5Šdec. Nick Peter-son (Eden Valley-Watkins), 5-3ŠFifth Place;
145-Joel Kerzman (P)Šlost to Gaven Schlaak (New Richland-Hartland-Ellendale-Geneva), 5-3 (OT)ŠDid Not Place;
152-Sean Glenz (P)Šdec. Eric Wiener (Osakis), 11-10ŠDec. Walter Kennebeck (Wabasha-Kellogg), 8-2Š dec. Brett Lennox (Wheaton/Herman-Norcross), 5-1Šlost to Warren Gall (Pierz), 7-2ŠSecond Place.
---
Contact the author at editor@paynesvillepress.com • Return to Sports
Home | Marketplace | Community
---