The Bulldogs boys' basketball team ended an eight-game losing streak with an 88-76 victory at Atwater-Cosmos-Grove City on Thursday that also ended the Dogs' regular season.

The Bulldogs made a season high 38 shots from the floor against the Falcons, coming within four of the school record, which is 42 field goals in a game (set in 1979-80). The Dogs made 21 field goals in the first half, as they took a 46-38 lead at halftime. They also outscored the Falcons, coached by 1986 PHS grad Terry Miller, 42-38 in the second half.

Senior Derek Stanger and junior Cory Nietfeld combined to make 13 field goals in the first half and 23 for the game. Both set new career highs for points in a single game, 30 for Nietfeld and 21 for Stanger.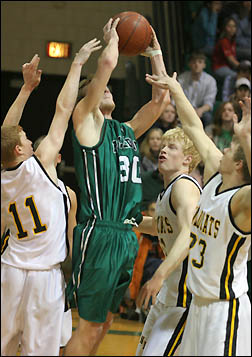 Nietfeld moved into second place on the all-time PAHS scoring list for boys' basketball with 1,035 career points, passing Tom Notch (1,028), Dave Hartmann (1,017), and Ron Hood (1,007). Nietfeld now only trails Don Liestman, who has held the career scoring record since 1958 with 1,286 points.
Senior Derek Stanger set a career high with 21 points as the Dogs broke an eight-game losing streak by beating ACGC 88-76 on Thursday.
Nietfeld also had 24 rebounds against ACGC, over half of the Dogs' total of 40. His 24 rebounds came within four of the school record for a single game, which is 28, set by Dan Wall in 1976-77. Nietfeld had 12 offensive rebounds and six putback baskets.
Junior Ben Moser added 17 points for the Dogs, as well as five assists and five rebounds. Stanger also had five assists and seven rebounds.
The Bulldogs, as a team, had 20 assists in the game, which is their second highest total of the year. In January, they came within two assists of the school record (26) with 24 assists in their 83-76 victory over Maple Lake.
Ninth grader Nathan Nietfeld added four assists last week, and Cory Nietfeld had three.
The Dogs' high-scoring offense was enough to secure the victory against the strong outside shooting of ACGC, which made nine treys.
"The game against ACGC was a hard battle," said coach Phil Carlson. "We came out looking to get momentum right away, and we did. Our Dogs 'hounded' the boards all night long on offense and defense. Our intensity was excellent, and the team played without distraction."
The victory ended an eight-game losing streak for the Dogs, stretching back to their conference win at Albany in late January. That win had gotten their season record to within one win of .500 at 6-7, but their losing streak dropped the team to 6-15. The Dogs, with their win against ACGC, ended the regular season with a record of 7-15.
"Our team has fought through adversity to find ways to win games," said Carlson. "They came out and did an excellent job. We want to take this into next week's playoff game vs. Howard Lake-Waverly."
This week, the Dogs will start the District 20 playoffs. The Dogs are seeded sixth and will play at third-seeded Howard Lake-Waverly on Thursday, March 9, at Howard Lake. Game time is 7:30 p.m.
If the Dogs win, they will advance to the district semifinals, which will be played on Saturday, March 11, at Dassel-Cokato. The first semifinal, pitting the (1) NL-S/(8) Kimball winner against the (4) Maple Lake/ (5) BBE winner will start at 6 p.m.
The Dogs would play against the (2) Eden Valley-Watkins/(7) St. Cloud Cathedral winner at 7:45 p.m. The District 20 finals will be held on Tuesday, March 14, at Howard Lake (or Dassel-Cokato if HL-W makes the championship game).
| | | | |
| --- | --- | --- | --- |
| Paynesville-- | 46 | 42 | - 88 |
| ACGC-- | 38 | 38 | - 76 |
SCORING: (FG-FT/FTA-PTS)
Paynesville 88 - Cory Nietfeld 14-2/5-30; Derek Stanger 9-3/4-21; Ben Moser 6-4/4-17; Nathan Nietfeld 3-0/0-8; Mark Andrie 3-0/0-6; Aaron Braun 2-0/0-4; Trent Hansen 1-0/0-2; TOTALS: FG 38, FT 9/13, 3's 3.
ACGC 76 - Michael Martin 7-3/5-19; Micah Nordin 6-4/4-18; Justin Schroeder 7-0/0-17; Jesse McCann 3-3/6-9; Josh Cunningham 1-2/2-4; Cullen Fischer 1-0/0-3; Ben Carlson 1-0/0-2; Brent Raske 1-0/0-3; Kyle Johnson 0-1/2-1; TOTALS: FG 27, FT 13/19, 3's 9.
STATISTICS: 3-pointers - 3 Nathan Nietfeld 2; Moser 1; Rebounds - 40 Nathan Nietfeld 24; Stanger 7; Moser 5; Assists - 20 Moser 5; Stanger 5; Nathan Nietfeld 4; Cory Nietfeld 3; Steals - 10 Andrie 2; Hansen 2; Moser 2; Stanger 2; Blocks - 5.
---
Contact the author at editor@paynesvillepress.com • Return to Sports
Home | Marketplace | Community
---