David Kerzman earns a state title at 125
Sogge takes third; Welle fourth
This article submitted by Michael Jacobson on 3/8/00.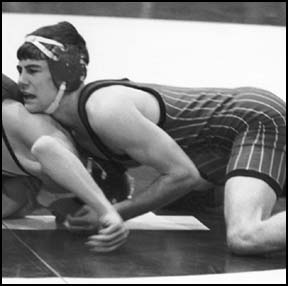 Junior David Kerzman became the Bulldogs' seventh individual wrestling champion Saturday afternoon at the Target Center in Minneapolis when he pinned Derrick Klocke, a senior from Hayfield, in 4:23 to win the Class A title at 125.

The Bulldogs had seven individual state entrants this year, but only three placed. In addition to Kerzman, sophomore Jeremy Sogge placed third at 119 and senior Chris Welle placed fourth at 135.

Kerzman, who placed fourth in Class AA at 119 as a freshman in 1998, joins Steve Fuchs (1979), Gerald Garvick (1986), Greg Schwartz (1991), Brad Fenske (1992), Scott Hoeft (1992), and Lee Hiltner (1996) as individual state champions for Paynesville. Only Schwartz and Kerzman won both an individual title and a state title in the same year.

Only Kerzman and Hiltner won a title their junior year. With a year of eligibility left, Kerzman has a chance to become the school's first two-time state champion next March.

Also, Kerzman, who finished the season with a record of 40-2, now has a career record of 138-20. He is just 19 wins shy of the school record for career wins. Right now, Schwartz heads that list with a record of 157-29-5.

On his way to the state title, Kerzman, the son of Bob and Sherill Kerzman, won three matches by pin and won another by decision. He started on Thursday by pinning Chatfield's Jerad Schmoll in 1:08.

He caught a small break in the quarterfinals, as Josh Hammer of West Central Area defeated defending state champion Matt Jones Lake Crystal-Wellcome-Memorial (LCWM) by injury default.

In the closest score, Kerzman beat Hammer 13-6. Kerzman led 6-1 after the first period on two takedowns and a two-point near fall, but Hammer closed the lead to 8-5 in the second period. But Kerzman outscored him 5-1 in the third to win 13-6.

In the semifinals on Friday, Kerzman barely needed a minute again to pin Medford sophomore Brent Reinhard. Kerzman already had built a 4-2 lead with two takedowns when he took down Reinhard again and put him on his back for the fall.

In the finals on Saturday, Klocke got the only takedown of the first period and led 2-0, but Kerzman reversed him to his back in the second period and took the lead with the four-point move.

Kerzman led by two when he took Klocke down, put him on his back, and pinned him 23 seconds into the third period. That earned Kerzman his state championship at 125 and gave Klocke his second loss of the season.

"David, I hope you have pride in that the rest of your life," coach Virg Vagle told Kerzman at the welcome home celebration on Sunday.

Kerzman, who started wrestling competitively in fifth grade, has wrestled for the Paynesville varsity since eighth grade, when he was a regular at 103. In four years in the line-up, he has wrestled on three state tournament teams.

Winning a state championship was a goal of Kerzman's at the start of the season. "I've been working for it all year," he said Saturday.

Assistant coach Steve Fuchs, who won Paynesville's first state title in 1979 at 119, said that Kerzman started as a great mat wrestler and now has become equally strong on his feet. "I've been working on takedowns," Kerzman said. "I've got to use my strength."

Both Kerzman and Welle broke the school record for most takedowns in a single season this year. Kerzman had 161 entering state competition, and Welle had 145. Welle set the previous record last year with 151.

Kerzman's run to the state title started with one of the toughest weight classes in the section, where Kerzman was rated third. In his first match, Kerzman faced Pierz's Joe Kloss, who handed him a loss in the team sectional match. "I just had a bad match," Kerzman said of that 16-8 loss. "I knew I could beat him, but I had to wrestle my match."

In the sectional individuals, Kerzman jumped ahead of Kloss 10-3 before pinning him in the first period and going on to win the sectional title.

At state, he won all seven of his matches: four in individual competition and three in team competition.

Wrestling is a tradition in Kerzman's family. David's father, Bob, wrestled for Eden-Valley Watkins during high school. David had two brothers on the Bulldogs' junior varsity team this year: Matt, an eighth grader, and Josh, a ninth grader. Josh was an alternate on the state tournament team. His brothers Joel and Jonathan, in sixth and third grade respectively, also like to wrestle.

David and his siblings are home schooled but participate in sports with Paynesville Area High School.

"I was really excited," Bob said of his son's title. "I usually don't show much emotion, but I wasn't surprised because he's looked good all year."

Jeremy Sogge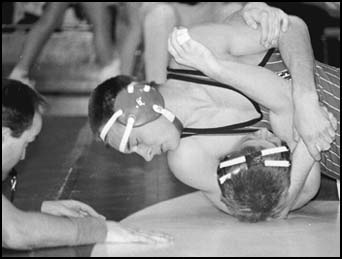 Sophomore Jeremy Sogge ran into a tough first-round opponent in state competition at 119. Pelican Rapids senior Jake Anderson was a runner-up last year, and he placed second again this year. Sogge got the first takedown in their match, but Anderson controlled the rest of the match and won 12-3.
In the wrestlebacks, Sogge pinned his first opponent in 2:48. Tied 4-4 after two periods in his next match, he needed two third period takedowns to win 8-6.
In the consolation semifinals, Sogge and LCWM's Zac Roth were tied 9-9 after regulation, but Sogge advanced to the third-place match with a takedown in overtime to win 11-9.
For third place, Sogge won a 14-2 major decision over Alek Halverson of Lester Prairie, giving Halverson his second loss of the year.
Sogge finished the season with a record of 36-9. With two years of eligibility remaining, he has a career record of 89-27 and should reach 100 wins next year.
Chris Welle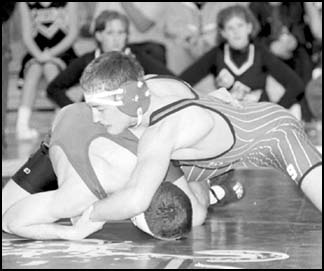 After advancing to the state semifinals with two easy victories on Thursday, Welle appeared to be heading to a state title of his own at 135.
"He was so good and delivered so much that we thought he was perfect," Vagle told the welcome home audience, "but he's not."
Welle was stymied by Dustin Speltz, a junior from Lewiston-Altura, in the semifinals. Someone had to lose, as both wrestlers entered the match with perfect records. Speltz placed fifth in Class A a year ago while Welle was sixth.
Welle couldn't get the muscular Speltz, the eventual champion, off his feet. Welle got three escapes, but Speltz got two takedowns and an escape to win 5-3.
"He was too strong for me," Welle said. "I couldn't move him. I couldn't budge him."
In the wrestlebacks, Welle beat Adrian's Brad Bullerman 12-4 but lost another close match to Medford's Mitch Kuhlman, a ninth grader, 3-2.
Welle finished the season with a record of 42-2. Against Minnewaska, he gave the Lakers' Aaron Erickson his only loss of the season, by technical fall. Erickson won the state championship in Class AA at 135.
For his career, Welle was 140-34. He is fourth in school history in career wins with 140, trailing Schwartz (157), Fenske (153), and Tim Roberg (146).
"You've really done the job. What a great year you've had!" Vagle told Welle at the welcome home. "If anyone deserves to be a state champ, it's Chris."
Welle, of course, is a state champion, only not as an individual. After the team championship Saturday night, Welle said, "This makes up for it."
State entrants
Sophomore Nathan Glenz (112), junior Joe Hiltner (145), senior Chris Sogge (152), and senior Matt Brauchler were the four other state entrants for the Bulldogs.
Glenz pinned his first opponent in 32 seconds, but lost in the quarterfinals 8-0 to Aaron Solberg of Meadow Creek Christian, who finished second.
Glenz was eliminated in his first wrestleback match when he lost 1-0 to Joeb Oyster of Bertha-Hewitt/Verndale, who finished fifth. Glenz ended the season with a record of 23-19. At state he lost four matches, to opponents who took first, second, fifth, and sixth at 112.
Hiltner ended his season one win away from placing individually. He lost to LeCenter's Brian Miller, the eventual champion, in the opening round. Hiltner won his first wrestleback match 16-2, but lost to ACGC's Luke Laidlaw 3-1 in overtime. Laidlaw finished sixth.
Hiltner, who won all three matches in team competition, ended the year with a record of 33-10. He has a career record of 62-24 with one year remaining.
Senior Chris Sogge, who placed third in 1999, cut weight hard to help the Bulldogs' varsity lineup, but it didn't help him individually. He won his first match 9-4, but then lost 16-4 and 7-0 and was eliminated.
Sogge had crucial victories in the team competition against Canby and St. James.
Sogge ends the year with a record of 35-6, but three of his losses were to state champions, including four-time champion Matt Nagel of Frazee in the team final and to three-time champion Nate Baker of Jackson County Central in January.
He finished his career with a record of 74-13.
Matt Brauchler, a hero in the team competition with pins in all three of Paynesville's dual matches at state, lost his first match individually and was eliminated. Brauchler ended the year with a record of 19-15. Among his wins were 14 pins.
---