State champs! Bulldogs earn fourth state wrestling title
This article submitted by Michael Jacobson on 3/8/00.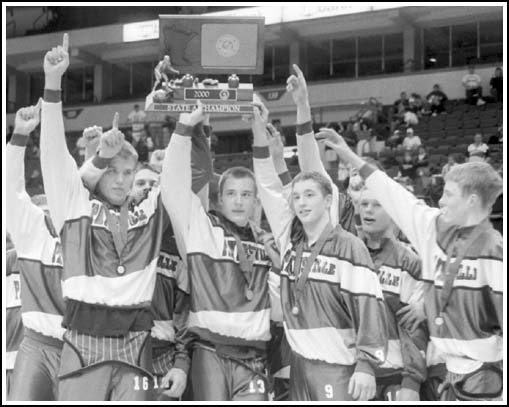 The Paynesville Bulldogs earned their fourth state championship with three dramatic wins over the weekend at the state wrestling tournament at the Target Center in downtown Minneapolis.

After beating fourth-ranked Pierz in the section final on Feb. 18, the Bulldogs beat #3 Canby 35-16 on Thursday night, #2 St. James 32-24 on Friday morning, and #1 Frazee 24-21 on Saturday evening to claim the state championship.

The Bulldogs hadn't wrestled in the state championship match since 1992, when a favored Paynesville team was upset by Frazee for the Hornets' first state title. At the welcome home celebration at the high school on Sunday afternoon, head coach Virg Vagle said he tells his wrestlers that you can't dwell on revenge but admitted that the memory of the 1992 loss made Saturday night's victory a little sweeter for him.

The Bulldogs also won state titles in 1987, 1990, and 1991. "Right now this one feels like the best, but I'm sure the others felt great at the time, too," Vagle said at the Target Center after the championship match on Saturday night.

Paynesville 24
Frazee 21
The Bulldogs claimed the state title with a dramatic come-from-behind 24-21 victory in the championship match against the Hornets from Frazee.

The Hornets were the defending state champions and had nine individual state entrants this year, tops in Class A. Five of their wrestlers placed individually in state, including four-time state champion Matt Nagel and two-time state champion John Schermerhorn. Rated #1 all season, they were the favorites entering the final match.

But the Bulldogs prevailed in an intense match with drama and excitement at every weight. The score was tied three times, and the match had five lead changes.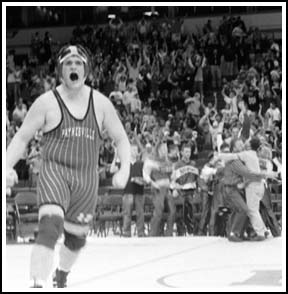 The Bulldogs got the final lead change, though, as the match and title came down to the last match. Matt Brauchler's first-period pin at heavyweight capped the Bulldogs' rally. His victory was set up by Josh Bork's last-second takedown and victory at 189.
Matt Brauchler shouted for joy and took a lap around the mat after his pin over Justin Olson, Frazee, gave the Bulldogs the state title.
Trailing 21-15 and having lost three straight matches, Bork was locked in a 2-2 duel with Nate Woodard, a senior from Frazee who could have been the team's tenth individual state entrant except for eligibility problems. With seconds remaining and the match apparently headed for overtime, Woodard tried a head lock, but Bork slipped through it and got behind him for a decisive takedown and a 4-2 decision.
"I just told myself, 'If I don't get this takedown, that's it for us,'" recalled Bork, adding. "I hate overtime."
Had Woodard beaten Bork, the Hornets would have clinched victory with a nine-point lead. "I had to give Matt a chance," Bork said.
Brauchler wasted little time with Frazee's freshman heavyweight, catching him in a head lock and pinning him 42 seconds into their match, causing the Bulldogs' bench and cheering section to explode in delight. "I wanted to pin him," Brauchler said during the celebration. "I wanted to get it done quickly."
Becoming a state champion in such a dramatic fashion was the best feeling in the world, according to Brauchler. "I've been the underdog forever," he said, "but I've got a .500 record this year and I helped our team to the state championship."
Brauchler, who missed several weeks late in the season with a separated shoulder, ended his high school career on quite a roll. He qualified individually for state (though he was eliminated after one match) and delivered pins in the team's final four dual matches: against Pierz, Canby, St. James, and Frazee. In the last two matches, his pins clinched the Bulldogs' victories.
"I think (Brauchler and Bork) really deserve (the credit)," said junior David Kerzman, who joined Greg Schwartz ('91) as the only Paynesville wrestler to win an individual and a team state championship in the same year. "It always seems to come down to them."
While Brauchler and Bork became heroes at the end of the match, their heroics were possible because of the solid team effort through the other 11 weight classes.
"Individually, we're not better than Frazee," Vagle said he told the team before the match, "but as a team we can be."
The Hornets' Darren Oswald placed fifth at 103 this year and senior John Schermerhorn won his second title at 112. The Bulldogs' Adam Christian (103) and Nathan Glenz (112) set the tone for the Bulldogs Saturday by yielding mere decisions to them.
In the first period, Christian came close to putting Oswald on his back with a head lock, a move that assistant coach Steve Fuchs thought might have scared the Frazee wrestlers. Christian lost 10-3, narrowly avoiding a major decision, which starts with margins of eight.
Glenz trailed 4-2 in the third period and had a chance to tie, but Schermerhorn got the final takedown in a 6-2 decision.
"When those two guys came off (the mat) and they only had six points, we were very happy," said Vagle.
Trailing 6-0, the Bulldogs took the lead with two of their state place winners: Jeremy Sogge, third at 119, and David Kerzman, first at 125. Sogge led 2-0 after two periods, but had three takedowns and scored eight points in the third to earn four team points with a major decision.
Kerzman majored Gabe Dretsch, who was sixth in state at 103 in 1999. Kerzman led 6-4 after one period, but didn't allow Dretsch to score again. A third period takedown and three-point near fall gave Paynesville another four points.
Vagle said these victories continued the Bulldogs' momentum. "Their two state placers couldn't get bonus points," he told the welcome home audience," but ours could."
The score at this point should have been 8-6, but Frazee was penalized a team point when their wrestler removed his shoulder strap before leaving the mat. That made the score 8-5 in Paynesville's favor.
At 130, Jeremy Fuchs lost a last-second decision. Fuchs tied the score at one with an escape early in the third period, but his takedown attempt late in the period missed and he ended up on his back as time ran out. The four-point move gave the Hornets a 5-1 decision and tied the score at eight.
"He battled to the end against a guy that was in state last year. They found out there weren't any soft spots in our lineup."
Senior Chris Welle gave the Bulldogs the lead again with a 10-4 decision at 135. Welle faced a senior state entrant, who was penalized twice for stalling. Leading 10-4, Welle ran out of time while trying for a fifth takedown, which would have meant a major decision. As it was, Paynesville led 11-8.
Frazee needed a fourth-place state finisher to tie the score at 11. Hornets' senior Jason Ulschmid led 5-0 in the second period at 140 when the Bulldogs' Josh Schreifels reversed him onto his back, earning five points and tying the match. That move caused the Hornets coaches to instruct Ulschmid to stay on his feet, and he beat Schreifels 9-7 with two takedowns in the third period.
At 145, Paynesville's Joe Hiltner faced Frazee senior Bryan Janke. Both were individual state entrants, but Hiltner dominated their match, earning a bonus point with a 13-4 major decision that also featured three third-period takedowns. The Bulldogs led 15-11 after Hiltner's match. The Bulldogs lost the coin flip before the match. The flip determines which team puts their wrestler on the mat first. Had we won the flip, the Bulldogs would have been able to make Frazee decide first at 152, the normal weight for four-time state champion Matt Nagel. Nagel, the son of Hornets' head coach Clay Nagel, just a junior, could set state records next year with five state titles and for career wins. Nagel hasn't lost to a Minnesota wrestler since seventh grade.
During a Bulldogs' practice, the team determined that freshman Josh Kerzman was the toughest Bulldog to score on at that weight. He was added to the Bulldogs' state roster for the chance at the dubious honor of wrestling Nagel. Putting Kerzman at 152 would have allowed the Bulldogs to move Chris Sogge to 160, where he figured to have a better chance of winning.
Such a scenario could have meant a four-point swing; however, Frazee won the coin flip, forcing the Bulldogs to wrestle Chris Sogge at 152. Normally accustomed to a more aggressive style, Sogge held Nagel to a 19-6 major decision.
At the welcome home, Vagle credited Sogge with the commitment and dedication in making a hard weight cut that enabled the team get all five seniors in the end of the Bulldogs' lineup. Sogge weighed 185 while playing football last fall, but made the cut in the best interest of the team. At state, he delivered key wins against Canby and St. James, and yielded just one bonus point to arguably the best wrestler in the state.
Frazee's run continued at 160 and 171, where two more decisions gave them a 21-15 lead. Bulldogs' senior Scott Braun lost 2-1 at 160 on a reversal with 45 seconds left in his match. At 171, Shaun Fleischhacker lost 6-2 to the Hornets' last state placer, Nick Woodard, who was third this year.
Vagle said he had to check his scorebook to realize that Braun and Fleischhacker didn't win a match at state, even though they wrestled extremely well. Their six losses, including three to state entrants, were all decisions.
That left Paynesville trailing Frazee by six with Bork and Brauchler to go. Bork took a 2-0 in the second period with an escape and a penalty point for stalling on Frazee's Nate Woodard. But Bork was penalized for clasping to start the third and then he allowed Woodard to escape to try for the match-winning takedown, which Bork got with a couple ticks of the clock to spare.
His 4-2 decision cut the Hornets' lead to 21-18. Without his win, Vagle said, there would have been no chance for Brauchler's heroics. "(Bork's) takedown was every bit as important or Brauchler's match is irrelevant," Vagle added.
What a difference a year made for Bork and Brauchler. Last year, they each lost twice in team losses to St. Michael-Albertville and New Prague. This year, Bork and Brauchler won all three of their matches during the team competition. Against Canby, Bork's win sealed the match, and against St. James and Frazee, Brauchler's pins clinched the victories.
"This year, as a senior and a captain, it's up to me to deliver for the team," said Bork.
Before the championship match, Paynesville's coaches favored Frazee in seven matches, Paynesville in four, and called two toss-ups. Paynesville won their four, won both of the toss-ups, and scored enough bonus points to overcome the Hornets' extra victory.
Frazee won seven matches, to Paynesville's six, but Frazee earned only one bonus point, for Nagel's major, and lost a penalty point.
The Bulldogs, meanwhile, earned six bonus points: one each for majors by Jeremy Sogge, David Kerzman, and Joe Hiltner, and three for Brauchler's pin, enough to win the match and the state title 24-21.
"We don't win many matches with 24 points," Vagle said at the welcome home. The total was the second lowest of the season for the Bulldogs; their 35-16 loss to Class AA champion Jackson County Central was the only lower score. According to Vagle, the victory reflected the points put on the board by Paynesville's stars, and the minimal points yielded by the rest of the lineup. "That' s a team effort," said Vagle.
"We won it as a team," agreed senior captain Chris Welle. "It shows we don't have any holes."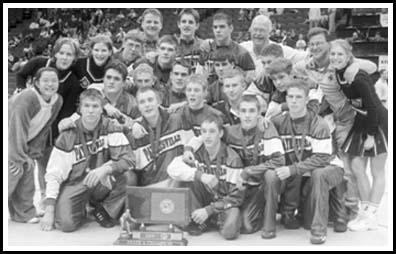 ---