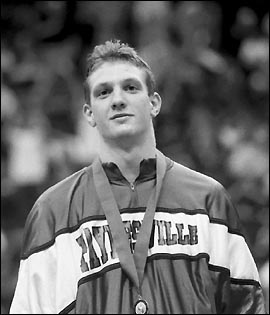 Junior Marty Engen (left) became the eighth Bulldog wrestler to capture a state title on Saturday in St. Paul by taking first place at 189 in Class AA. Engen won four matches over the weekend to capture the title, defeating Matt Heger of Waconia/ Mayer Lutheran in the final 4-3.

"I am surprised, really surprised," said Engen after receiving his gold medal at the Xcel Energy Center in St. Paul on Saturday afternoon. "I knew I had a shot, but I had to work hard."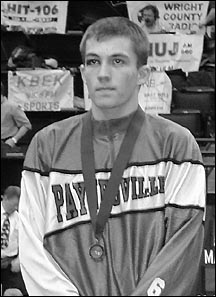 Senior Jeremy Sogge (right) also earned a medal in state competition, taking sixth at 125. It was the third state medal in his career, a feat only six Bulldog wrestlers have managed. Sogge joins David Kerzman, Brad Fenske, Steve Fuchs, Pat Neu, and Jason Mages as three-time state medalists for Paynesville.
Three other Bulldogs - Sean Glenz, Nathan Glenz, and Ryan Glenz - competed in the state meet but did not place.
In the final at 189 on Saturday, Engen scored an important takedown (the only one of the match) in the first period, nimbly keeping his feet in bounds while gaining control of Heger outside of the circle. Engen actually took Heger down to his back, but Heger's shoulders were outside the circle so Engen did not get any back points.
Heger tied the score with an escape later in the first period and another midway through the second. Engen took the lead again with a reversal early in the third period. He rode Heger for much of the period before Heger escaped, cutting Engen's lead to 4-3. But Heger could not score a takedown in the last seconds of the match, and Engen won.
As the season progressed, the coaching staff realized that Engen had a good chance at placing at state, said head coach Virg Vagle. Engen entered the state tournament rated third at 189.
"One of his real strong traits is his strength," said Vagle. "He can come out of many situations with strength. He also has great balance and leverage."
During his four victories at state, Engen used his riding skills, his ability to escape control, and his dominance on his feet, yielding only one takedown in four matches, to win. The only takedown he yielded came against Perham senior Dan Flatau in the semifinals on Friday, when Flatau took Engen down in the second period and to take a 4-2 lead. Engen reversed Flatau to his back in the third period and held him on his back for more than a minute to win 7-4.
On Thursday, Engen opened with a 12-0 major decision and then beat Marshall's Colby Bruns 5-1 in the quarterfinals, getting a takedown with five seconds left in the first period and another in the third.
Engen became the eighth Bulldog wrestler to win a state title, joining Fuchs '79, Gerald Garvick '86, Greg Schwartz '91, Fenske '92, Scott Hoeft '92, Lee Hiltner '96, and David Kerzman '00 and '01. In all, the Bulldogs have nine individual state titles, with Kerzman as the only two-time champion in team history, a feat Engen could match next year.
Engen is also the second wrestler to win a state title for the Bulldogs after transferring from Belgrade-Brooten-Elrosa High School. (Hiltner also transferred from BBE.)
Engen got his first varsity matches at BBE as an eighth grader and wrestled as a regular as a freshman and sophomore, placing fourth in the section a year ago.
The move helped him win the state title, he said on Saturday. "The whole team is good," he explained of his Bulldog teammates. "It's tough. Wrestling with them made me better."
Vagle noted that Engen improved on his throws during the season, especially from wrestling with Ryan Glenz in practice. Engen used those throws several times in the championship match, escaping trouble when Heger had deep shots and ending up in control of Heger but out of bounds.
Engen finished the season with a record of 43-1. His only loss was in double overtime to Justin Sorenson of Owatonna, who took second at 189 in Class AAA.
Vagle said Engen has fit very well into the wrestling team this year. "He's very quiet, humble," he said of his newest state champ, "but has a strong inner desire to excel."
Jeremy Sogge
Sogge, who placed second at 125 in Class A in 2001 and third at 119 in 2000, faced a difficult weight class, highlighted by senior Jeff Pfaffinger of Blue Earth Area, who became the ninth Minnesota wrestler to win four state titles. After winning a 4-2 decision in the opening round, Sogge met Logan Brincefield, a returning state champion from Wadena-Deer Creek, in the quarterfinals on Thursday and lost a hard-fought match 5-1.
Sogge won two matches in the wrestlebacks to qualify for a medal on Friday, but suffered a possible concussion in his last match on Friday. He was able to wrestle on Saturday morning in the consolation semifinals, but lost to Milaca's Clay Hoeck. Sogge had beaten Hoeck in February and appeared to be on his way to victory thanks to a third-period near fall, but Hoeck reversed Sogge to his back and won 8-6.
Sogge injured his shoulder in that match and defaulted in the fifth-place match to Dan Essig of Deer River-Northland, whom Sogge had beaten by technical fall in January.
Sogge finished the season with a record of 41-5 and finished his career with a record of 170-40. He has the second most career wins in Paynesville's history, trailing only Kerzman who had 178. He also is second in several other career categories.
Nathan Glenz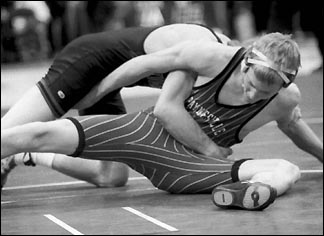 Senior Nathan Glenz also ended his career over the weekend at state. Glenz, making his third individual appearance at state, also faced a difficult bracket.
Glenz used a five-point move in the first period to win his opening match on Thursday but then faced Ryan King, a defending state champ from Grand Meadow/Leroy-Ostrander/Kingsland, in the quarterfinals. King proved too tough on his feet, getting nine takedowns, and winning 18-8, with all Glenz's points coming on escapes. King went on to win the 135-pound title.
In the wrestlebacks, Glenz won his first match by pin but then lost 13-1 to Austin Scarset of Red Rock Central/Westbrook-Walnut Grove, who won a state title in 2000.
Glenz finished one win away from earning a state medal.
He ended the season with a record of 31-7 and ended his Bulldog career with a record of 113-49, tying for 16th on the career victory list.
Ryan Glenz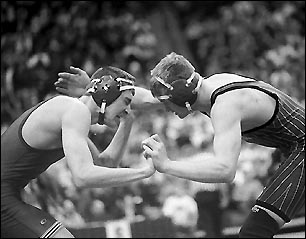 Junior Ryan Glenz also finished one win away from placing at the state meet at 171. Glenz won 8-2 in the opening round on Thursday, but then lost 5-3 to Jeremy Pederson of Becker in the quarterfinals. (Glenz had beaten Pederson in December in double overtime.)
In the wrestlebacks on Friday, Glenz (35-9) won his first match 8-4 but then was eliminated by Bo Schulz of Zumbrota-Mazeppa 6-4.
Three familiar conference foes placed at the state meet at 171. Sauk Centre sophomore Ethan Vogt, whom Glenz beat three times this season, won the title, beating Jacob Bryce of Minnewaska, whom Glenz also beat. Melrose's Matt Imdieke, whom Glenz beat once in three tries, was fourth.
"It's just an eyelash from placing and not placing," said Vagle, in reference to Glenz's well-balanced weight bracket. Glenz, he noted, had beaten all four wrestlers who advanced to the semifinals: Vogt, Pederson, Imdieke, and Bryce.
Glenz finished the season 35-9.
Sean Glenz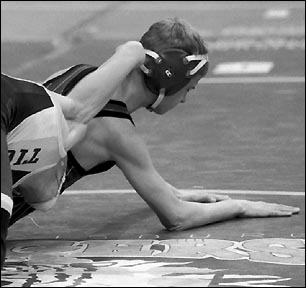 Sean Glenz is believed to be the first Bulldog wrestler to compete individually at state as an eighth grader.
He lost his only match at state, getting pinned by Clint Campbell, a senior from Stewartville, on Thursday. "That's a difficult challenge," said Vagle of facing wrestlers who are four years older.
Campbell lost in the quarterfinals, meaning Glenz didn't even get a wrestleback match. Campbell, though, did win four straight matches in the wrestlebacks and placed third.
Glenz finished the season with a record of 29-12.
Individual Results
112-Sean Glenz (P)...pinned by Clint Campbell (Stewartville), 1:18...Did Not Place;
125-Jeremy Sogge (P)...dec. Matt Lawson (Stewartville), 4-2...lost to Logan Brincefield (Wadena-Deer Creek), 5-1...dec. Jon Koranda (Becker), 8-3...dec. Justin Turek (New Prague), 12-9...lost to Clay Hoeck (Milaca), 8-6...lost by injury default to Dan Essig (Deer River/Northland) ...Sixth Place;
135-Nathan Glenz (P) ...dec. Louie Vandermay (Wadena-Deer Creek), 6-0...lost to Ryan King (Green Meadow/Leroy-Ostrander/Kingsland), 18-8...pinned John Fradette (Milaca), 0:51...lost to Austin Scarset (Red Rock Central/Westbrook-Walnut Grove), 13-1 ...Did Not Place;
171-Ryan Glenz (P) ...dec. Tad Hickman (St. Michael-Albertville), 8-2...lost to Jeremy Pederson (Becker), 5-3...dec. Dusty Bakker (Montevideo), 8-4...lost to Bo Schulz (Zumbrota-Mazeppa), 6-4...Did Not Place;
189-Marty Engen (P)...maj. dec. Dan Ketcham (Orono), 12-0...dec. Colby Bruns (Marshall), 5-1...dec. Dan Flatau (Perham), 7-4...dec. Matt Heger (Waconia/Mayer Lutheran), 4-3...First Place.
---
Contact the author at paypress@lkdllink.net • Return to Sports
Home | Marketplace | Community
---