Boys basketball loses final regular season game
This article submitted by Josh Jones on 3/2/99.

On Tuesday Feb. 23, the Paynesville Bulldog boysí basketball team finished off the regular season against Long Prairie-Grey Eagle.

The team mascot from the Timberwolves, Crunch, was also at the game to provide entertainment.

In the first quarter Paynesville didnít play well and just werenít quite there mentally. The Thunder jumped out to a 14-point lead, 20-6, to end the first quarter.

The second quarter was just as bad for Paynesville. LPGE big man Steve Ruda had 22 points in the first half. Needless to say Paynesville couldnít stop him.

Trailing by 26, Paynesville just wanted to end the game with some dignity and have the score be a little bit more reasonable. They did that in the second half outscoring their opponents 44-23.

In the third quarter the Bulldogs started to get in the swing of things and started to get things going on offense.

The fourth quarter was wild. Paynesville went on a scoring streak and had literally 10 points in 20 seconds.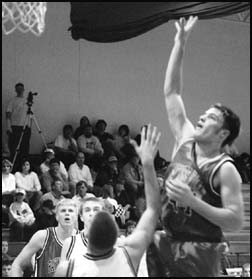 The Bulldog defense led the way in the second half, which in turn sparked the offense.
Paynesvilleís Josh Jones had back-to-back slam dunks which were triggered by stellar defense. This sent the fans into a frenzy and the Bulldogs were having fun.
Although the streak wasnít enough to win the game, Paynesville learned a little bit more of what not to do in the playoffs.
The Bulldogs lost the barn burner 78-63.
LPGE: 20 25 14 19 - 78
Paynesville : 6 13 16 28 - 63
The Bulldogs play their first playoff game at home against Dassel-Cokato on Thursday, March 4, at 7:30 p.m.
---