Junior Sean Glenz won the tenth individual state title for Paynesville in wrestling, claiming the Class A championship at 145 on Saturday at the Xcel Energy Center in St. Paul.

Junior Joel Kerzman also reached the finals for the Bulldogs but lost in the championship and finished second at 135.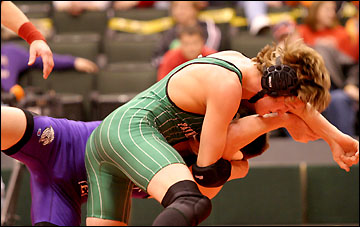 Junior Sean Glenz threw Goodhue senior Sam Gadient in the third period in their Class A championship match at 145. The five-point move gave Glenz a 6-5 victory and the state title. He is the ninth Bulldog wrestler to win a state title. The Bulldogs have won ten individual state titles in all.
Glenz and Kerzman became the 59th and 60th state placewinners for the Bulldogs. In all, six wrestlers competed at state from Thursday to Saturday, but only Glenz and Kerzman placed in the top six. Also competing at state for the Bulldogs were ninth grader Jordan Christian (103), junior Joe Sheridan (112), junior Keith Klein (140), and senior Jack Mueller (152).
Glenz - rated first by The Guillotine at 145 and making his fourth individual appearance at state - cruised into the finals but needed a 6-5 come-from-behind win over Sam Gadient (27-5), a senior from Goodhue, for the title.
Gadient scored a takedown near the edge of the mat in the last seconds of the first period to take a 2-0 lead. Glenz escaped 30 seconds into the second period to cut the lead to 2-1 and just missed scoring a takedown with 15 seconds to go in the period.
Still trailing 2-1, Glenz tried to turn Gadient for back points for the first minute of the third period. After Gadient escaped, making the score 3-1, Glenz threw Gadient to his back with a double-arm head lock with about 40 seconds to go in the match. He held Gadient on his back for 30 seconds, using the two-point takedown and three-point nearfall to take a 6-3 lead.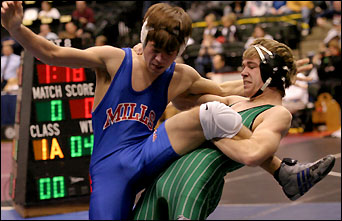 Gadient got off his back and scored a reversal in the last five seconds, but Glenz won 6-5.
"It was hard," said Glenz of his title match, noting that Gadient wrestled very defensively and made it tough to score. "He didn't want to give me any takedowns."
Junior Joel Kerzman scores a takedown in his first-round match on Thursday at the Xcel Energy Center in St. Paul. Kerzman advanced to the final at 135 but lost the title match, finishing as state runner-up.
Glenz said winning a state title was "a big goal" for him all season. He said he was disappointed last year when he ran into the eventual champion at 145 in the second round at state and did not place, but, after lifting weights and wrestling in the offseason, he was confident coming back stronger at the same weight class this year.
Glenz, the son of Deb and Mike Glenz, was so happy to win a state title that "once it was over, I was kind of in shock," he said.
Glenz becomes the ninth Bulldog wrestler to win an individual state title. Overall, the Dogs have won ten state titles with David Kerzman, now an assistant coach, winning twice (2000 and 2001).

PAHS Wrestling State Champs
1979 Steve Fuchs (119)
1986 Gerald Garvick (HWT)
1991 Greg Schwartz (140)
1992 Brad Fenske (140)
1992 Scott Hoeft (152)
1996 Lee Hiltner (HWT)
2000 David Kerzman (125)
2001 David Kerzman (130)
2002 Marty Engen (189)
2005 Sean Glenz (145)

"Extremely proud of the way our guys finished out the season the past two weeks. Everyone finished strong. It was great to get six guys to state and come away with a champion and runner-up," said coach Tim Woehler.
Glenz - whose father has been a long-time junior high coach in the Bulldogs program - credited his parents, his older brother Ryan (a two-time state entrant for Paynes-ville) who practiced with Sean at home and taught him new moves, his high school coaches, and his training partners (particularly Joel Kerzman, Klein, and Mueller along with coaches David Kerzman and Jason Mages).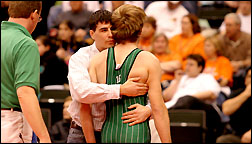 The Bulldogs sent wrestlers from 135-152 ­- Kerzman, Klein, Glenz, and Mueller -- to state this year as individuals. "We practiced really hard together, so it helped us to get better," said Glenz.
Assistant coach David Kerzman conforts his brother after Joel lost a decision in the state final at 135 on Saturday afternoon. David is a two-time state champion.
Glenz, who finished his junior season 39-2, could join David as a two-time state champion next year. That's one of his goals. He is also poised to break a number of school records, including the career victory mark currently held by David, who went 178-21 during five varsity seasons. Glenz, who started on the varsity as a seventh grader, has gone 151-58 in five seasons, and needs 27 more wins to tie the record.
Joel Kerzman - who, like Glenz, had won two matches on Thursday to assure himself of a state placing, and then won on Friday to advance to the final - lost his championship match at 135 to Kenny Sandt (35-3), a senior from United South Central/ Alden-Conger, 16-11.
Sandt built a 10-5 lead with five takedowns over the first two periods. After yielding a reversal to start the third period, though, Kerzman scored two takedowns and outscored Sandt 6-4 the rest of the match. Sandt's only takedown during this stretch came after Kerzman missed a throw.
Joel (21-4 this year) did set a Bulldog record by becoming the third Kerzman brother to place at state. David placed at state three times, and Matt placed fifth at state at 152 last year. In all, eight sets of brothers have placed at state individually for Paynesville, including the Greg and Ryan Schwartz and Jay and Troy Vagle, who are also step-brothers.

State-Placing Brothers
Kerzman - David (fourth in 1998, first in 2000, first in 2001), Matt (fifth in 2004), and Joel (second in 2005).
Bast - Steve (second in 1992), and David (fifth in 1991).
Fuchs - Steve (third in 1977, third in 1978, and first in 1979), and Ron (third in 1987 and fourth in 1988).
Garvick - Gerald (first in 1986), and Ron (second in 1992 and fourth in 1993).
Schwartz - Greg (first in 1991 and fourth in 1989), and Ryan (fourth in 1983).
Sogge - Jeremy (second in 2001, third in 2000, and sixth in 2002), and Chris (third in 1999).
Vagle - Troy (third in 1987), and Jay (fourth in 1985).
Welle - Chris (fourth in 2000 and sixth in 1999), and Zach (fifth in 1997).

Joel Kerzman won a 6-2 decision over Tim Wegscheid (29-13), a senior from New York Mills, in the opening round on Thursday; pinned Nick Peterson (26-14), a junior from Eden Valley-Watkins in the quarterfinals on Thursday; and pinned Bryant Boynton (18-16), a sophomore from Dover-Eyota in the semifinals on Friday to reach the final at 135.
Glenz won a 14-3 major decision over Shane Braun (26-7), a junior from St. Charles in the opening round on Thursday; pinned Shane Khan (29-12), a sophomore from Howard Lake-Waverly, in the quarterfinals; and major decisioned Eric Wiener (35-4), a junior from Osakis, 17-5 in the semifinals.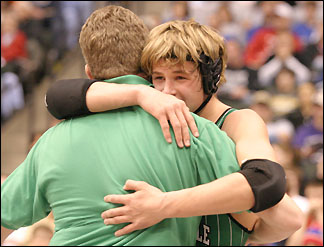 Sheridan was the only other Paynesville wrestler to win in the opening round, recording a 9-0 major decision on Thursday morning. But he lost 11-6 in the quarterfinals to Kirby Anderson (33-4), a junior from Menagha/Sebeka, who placed third at 112.
In the wrestlebacks on Friday, Sheridan lost 8-6 in double overtime to Andrew Lockrem (27-13), a ninth grader from Frazee, when Lockrem scored a two-point nearfall in the second overtime.
Coach Tim Woehler congratulates Sean Glenz after winning his title match.
Christian, Klein, and Mueller all went winless at state. Christian (32-5) lost his opening match and was eliminated when his opponent lost in the quarterfinals. Klein (26-16) and Mueller (31-9) both got a wrestleback match but lost again.
Klein lost to the second- and third-place finishers at 140, and Mueller lost to the third-place finisher 6-2 in the opening round, yielding a late takedown after needing a takedown to tie the score in the third period, and lost 3-2 to senior Spencer Lund of ACGC in the wrestlebacks on Friday. Lund took fourth at 152.
"Our guys have to feel good about themselves. Keith lost to the second- and third-place finishers, and Jack to the third- and fourth-place guys. Both Joey and Jordan did great as well, gaining more experience," said Woehler. "We are very optimistic looking down the road with five of the six entrants coming back next year."
In other state tournament action,
*Pierz defeated Canby for the Class A team championship 42-12 on Saturday for back-to-back titles. Pierz has beaten Paynesville in the Section 6A final the past two years.
*Pierz handed ACGC - coached by PAHS alum and local resident Tim Roberg - its first loss of the season 27-21 in the Class A team semifinals on Friday. ACGC took third place in Class A, finishing 30-1.
*Tyler Hemmesch, a sophomore from Elk River and the son of Craig and Jody (Provost) Hemmesch, took third place at 215 in Class AAA. Tyler finished 38-3 this year. He placed sixth at state as a ninth grader. Craig is a 1977 PHS grad, and Jody is a 1979 PHS grad.
*The West Central Conference North produced four state champions (Sauk Centre senior Brian Beilke (38-1) at 112AA, LPGE senior Sam Schad (37-0) at 130AA, Sauk Centre senior Nathan Winter (37-1) at 135AA, and Glenz (39-2) at 145A); two state runners-up (LPGE junior Derek Pesta (32-6) at 112AA and Kerzman (21-4) at 135A); and one additional state placer (Sauk Centre senior Kurt Haakinson (35-7) at 145AA. In addition, Minnewaska and New London-Spicer, which move into the north division next year for wrestling, had two and one state placers respectively.
*The two wrestlers who beat Glenz this year also placed at state: Scott West senior Jacob Roberts (third at 145AA) and South St. Paul senior Jon Feliciano (sixth at 160AAA).
Individual Results
103-Jordan Christian (P) lost to Trevor Krueger (Barnesville), 10-5...Did Not Place;
112-Joe Sheridan (P) maj. dec. Todd Hulshizer (St. Charles), 9-0...lost to Kirby Anderson (Manahga /Sebeka), 11-6...lost to Andrew Lockrem (Frazee), 8-6 (OT-2)...Did Not Place;
135-Joel Kerzman (P) dec. Tim Wegscheid (New York Mills), 6-1... pinned Nick Peterson (Eden Valley-Watkins), 1:48...pinned Bryan Boynton (Dover-Eyota), 4:23...lost to Kenny Sandt (United South Central/Alden-Conger), 16-11...Second Place;
140-Keith Klein (P) lost to Jonny Roemhildt (Waterville-Elysian-Morris-town), 16-6...lost to Kevin Widmer (River Valley), 15-5...Did Not Place;
45-Sean Glenz (P) maj. dec. Shane Braun (St. Charles), 14-3...pinned Shane Khan (Howard Lake-Waverly-Winsted), 3:05...maj. dec. Eric Wiener (Osakis), 17-5...dec. Sam Gadient (Goodhue), 6-5...First Place;
152-Jack Mueller (P) lost to Lucas Smith (Southland), 6-2...lost to Spencer Lund (ACGC), 3-2...Did Not Place.
Photos of the 2005 Class A State Wrestling Tournament
---
Contact the author at editor@paynesvillepress.com • Return to Sports
Home | Marketplace | Community
---