Sophomore Kacy Nehowig became the third PAHS gymnast to compete at state on Saturday afternoon. She finished 26th in Class A on the uneven bars at the state meet at the Roy Wilkins Auditorium in St. Paul.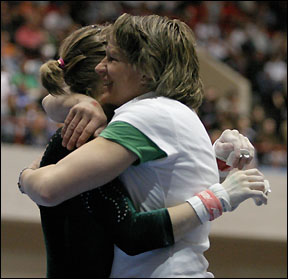 Nehowig scored 8.5 for her bar routine on Saturday. At state, four judges grade each routine, with the top score and the low score discarded and the two middle scores averaged for the final score. Nehowig received scores of 8.6, 8.5, 8.5, and 8.4 from the four judges.
In winning the conference title this winter, Nehowig set a new school record on the bars with a score of 9.3. But the judging, like the competition, was stiffer at state.
Sophomore Kacy Nehowig hugs her mother and coach Deb Nehowig after completing her bar routine at the Class A state meet in St. Paul on Saturday.
"Like any sport, the competition is really tough once you get to the state meet," said Kacy's mother and coach Deb Nehowig. "It was a great experience for Kacy to compete at that level."
In addition to Nehowig, two other Bulldog gymnasts have competed at state: Louise Mueller on bars in 1982 and Lisa Schmidt on vault in 1988.
Danielle Atkinson of Little Falls, a former club teammate of Nehowig's, won the Class A bars title with a score of 9.725. Amy Daniels of Marshall was second at 9.55, Kourtney Johnston of Perham was third at 9.475, Amy Knudson of Mankato East was fourth at 9.3, Ashley Brasel of Perham was fifth at 9.275, and Whitney Walter of Detroit Lakes was sixth at 9.225.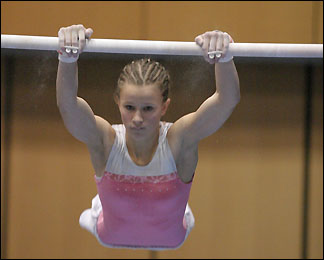 Brasel won the Class A all-around title, scoring 37.825, followed by Daniels, Knudson, Johnston, Betsy Mann of Perham, and Atkinson.
Dana Dierhising of Melrose was the top finisher from Section 6A at state, taking seventh in the all around and finishing 19th on the uneven bars, scoring 8.85. Melrose was sixth on Friday in the Class A team competition as Perham set a new record (150.4 points) in winning the Class A title.
Sophomore Kacy Nehowig scored 8.5 on her beam rountine at state and placed 26th in Class A. She was the third PAHS gymnast to compete at state and earned honorable mention All State honors this season.
Nehowig did earn honorable All State honors in gymnastics this season for both the uneven bars and the vault. To earn All State honors, gymnasts must average 8.5 for six meets on bars and 8.7 for six meets on vault. Kacy averaged 8.65 on bars and 8.745 on vault, according to coach Nehowig.
Nehowig competed as an individual at state for the fifth time in her third sport on Saturday. In addition to gymnastics, she has been an individual entrant in cross country the past three years, and she qualified for state in the 1,600-meter run in track last spring.
"Most of the top gymnasts at the state meet are one-sport athletes who train year round in clubs," said coach Nehowig. "Kacy is a successful three-sport athlete competing at the state level in cross country, track, and gymnastics. That's quite an accomplishment (that) you don't see too often."
Photo page of state gymnastics
Class A Uneven Bars Results
1. Danielle Atkinson, Little Falls 9.725
2. Amy Daniels, Marshall 9.55
3. Kourtney Johnston, Perham 9.475
4. Amy Knudson, Mankato East 9.3
5. Ashley Brasel, Perham 9.275
6. Whitney Walter, Detroit Lakes 9.225
7. Andria Harren, Big Lake 9.2
8. Merissa Oswald, Blue Earth 9.2
9. Jess Anderson, New Prague 9.175
10. Carmen Lundell, Breck 9.125
11. Nicole Goodell, Becker 9.05
12. Kendra Funk, Mound 9.025
13. Melanie Deutsch, New Prague 8.975
14. Jaynell Gust, Big Lake 8.9
15. Jessica Rivet, Mahtomedi 8.9
16. Kayla Deters, Sauk Rapids 8.875
17. Sabrina Steen, Martin County West 8.85
17. Mandy Krohn, Watertown-Mayer 8.85
19. Dana Dierkhising, Melrose 8.85
20. Kristin Busch, New Prague 8.85
21. Amber Dorholt, Mound 8.85
22. Bethany Dorfner, Blue Earth 8.65
23. Kristeena Patsche, MCW 8.625
24. Maddie Genereux, Mahtomedi 8.5
25. Carrie Hanson, Benson/KMS 8.5
26. Kacy Nehowig, Paynesville 8.5
27. Kati Berscheit, Melrose 8.4
28. Stacey Peterson, MI/Buhl 8.35
29. Heidi Kick, New Prague 8.35
30. Kacie Bohrer, Mankato West 8.05
31. Christina Sorenson, Worthington 7.9
32. Allyssa Houle, North Branch 7.675
---
Contact the author at editor@paynesvillepress.com • Return to Sports
Home | Marketplace | Community
---