Junior Cory Nietfeld became the ninth PAHS basketball player to reach the milestone of 1,000 career points on Saturday night. He also became the first to score his 1,000th point as a junior.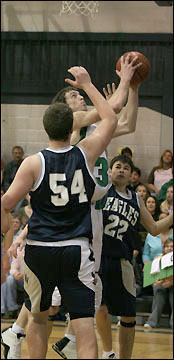 Nietfeld, a three-year varsity starter, scored his 1,000th career point with a putback basket early in the second half against the EV-W Eagles on Saturday night in Eden Valley. He came into the game with 989 points after scoring 24 points against Sauk Centre earlier in the week and needed 11 points for 1,000.
Junior Cory Nietfeld scored his 1,000th career point on an offensive rebound early in the second half at Eden Valley-Watkins on Saturday.
He scored 10 points in the first half and his first basket in the second half put him over 1,000. Officials stopped the game for Nietfeld to receive congratulations from his teammates and coaches and then to go into the stands to hand a game ball to his mother Claudette and hug her and his father Steve.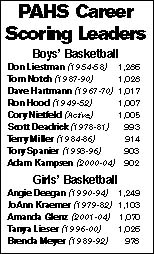 Nietfeld finished with 16 points on Saturday night, giving him 1,005 points now in his career.
"A lot of hard work paid off," said Cory about his achievement.
He was not counting his points, but with fans in the stands holding signs and friends counting, it was impossible not to know how close he was getting to 1,000 points. "I haven't been keeping track myself, but people have been informing me," he said.
Nietfeld played on the C-squad and junior varsity as an eighth grader, including a famous dunk in a ninth-grade game that year (he has two dunks this year). He started on the varsity as a ninth grader and is in his third season as a starter. As a ninth grader, he scored 224 points in 22 games, 10.2 points per game (as well as 8.7 rebounds per game, 2.3 steals per game, 3.0 assists per game, and 1.1 blocks per game). As a sophomore, he scored 364 points in 23 games, 15.8 ppg (as well as 11.1 rpg, 3.3 spg, 3.3 apg, and 2.1 bpg).
As a junior, so far this year, he has scored 417 points in 21 games, an average of 19.9 ppg.
Despite his lofty scoring average, Nietfeld would just as soon pass as shoot. He ranked second on the team in assists as a ninth grader, first last year, and is a team leader again this year. "If there's somebody open, I'll throw it every time," he said. "I like to give it to them and then go and get the rebound if they miss."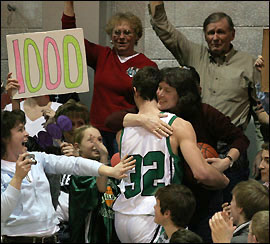 Getting rebounds and putting them into the hoop is a strength of his game, he said. So it was fitting that his 1,000 career point (and five of his seven baskets against EV-W) came on putback scores. This year, playing in the post on offense, he has had a lot more chances for offensive rebounds, he added.
Junior Cory Nietfeld gives a game ball to and hugs his mother Claudette and while his father Steve (right) moves to embrace him amid the family and friends.
Steve and Claudette Nietfeld have a dairy and hog farm by Lake Henry, where Cory grew up with his three siblings (brother Aaron, 20, a 2004 PAHS graduate; sister Kristin, a senior this year; and brother Nathan, a ninth grader and basketball and baseball teammate).
Basketball is Cory's favorite sport, he said. His favorite sport used to be baseball, but it immediately became basketball "as soon as I started playing it in sixth grade," he said.
He enjoys it because he is good at it and "just playing in front of a lot of people, that's fun," he said.
He gets his natural talent for basketball from his mother. Claudette was the conference Most Valuable Player her junior year at Belgrade, said Steve. Of Claudette and her seven sisters, all but one played basketball for Belgrade.
Steve played baseball for Lake Henry, so when Cory and Nathan play basketball and baseball "then they're pleasing us both," said Steve with a smile. "Many a night we'd play catch and then shoot baskets."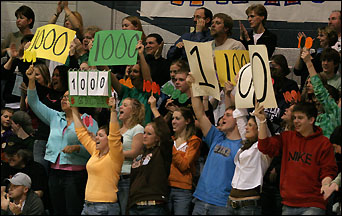 After much individual and team success in junior high, Cory started on varsity as a ninth grader.
Fans held signs commemorating Cory Nietfeld's 1,000th career point on Saturday at Eden Valley-Watkins High School.
"He was brought up due to the fact that he played aggressive and worked hard on defense," said coach Phil Carlson. "We thought he could handle the physicalness and the speed of the game (needless to say, he has handled it well)."
"Cory has been an exciting player to coach and work with," said Carlson. "He comes mentally and physically ready to compete (not just to play, there is a big difference)."
"It was a tremendous event to see him score his 1,000th point and to know how hard he works for our team in all aspects of the game. He is a very strong role model for all younger athletes as he excels in the classroom, on the court, and shows respect in good times and rough times," added Carlson.
Nietfeld thanks his teammates (the four seniors whom he has played with for four years and his junior classmates whom he has played with for six years); his parents (for all the rides to basketball games); Carlson (for having faith in him and playing him on varsity as a ninth grader); and his youth basketball coach Rick Houske for helping him reach this career milestone.
Nietfeld, who would like to play basketball in college, could break the school record for points next year. Don Liestman (1,286 points) has held the school record since 1958, but if Nietfeld keeps scoring close to 20 points per game and stays healthy, he would score another 400 points next year and approach a career total of 1,500 points.
Breaking the school record for points would be a good accomplishment, acknowledged Nietfeld, something that he will take pride in as the years go by, but it's not his focus. People have been telling him about his place in the career scoring standings, but what he really like to do next year in basketball is win more games and challenge for the conference title.
---
Contact the author at editor@paynesvillepress.com • Return to Sports
Home | Marketplace | Community
---