Lieser scores her 1,000th career point
This article submitted by Michael Jacobson on 3/1/00.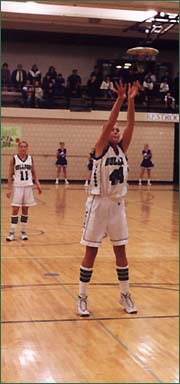 Senior post Tanya Lieser reached an elite milestone on the basketball court last week. Starting the night 14 points shy of 1,000 for her career, Lieser scored 24 points in the Bulldogs' 67-56 loss at Albany on Tuesday, Feb. 22, to become the third female player in school history to reach the milestone.

Lieser joins elite company in the girls' basketball 1,000 point club. Angie Deegan (1994) heads the list with 1,249 career points. JoAnn Kraemer (1982) is second with 1,103. After adding 12 points in Friday's loss to Annandale, Lieser has 1,022 and at least one playoff game remaining.

Lieser, a 6' 0" senior, said she was excited and relieved to score her 1,000th point, which came on a pair of free throws in the second half. Scoring 1,000 points was a goal of hers at the beginning of the season, which she started 291 points short of 1,000.

Tanya Lieser is pictured here shooting her 999th and 1,000th points, which occurred at the free throw line in Albany.

"I got so close that I wanted to make sure I got it," she said.

Lieser, the daughter of Bob and Diane Lieser, was fouled on a reach-in by the Huskies and made both ends of a one and one for her 999th and 1,000th points. "Probably the best two free throws I ever shot," she said.

Her only regret was not scoring her 1,000th point at home. But the school arranged to acquire the game ball from Albany, and Lieser was honored with a plaque before the Bulldogs last home game against Annandale on Friday night.

"There's no doubt about it, it's quite an accomplishment," said her coach, Pat Deegan, Angie's brother. "She's only the third girl in the history of the school to reach it."

"Probably the thing I was most impressed with is she didn't get tight," said Deegan, who described her as cool and calm.

Still, after reaching 1,000, Lieser's relief was evident by her scoring 10 additional points as the Bulldogs battled to cut the Huskies' lead. "I was so tense before," said Lieser, "like I had to score. I was so relieved."

"We could tell, as it got closer," said her mother, Diane, "...her shots just didn't flow as easily."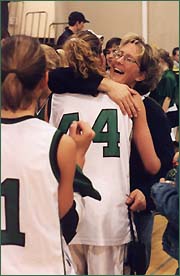 Diane said she was even more excited than her daughter. "I'm very proud of her," she said. "I think it's a very big accomplishment."
Tanya Lieser receives a hug from her mother, Diane, after her 1,000th career point.
Practice, practice
Quite an accomplishment indeed for someone who described herself as the worst player on her seventh grade team. "I hated basketball when I was little," she explained. "People always said, 'You should play basketball (because) you're so tall."
In the summer between seventh and eighth grade, Lieser said she spent hours playing volleyball and basketball on her parents' farm. Her mother played volleyball with her and her father helped her in basketball. For hours, Lieser, who wants to play volleyball in college, would bump a volleyball repeatedly on the roof of the house. Then she would bump, set, and spike it herself.
And then, every afternoon, she would shoot hoops on the concrete driveway.
Lieser called her improvement from seventh to eighth grade dramatic. She estimated that she scored 20 points in seventh grade and 150 in eighth grade.
She started playing on the varsity team as a ninth grader. Her initial impact was in blocking shots and rebounding, though she did score 20 points against Sauk Centre as a freshman. She holds the school record for blocked shots in a season with 94, which she set last year as a junior.
She scored 116 points as a ninth grader, 254 as a sophomore, 350 points as a junior, and 313 so far this season. "When I was a freshman, I don't think I even dreamed about (scoring 1,000 points)," Lieser said. "I never really thought about it until my 11th grade year."
After being All Conference Honorable Mention as a ninth grader and All Conference as a sophomore, she played AAU basketball the next summer, and credits that with much of her improvement. Playing against stiffer competition improved her skills and her confidence.
Her confidence was further bolstered by teams starting to focus their defense on her. And when her cousin, Lindsey Lieser, a New London-Spicer graduate who now plays for the Minnesota Gophers, would tell her the Wildcats focused on stopping Tanya.
As a junior last year, Tanya earned All Conference honors again and was named to the All Area Second Team byThe West Central Tribune.
Sweet shot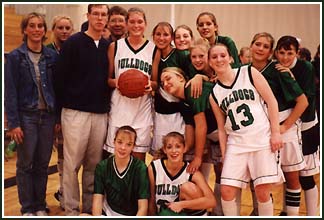 Lieser estimates that she's used the backboard for only 50 of her 1,022 points. Instead she aims for the front of the rim with a jump shot so pure that it has produced enough career points to be fifth on the all-time PAHS scoring list, both genders. Don Liestman (1958) leads the list with 1286, followed by Deegan, Kraemer, and Tom Notch (1990) with 1,028.
Lieser has already passed Dave Hartmann (1970) and Ron Hood (1952), Paynesville's other 1,000-point scorers, on the career scoring list.
She may have passed Notch during the Bulldogs' playoff game at Litchfield last night. If the Bulldogs win, she could add to her total in sectional competition on Thursday night at Annandale.
"Her turnaround shot is tough to stop," said Deegan. "She's got the long arms and the reach." Deegan's favorite shot from the Albany game, though, was a left-handed bank shot in the lane. "That shows the ability she has," he said.
Also, in the Bulldogs' last four games, she has made six three-pointers. "I wish I could get her more shots," Deegan said.
This year, Lieser has averaged 14 points per game, nine rebounds per game, and three blocks.
One last note from the Albany game: with 24 points, it was Lieser's highest conference scoring output since her ninth grade year, when she dumped 20 on Sauk Centre. Having played against her a minimum of eight times, opposing coaches now what to expect from her.
---