Seven wrestlers advance to state individually
This article submitted by Michael Jacobson on 3/1/00.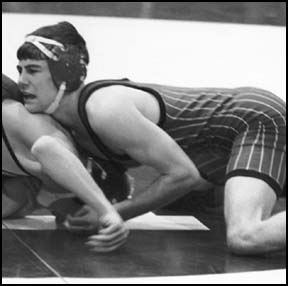 Seven Bulldogs qualified for the state wrestling tournament individually by placing first or second at the Section 6A tournament at BBE High School on Friday evening and Saturday afternoon.

Paynesville had three champions: David Kerzman at 125 (pictured at right), Chris Welle at 135 (pictured at left in the middle of page), and Chris Sogge at 152 (pictured at the bottom on right of page).

Four Bulldogs finished as the runner-up in their weight class and also advanced to state: Nate Glenz at 112, Jeremy Sogge at 119, Joe Hiltner at 145, and Matt Brauchler at heavyweight.

In one of the strongest weight classes in the section, Kerzman, despite his 31-2 record for the season, was seeded third at 125. In the semifinals, Kerzman faced a rematch with Pierz's Joe Kloss, a state runner-up last year. Kloss beat Kerzman 16-8 in the section final last week, but Kerzman jumped ahead 10-3 and pinned him in the first period.

In the finals, Kerzman decisioned Rush City's Daniel Sowman, who was undefeated for the season and rated fifth in state. Kerzman, a junior, is making his third trip to state. He placed fourth in 1998. Assistant coach Steve Fuchs said Kerzman wrestled beautifully in winning the section title.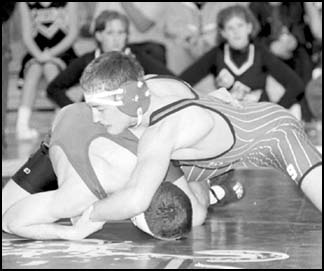 Seniors Chris Welle and Chris Sogge will be making their second consecutive state trips individually. Welle, who was sixth last year, continued his unbeaten season in claiming the championship at 135. He recorded two pins and a 24-10 major decision in the finals.
Sogge, who was third last year at 152, pinned his way through Section 6A at the same weight. He needed just four minutes and 16 seconds to record three pins.
All four runners-up for Paynesville will be making their first state tournament appearances individually.
Senior Matt Brauchler, seeded third at heavyweight, pinned two opponents, including the second seed from Swanville -Upsala, to advance to the finals, where he was pinned by Royalton's Joe Langner, a state entrant last year as a ninth grader who is now rated sixth in the state.
Junior Joe Hiltner also pinned his way to the 145-pound final, where he lost 3-2 to Adam Halvorson, a senior from Ogilvie who was a state entrant last year and is rated first in the state this year.
Sophomores Nathan Glenz and Jeremy Sogge each placed second behind returning state place winners. Seeded third at 112, Glenz won a 12-0 major decision Friday evening. In the semifinals on Saturday, he defeated Carl Mrosla from Royalton, who had a 22-3 record, 4-2 in overtime. In the finals, Glenz lost 3-2 to Gabe Koepp of Rush City, who placed fifth at 103 last year.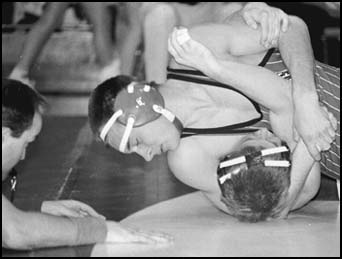 Seeded second at 119, Sogge had a pin and a 10-4 decision to advance to the final, where he faced Pierz's Aaron Kloss, who was third at state last year. Sogge rallied to pin Kloss in the team sectional final last week, but Kloss had the upper hand Saturday, winning 9-1.
Senior Josh Bork and freshman Adam Christian lost true-second matches and finished third, just missing state trips. Bork advanced to the finals at 189, a tough bracket. Bork won 10-5 in the quarterfinals against the sixth seed, who had a 21-8 record. Then he beat Pierz's Tom Britz 6-4 in the semifinals. Britz beat Bork by an identical score in their team match at sectionals.
In the finals, Bork lost 4-2 to Braham's Joe Compton for the third time this season. Compton, a senior, was a state entrant last year. In the true-second match, which happens when the third place finisher's only loss is to the section champion, Bork lost 3-2 to Darren Lieser of BBE, removing Bork from one of the two state spots.
At 103, Christian lost to the eventual champion, Pierz's Craig Luberts, in the semifinals. Christian advanced through the wrestlebacks, including a 5-4 double overtime victory over Braham's Matt Morgan for third place.
Christian's escape in that match earned him a true-second match against Garett Sowman from Rush City, but Sowman prevailed 5-0.
Fuchs said he felt especially bad for Bork, who narrowly missed a state trip, and Shaun Fleischhacker, who was hampered by illness. At 171, Fleischhacker lost in the semifinals to Braham's Drake Lagasse, who Fleischhacker beat by technical fall in the team sectional competition. Fleischhacker ended up in fourth, but Fuchs said Fleischhacker easily could have gone to state had he been healthy.
Also placing fourth were seniors Brad Schultz at 130 and Scott Braun at 160. Schultz, unseeded, beat the fourth seed 5-4 but lost to the eventual champion in the semifinals 6-2. He advanced through the wrestlebacks to the third place match, but missed a chance at true second with a 5-2 loss.
Braun lost to Pierz's Chris Young, a two-time state place winner, in the semifinals. Braun also tried to advance to a true-second match, but lost the third-place match 3-1 in overtime.
The seven state entrants is the most for Paynesville since 1992, when nine advanced to state, returning with two championships, two runners-up, and a fifth place finish. In 1991, the Bulldogs advanced seven as well, and had six place winners. More importantly, the 1992 team finished second, while the 1991 team earned the school's third state championship.
---