Wrestlers send eight to state
This article submitted by Michael Jacobson on 2/28/01.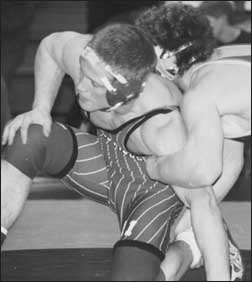 The Bulldog wrestling team continued their dominance over Section 6A over the weekend. A week after qualifying as a team for the state tournament, the Bulldogs won six individual champions and will be sending eight wrestlers to state individually.

From 112 to 160, the Bulldogs will send eight individuals to the state tournament, which starts Thursday at the Xcel Energy Center in St. Paul.

Senior Joe Hiltner earned his trip to state with a 3-2 victory over Mike Felling of BBE.

Champions for Paynesville at the Section 6A meet in Braham were Adam Christian (112), Jeremy Sogge (125), David Kerzman (130), Jeremy Fuchs (135), Joe Hiltner (140), and Max Meagher (shown below) (160). Nathan Glenz (119) and Josh Schreifels (145) took second in their weight class to earn spots at state.

Glenz, Sogge, Kerzman, and Hiltner earned return trips to state. Glenz, Hiltner, and Sogge earned trips for the first time a year ago. Sogge placed third.

Kerzman earned his fourth trip to state, which matches a school record of four state trips set by Tim Roberg ('94-'97). Kerzman, who placed fourth in 1998 and first last year, could become the first Paynesville wrestler to win back-to-back state titles.

By winning any medal, Kerzman will match a school record for most times placing at state. So far, four wrestlers have earned three state medals: Pat Neu ('72), Steve Fuchs ('79), Jason Mages ('91), and Brad Fenske ('92).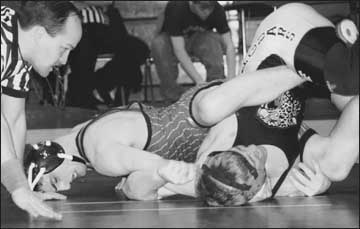 All six of the champions won three matches without a loss. Christian won a rematch with Pierz's Tony Andres for the title. Christian beat Andres 1-0 for the title. They had split their two previous matches this season.
Glenz lost a rematch with Pierz's Craig Luberts 5-1 for the title. Glenz had upset Luberts 3-0 during the team final.
Fuchs and Schreifels were seeded third in their weights and beat the second seed in the semifinals. Fuchs beat BBE's Adam Marks, rated tenth in the state, in the final 5-4. Schreifels lost in the final, but took second.
As a team, the Bulldogs fared well. In addition, to their six champions, all the Bulldogs, except two, won at least two matches.
Everyone placed fifth or better in the section.M
The individual tournament action in Class A starts on Thursday evening. The first round is at 6 p.m., and the quarterfinals are at 8 p.m.
The first round of wrestlebacks is at 9:30 a.m. on Friday, and the championship and consolation rounds continue at 5:30 p.m. on Friday.
The medal matches will be on Saturday at 3:30 p.m.
Section 6A Individual Results
103-Sean Glenz (P) pinned Josh Bartkowiz (Upsala) 2:57, lost 7-4 to Josh Golden (Ogilvie), maj. dec. Dustin Nelson (Hinckley-Finlayson) 16-2, dec. Dennis Gregerson (Braham) 15-13 OT, lost by pin to Dusty Baker (BBE)...4th place;
112-Adam Christian (P) tech. falled Charlie Hagman (HF), pinned Mark Schaefer (O), dec. Tony Andres (Pierz) 1-0...1st place;
119-Nathan Glenz (P) tech. falled Brandon Sonstegard (BBE) 17-2, lost 5-1 to Craig Lubertz (Pz)...2nd place;
125-Jeremy Sogge (P) pinned Alex Gryskiewicz (HF), dec. David Shockman (B) 10-7, dec. Garrett Snowman (Rush City)...1st place;
130-David Kerzman (P) pinned John Kroschel (HF), won by default over Craig Birkaker (B), pinned Peter Umbreit (RC)...1st place;
135-Jeremy Fuchs (P) pinned Don Neville (B), dec. Tyler Peterson (HF) 8-4, dec. Adam Marks (BBE) 5-4...1st place;
140-Joe Hiltner (P) pinned Ernie Loerzel (B), pinned Jarrod Foss (Royalton), dec. Mike Felling (BBE) 3-2...1st place
145-Josh Schreifels (P) dec. Mike Wuorinen (RC) 12-2, dec. Eddy Popp (R) 11-5, lost by tech. fall to Chris Betsinger (B)...2nd place;
152-Ryan Glenz (P) lost 5-4 to Daniel Snowman (RC), pinned Kendall Hartfiel (O), lost 9-1 to Steve Andres (Pz)...4th place;
160-Max Meagher (P) pinned Jason Plumski (R), pinned Chris Lyon (Holdingford), tech. falled Bobby O'Flanagan (HF)...1st place
171- Josh Kerzman (P) pinned Russell Berg (O), lost 10-2 to Troy Heaton (B), pinned Nathan Strom (U), lost 10-8 to Dan Britz (Pz), dec. Kevin Zimmerman (R) 6-3...5th place
189-Chris Rohe (P) pinned Mike Currie (HF), lost by pin to Darren Lieser (BBE), dec. Ashley Schraut (R) 2-1, lost 8-4 to Kevin Smude (Pz)...4th place;
HWT-Brad Person (P) lost 12-1 to Treg Swanson (Pz), pinned Steve Wieczorek (HF), lost by pin to Korey Siltman (B), pinned Robert Tomsen (RC)...5th place.
---