The Pierz Pioneers justified their #1 rating in Class A wrestling on Friday night, dominating the Bulldogs wrestling team to win the Section 6A title 54-11 in Royalton.

Pierz (29-2) earned their third straight state berth by beating Paynesville for the section crown. The Bulldogs beat Pierz for the Section 6A title in 2000 and 2001. For the last two years, while Paynesville wrestled in Class AA, Pierz had won Section 6A. This year, they defeated the Bulldogs in impressive fashion to advance to state.

The Pioneers' lineup features seven state-rated wrestlers - an eighth is injured - including five in the first seven weight classes, counting two-time state champion Craig Luberts.

Against the Dogs, Pierz won the first seven matches, getting three first-period pins, two technical falls, a major decision, and a decision to build a 35-0 lead. Pierz got their first pin 30 seconds into the first match and never came close to trailing.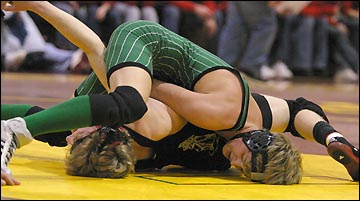 The Dogs scored one match point - a single escape - in the first six matches. Sophomore Sean Glenz got the Bulldogs' first takedown at 145, winning his match by major decision 9-0 to give Paynesville its first team points.
Sophomore Sean Glenz tries to turn Pierz's Tony Andres (32-5) on Friday night in Royalton during the Section 6A final. Glenz beat Andres 9-0 at 145 to score the first team points for Paynesville. He also won by technical fall against Mille Lacs in the section semifinal.
Senior Matt Kerzman added a major decision at 160, and senior Pat Utsch added a decision at 215. Even the Bulldogs' victories were hard-fought. Glenz beat a senior with a record of 32-5, Kerzman beat a sophomore with a record of 21-11, and Utsch beat a junior with a record of 25-6.
Other than this trio of winners, only four other Bulldog wrestlers scored in their matches, and three of them only scored escapes.
The loss was the last team match for retiring coaches Virg Vagle and Steve Fuchs. With this season's 17-15 mark, Vagle ends his 38-year career with a record of 661-148-6. He has the second most wins in state history, behind Bill Sutter of Goodhue. Vagle and Fuchs coached the Bulldogs to four state titles in the past 18 years: 1987, 1990, 1991, and 2000.
Pierz 54, Paynesville 11
103-Hank Virnig (Pz) pinned Jordan Christian, 0:32; 112-Kyle Bednar (Pz) maj. dec. Joe Sheridan, 13-1; 119-Scott Janson (Pz) tech. falled Todd Thielen, 15-0; 125-John Andres (Pz) tech. falled Aaron Burris, 15-0; 130-Joe Hyatt (Pz) pinned Cody Block, 0:43; 135-Warren Gall (Pz) dec. Joel Kerzman, 6-0; 140-Craig Luberts (Pz) pinned Jack Mueller, 1:39; 145-Sean Glenz (Pay) maj. dec. Tony Andres, 9-0; 152-Kyle Girtz (Pz) maj. dec. Keith Klein, 11-3; 160-Matt Kerzman (Pay) maj. dec. Nathan Britz, 14-4; 171-Zach Solinger (Pz) tech. falled Aaron Bachman, 19-2; 189-Jesse Zajac (Pz) maj. dec. Josh Tebben, 14-4; 215-Pat Utsch (Pay) dec. Matt Mrnak, 7-0; 275-Tyler Stumpf (Pz) pinned Derek Burris, 1:37.
Bulldogs 38, Mille Lacs 31
The Bulldogs defeated Mille Lacs for the second time this season in the section semifinals on Friday, advancing to the finals with a 38-31 victory.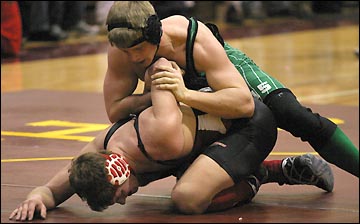 The Dogs beat Mille Lacs (13-9) last December 42-39 in a match that featured 12 pins. In that match, the teams each won seven weights. But the Dogs won all seven by pin. (They also yielded five pins.)
Senior Pat Utsch tries to turn Pierz'a Matt Mrnak to his back. Utsch beat Mrnak (26-5) 7-0 on Friday. Utsch also sealed the Bulldogs' win over Mille Lacs with a pin at 215.
This time, the two teams split again, with each team winning seven weights, but the Dogs out-pinned Mille Lacs 4-1 and outscored them in bonus points 17-10.
The Bulldogs took the lead for good against Mille Lacs with a win by forfeit at 145, giving the Dogs a 21-17 lead. Sean Glenz and Matt Kerzman then won a technical fall and pin, respectively, as the Dogs extended their lead to 32-17.
Pat Utsch sealed the victory for Paynesville with a pin at 215. (Mille Lacs had three state-rated wrestlers at the other heavy weights, who cut the final margin to 38-31.)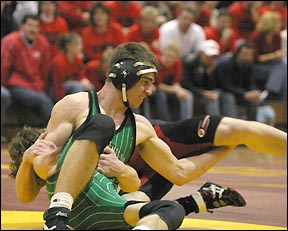 Sophomore Joe Sheridan scored the Bulldogs first points with a 5-0 decision at 112. Junior Todd Thielen recorded a fall at 125, getting his pin with 12 seconds to wrestle in his match. Sophomore Joel Kerzman added a pin at 135.
Senior Matt Kerzman reaches for a reversal during his 14-4 major decision against Pierz on Friday and a key pin versus Mille Lacs.
But even the Bulldogs who lost wrestled well against Mille Lacs, improving their performance from the last time the two teams met, especially by avoiding getting pinned. Sophomore Jack Mueller, for instance, lost 10-1 to a Mille Lacs senior rated third in the state. (Mueller later had to wrestler a two-time state champion from Pierz.) Other examples are sophomore Aaron Bachman, who lost 11-2 to a state-rated wrestler, and eighth grader Jordan Christian, who lost only 7-5.
By beating Mille Lacs, the Dogs reached the section final for the ninth consecutive year. They have lost in the section finals for last three years, twice to Litchfield and to Pierz this year, and went to state the three years before that, including winning their most recent state title in 2000.
Paynesville 38, Mille Lacs 31
103-Rob Olson (ML) dec. Andrew Christian, 7-5; 112-Joey Sheridan (P) dec. Kevin Pederson, 5-0; 119-Nick Pfaff (ML) tech. falled Andrew Christian, 20-2; 125-Todd Thielen (P) pinned Paul Thompson, 5:48; 130-Geoff Springer (ML) tech. falled Aaron Burris 21-6; 135-Joel Kerzman (P) pinned Luke Gingery, 1:13; 140-Justin Jones (ML) maj. dec. Jack Mueller, 10-1; 145-Keith Klein (P) won by forfeit; 152-Sean Glenz (P) tech. falled Danny Rosechlein, 20-5; 160-Matt Kerzman (P) pinned Derek Kightlinger, 2:32; 171-Tyler Walters (ML) maj. dec. Aaron Bachman, 11-2; 189-Nolan Boucher (ML) maj. dec. Josh Tebben, 21-8; 215-Pat Utsch (P) pinned Chris Steffenson, 2:41; 275-Jon Odle (ML) pinned Derek Burris, 2:25.
Paynesville 58, Hinckley-Finlayson 14
The Bulldogs cruised in their section quarterfinal on Tuesday, Feb. 17, beating Hinckley-Finlayson 58-14. The Dogs, as the #2 seed, hosted the first round of section playoffs. Hinckley-Finlayson, seeded #7, ended their team season with a record of 8-13.
The Bullogs won 11 of the 14 individual matches against Hinckley-Finlayson, including six pins and two technical falls. Recording falls for Paynesville were eighth grader Jordan Christian (103), sophomore Joe Sheridan (112), ninth grader Aaron Burris (125), senior Matt Kerzman (160), junior Josh Tebben (215), and senior Derek Burris (275).
Sophomores Joel Kerzman (140) and Sean Glenz (145) added wins by technical fall, and sophomore Keith Klein (152) and senior Pat Utsch added wins by decision.
The Bulldogs built a 24-0 lead, getting three pins and a forfeit at the first four weights. The closest Hinckley-Finlayson came was 24-9, but the Bulldogs won seven of the final eight matches and Hinckley-Finlayson also lost a team point due to penalty.
Paynesville 58, Hinckley-Finlayson 14
103-Jordan Christian (P) pinned Jordan Elmquist, 3:39; 112-Joe Sheridan (P) pinned Alex Hagman, 1:24; 119-Todd Thielen (P) won by forfeit; 125-Aaron Burris (P) pinned Josiah Leteureau, 0:46; 130-Nathaniel Vrundy (H-F) pinned Cody Block, 2:55; 135-Dustin Nelson (H-F) dec. Jack Mueller, 14-8; 140-Joel Kerzman (P) tech. falled Jason Slama, 22-4; 145-Sean Glenz (P) tech. falled Alex Gryskiewicz, 16-1; 152-Keith Klein (P) dec. Charlie Hagman, 2-1; 160-Matt Kerzman (P) pinned Mark Lewis, 1:36; 171-Dan Hendrix (H-F) pinned Aaron Bachman, 5:47; 189-Pat Utsch (P) dec. Pat Stradal, 7-3; 215-Josh Tebben (P) pinned Scott Wieczorek, 1:34; 275-Derek Burris (P) pinned Jared Neel, 2:34.
---
Contact the author at editor@paynesvillepress.com • Return to Sports
Home | Marketplace | Community
---